2017 – CHW
A check on which camellias are out from Top Lodge to Red Linney beside the drive which we have not yet viewed this year: Camellia 'Desire' – a better flower than we saw earlier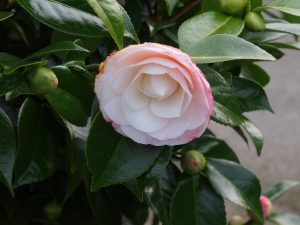 Camellia 'High Hat' – battered in wind and rain but still one of the most reliable early flowerers
Camellia 'Apollo' – full out
Camellia 'Monica Dance' – with nice stripes in the petals
A compact growing single red japonica of unknown name
Camellia 'Gwyneth Morey' – first flowers here. 'Jurys Yellow' – full out and almost over elsewhere.
Camellia 'Mary Phoebe Taylor' – is a fantastic size and show
Camellia 'Duchess Decazes'
Camellia Duchess D has 'sported' pure pink at the top
Camellia 'Apollo' – again with the irregular white blotches on some flowers as we expect
Camellia sasanqua 'Paradise Blush' – as labelled but perhaps incorrectly! Blush is pink in bud fading to white. These are just out but look pure pink! Time will tell.
Magnolia 'Bishop Peter' (Lanarth seedling) now has several flowers out but they are rather pale compared to most years implying that the wind has blown them open prematurely.
1992 – FJW
One day of rain in January – no snow but some frost.
1988 – FJW
Very very wet. Garden too far advanced – losses of '87 still being dealt with.
1969 – FJW
A very mild wet January – saluenensis and williamsii well out.

1934 – JCW
No Daffs a late year, Coums open. R praecox by the brown gate is remarkable. No pissardi. The same as 1924 for R moupinense. No Lent Lily.
1924 – JCW
The first Daff opening near four in hand. Heaths are nice. Moupinense is nearly over. Parvifolium is good yet.
1921 – JCW
Much as in 1915. We have just finished the big rookery clearing except for the planting of five evergreen oaks.
1916 – JCW
Coum but fair. Thomsonii x Arboreum in Old Park are very fine, nobleanum good, Rhod 'n oleifolium very nice. E darleyenis and Praecox Rhodo' of the very best, Barbatums fair + Camellia. Soleil d'or and Lent Lily open. P pissardi very nice indeed. Prunus cerasus conradinae going over.
1915 – JCW
Cyclamen coum are good. Some Lapagerias, some Camellias, one Lady Clare small, nobleanum very nice, R mucronulatum is going over, a few snowdrops and aconite.
1898 – JCW
One or two Caerhays trumpets open. Minimus nearly at its best, snowdrops quite white crocus partly open.