2017 – CHW
A hydrangea inspection day as a repeat of last January's. Hydrangea 'Joseph Banks' still holding colour in January!  Less so than last January perhaps.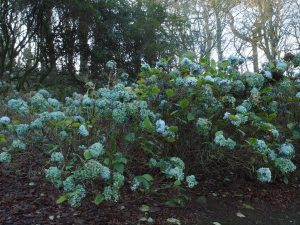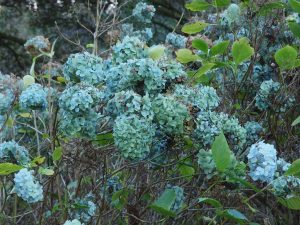 Likewise Hydrangea 'Madame Mouilliere' still has good white mopheads amid many other dead flowers. We have seen flowers on this clump and photographed them several times through last year in this diary starting in May I seem to remember.
A Hydrangea quercifolia clump still with a full set of green leaves in January. It is not an evergreen and yet here, in a windy site, there is still little sign of autumn colouring. Very odd!
2016 – CHW
The tiny Magnolia 'Lanarth' planted in 1955 opposite the Georgian Hall is, for the first time ever, plastered in bud. It has only ever twice had three to five flowers before. However now the buds are swelling and their secondary outer 'coats' have been shed.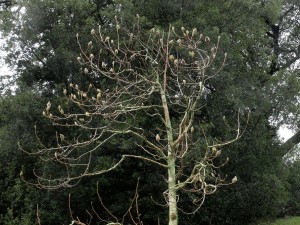 Since we have been on a magnolia flower quest here are two more (different) Magnolia grandiflora cultivars. I think one would call these 'late' in this odd season but I did photograph the same plants with flowers in February and March last year so not that 'odd' perhaps. Magnolia 'March till frost' still has a flower as well as most of its leaves. However this is a poor tail end secondary flower and not a new spring one. The plant lives up to its name as we have not had a frost yet! Another youngish plant also has a flower or two below the main ride.
1972 – FJW
Cold spell started.
1959 – FJW
B.N.A saw first primrose, November pink good – garden very late.
1953 – FJW
There are still buds on Mag Grandiflora and Eucryphia pinatafolia has flowers. Heaths good – Early pink forms of Saluensis and Hamamelis. A few Sutchuenense hybrids. A good pink one in beech walk best. Frost has cut an odd early Rho Thompsonii but not scarlets which are beginning. Camellias taliensis and oleifera almost over. No Thompsonii x Arboreum out.
1931 – JCW
Much as in 1930 C speciosa is better and we have had nice Gardenia flowers up to 7 inches across. R venustum has supplied house flowers for two months.
1930 – JCW
Mucronulatum is very good, Camellia speciosa is opening in the wood and in the walk. The Hamamelis is very fine indeed, much of the wreckage of the storm of Dec 5th has been cleaned up in the New Planting and the men have done a fine work seeing the shooting parties and Christmas.
1928 – JCW
Much behind the above owing to 3 weeks of cold. Mucronulatum is not open but Hamamelis is.
1927 – JCW
H Mollis is very good, Thompsonii x Arboreum a fair lot, one Sutchuenense hybrid flower, but there are no buds to speak of in this section. A few irroratum are opening, mucronulatum has a lot of flower.