2017 – CHW
First flowers on Camellia x williamsii 'Monica Dance' on the main ride. Not yet a decent shape or colour.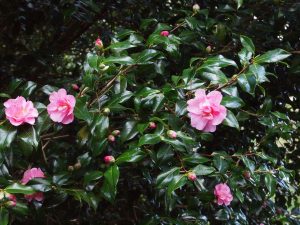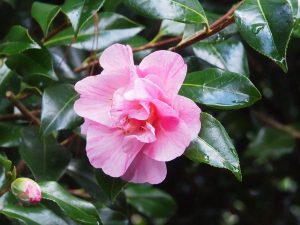 First flowers on Rhododendron barbatum which are a little early.
2016 – CHW
Hydrangea 'Geoffrey Chadbund' by the cash point still has one untouched flower at the very top and no leaf loss atall.The Camellia 'St Ewe' overhanging the cash point is full out but the wind has already blown off many scores of flowers onto the tarmac.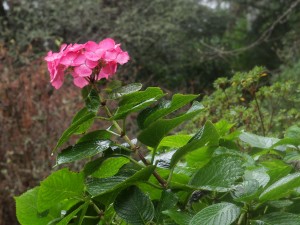 1998 – FJW
First snowdrop – very wet and thunderstorms.
1985 – FJW
Cold spell started.
1952 – CW
Still mild – none can remember more grass, still fuschias, roses and Lapageria. 5 of original Saluenensis out, but little else bar Nobleanum Pink. Hardly any Rhodos and Hamamelis also late. One snowdrop at Vean where [Camellia] J.C.W. out for over a week. Here only odd buds show pink. Very bad storms.

1911 – JCW
I found 14 blooms of Narcissus M Clusii open outside
1908 – JCW
A hard frost for the last 4 days, Coums well on, a few roses yet.
1906 – JCW
The first daffs, Tin Garden, Tenby x Minimus.
1904 – JCW
The first Camellia
1902 – JCW
The first Camellia.