2017 – CHW
I am sure that I planted this cedar tree as Cedrus atlantica but, although green needled in winter, its new growth is certainly now a glaucous blue. Perhaps not as blue as our other Cedrus atlantica 'Glauca' trees though. Anyway, you can see three stages of cones here; very immature and just forming, fully formed, and last year's which are brown and disintegrating.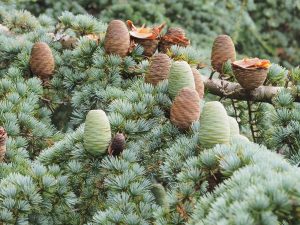 Off to the greenhouses where I am well impressed with the level of care and astonished at the range and quality of the plants being grown on so well by Asia.
A new named Rhododendron occidentale from Glendoick with double white flowers with a small yellow flare is exciting. The label says 'Cres City Doll' which needs investigating.
Hydrangea davidii, which grew well at Burncoose before dying of cold, is just out. Looks a bit sickly but with one or two vigorous new growth shoots.
Here is what is ready to be planted out next spring! It is going to be a long job. Wonderful new growth to be hardened off and scarcely a casualty. All potted on in a timely manner earlier in the year.
Since my last visit to the greenhouse at least six sorts of enkianthus seedlings have come up in profusion.
Many rhododendron seedlings coming on apace in their seed trays and many more pricked out into cell trays or larger pots.
A batch of our own hedychium seedlings from the top wall now in cell trays.
The germination of magnolia seed this year has been variable but generally successful. The trays have many strong good seedlings in just a few weeks from germination. Those potted on already have almost doubled in size. After many years we are finally getting this right and growing a proper crop!
Lots of last year's cuttings not quite properly rooted from last autumn and still on bottom heat. Hopefully pot soon.
But already a load of new rhodo and enkianthus cuttings are set on the mist bench as are some hydrangeas.
A propagator fulfilling all her potential in an exemplary manner and a joy to witness Asia! Many new plants for the Burncoose catalogue in two to three years' time from this lot.
2016 – CHW
Deutzia pulchra, originally from Roy Lancaster's Chinese collecting, is superb below the drive. I missed it last year. This is a new plant in the Burncoose catalogue this year. Quite a tall growing species with huge racemes of lily-of-the-valley buds and (perhaps) flowers. A very good deutzia which I put a close second to Deutzia 'Strawberry Fields'; quite a bit later into flower too than most other deutzia species and not all the racemes come out at once. Best planted on a bank so you can look up at it as here.
Styrax japonica 'Pink Chimes' is almost over on the drive. Another plant on a bank which it weeps over so one can look up at it. Not as weeping as Stryrax japonica 'Pendulus' (white flowers) but droopy and hides its beauty. The flowers have a pink flush or pinkish centres and have been out here for at least a month. I showed this (touching the plant) to a non-gardener recently and they kept looking (puzzled but polite) into the middle distance. That is why you need it on a bank!
1974 – FJW
Aunt May died.
1954 – CW
Styrax have never been so good both Japonica and Wilsoni. Also Eriogynum excellent. No Auriculatum white hybrids out yet. After a long cold dry spring much rain for weeks. Tree ferns beginning to move but several dead. Mag nitida have mostly lost their tops and also Michelias. These and tree ferns will take years to recover. Still flowers on late Drive Camellias and Kimberley.
1926 – JCW
Auriculatums x decorum opening. Harrow hybrids wane. Plagianthus ½ open. Styrax hybrid promises to be good now. Griersonianum not over yet. Papa Goultier good.
1905 – JCW
Returned from a month in Scotland. Roses going over but yet good, The Rambler. L giganteum. Brunonis roses are yet good. All daff seed, even Recurvas, has been picked.