2018 – CHW
Off to the ever improving Eddington nursery just on from Seaview and near the Priory Bay Hotel. A huge range of well grown herbaceous plants and a far better selection than any Isle of Wight garden centre. They lost lots of freshly split and re-potted agapanthus in The Beast but not their Melianthus major or much else.
The new plants which we should consider for our next catalogue include:
Achillea 'Terracotta'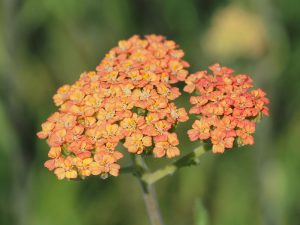 Acaenia microphylla 'Kupferteppich' – particularly fine groundcover in the sun
Verbena rigida
Knautia macedonica 'Thunder and Lightning'
Veronica longifolia 'Marietta'
Salix udensis 'Golden Sun' with incredibly yellow foliage even in full sun
Elymus arenarius 'Blue Dune' – incredibly blue foliage in full sun
Geranium pratense 'Algera Double'
Digitalis 'Spice Island' – a striking orange foxglove
Aruncus 'Horatio'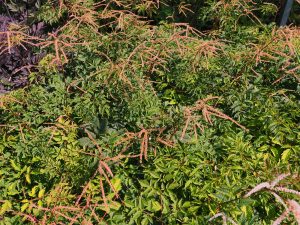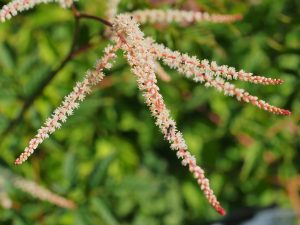 Hydrangea davidii, which grew well at Burncoose before dying of cold, is just out. Looks a bit sickly but with one or two vigorous new growth shoots.
Here is what is ready to be planted out next spring! It is going to be a long job. Wonderful new growth to be hardened off and scarcely a casualty. All potted on in a timely manner earlier in the year.
Since my last visit to the greenhouse at least six sorts of enkianthus seedlings have come up in profusion.
Many rhododendron seedlings coming on apace in their seed trays and many more pricked out into cell trays or larger pots.
A batch of our own hedychium seedlings from the top wall now in cell trays.
The germination of magnolia seed this year has been variable but generally successful. The trays have many strong good seedlings in just a few weeks from germination. Those potted on already have almost doubled in size. After many years we are finally getting this right and growing a proper crop!
Lots of last year's cuttings not quite properly rooted from last autumn and still on bottom heat. Hopefully pot soon.
But already a load of new rhodo and enkianthus cuttings are set on the mist bench as are some hydrangeas.
A propagator fulfilling all her potential in an exemplary manner and a joy to witness Asia! Many new plants for the Burncoose catalogue in two to three years' time from this lot.