2019 – CHW
Another photography visit to Busy Bee Garden Centre in the usual oppressive heat. Pretty ghastly but the show goes on and 100 new plant care articles now written since I got to Seaview.
The view of Ryde church from the centre. As ever huge new housing estates going up in the foreground.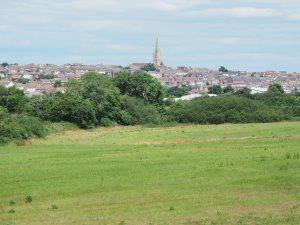  'Phantom' which we do stock but I have never seen it flowering this well in the nursery
Our taller growing Monarda varieties always look scruffy in the nursery even as they come into flower. Should we try dwarf growing ones like 'Balmy Purple' here?
An excellent display of Ajuga reptans 'Burgundy Glow' fronting Festuca glauca 'Elijah Blue'.
Verbena rigida again.
Verbena bonariensis 'Lollipop' had a dwarf habit and very pale pink flower.
Salvia eclipse 'Trelissick Creamy Yellow' – we used to stock this range of salvias named after Cornish gardens and places.
This was the 'best in show' garden designed for a family and to be wildlife friendly. A great deal of effort here and a circular patio made with some skill in this uneven field.
This was the gold medal winner – not exactly child friendly and visibly wilting in the heat.
Very hot dogs in the car park.
The lecture hall where it was far too bright for any of the slides to actually show up at all on the screen. A total waste of time but around 20 people turned up – most sheltering from the heat I expect. Despite all the fuss about the 'new' lecture tent programme it was not advertised much and the first lecture had zero attendees so I was probably lucky! Took one styrax plant and sold it!
2017 – CHW
Rubus phoenicolasius, the wineberry, is a new plant to me but one which may well have merit in our catalogue if the prickles can be avoided. Rounded leaves and part raspberry, part bramble if you wanted to be critical. However the June flowers are quickly followed by large panicles of swelling fruit. The young pheasants ate them last year but it will not be long before they colour up in this heat and are ready for a photograph or two.
Honey fungus strikes quickly. This young Hydrangea aspera villosa is near an old felled Prunus insignis and the fungus has clearly caught one of the main stems. Wilted today; dead within a week. The rest of the plant is just coming into flower.
2016 – CHW
The wind turbine (our first of these horrors) is finally up but not quite yet generating power for the grid. Amazingly we only had four objections to the planning application and two were not within the legal range of objections (nasty rich landowner is not a valid 'objection' although it may well be a valid point of view). It took seven years to get it installed none the less and what a fight to get the connection to the grid. The government changed the rules last autumn so the subsidies available to the companies building these monstrosities have ended. Caerhays will never have another and we were very restricted to start with as they are not permitted in coastal Areas of Outstanding Natural Beauty (AONBs) and quite right too. However other estates nearer the A30 and the main power lines have increased their income phenomenally. The owners will survive another generation on the income however they manage things or 'live it up' but such is life! Merely jealous!
2015 – CHW
Visited Osborne House, East Cowes, owned by English Heritage.  Rather better kept gardens than many of those controlled by the dead hand of the National Trust but £14.30 to get in!  If you just want the gardens and landscape but not the house this is a bit much.
Walled Garden nicely done.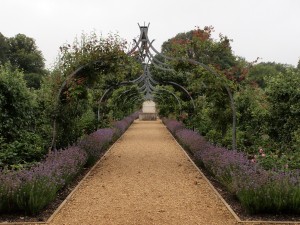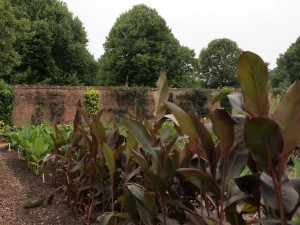 Gardens around the house are much as you would have expected for a former royal palace. Not a place of botanical interest although a stunning vista.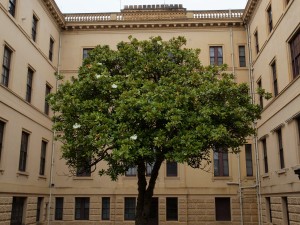 If you looked hard and walked a long way you could however find a lot of decent woody/woodland plants hidden away: Magnolia grandiflora 'Goliath' flowering in a three sided courtyard by the rather ancient loos
An unnamed pernettya/gautheria which was very nice but has no obvious identity in the reference books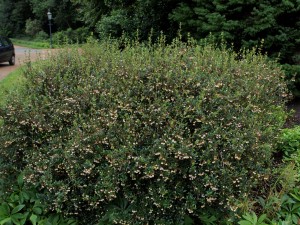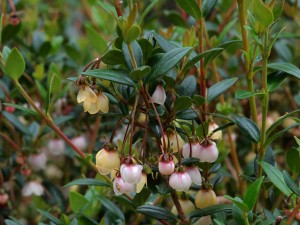 A Staphylea holocarpa full of Chinese lantern fruit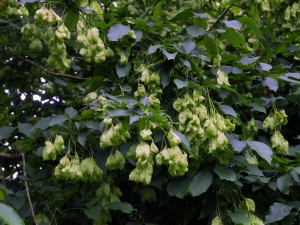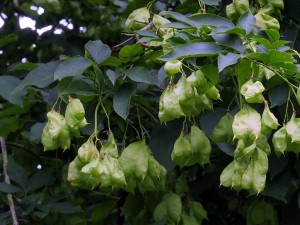 Bupleurum fruiticosum just coming out. A really good coastal plant.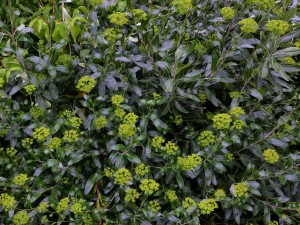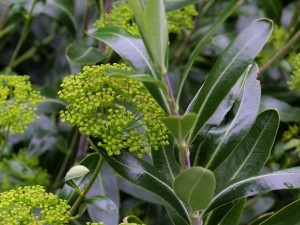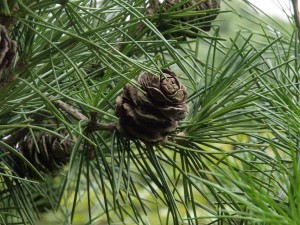 First time I have ever see a cone on the rare conifer Sciadopitys verticellata
What I think is Ilex verticellata in flower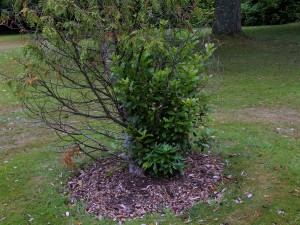 All over the place were self sown Arbutus unedo which thrive in these hot, dry coastal conditions
There was even a tiny Caerhays bred Rhododendron 'Saffron Queen' but little evidence of any recent plant purchases from Burncoose
Two outstanding Cork Oaks (Q suber) by the house (planted 1847) and four massive Cedrus libani behind them. Cedars and some conifers thrive here.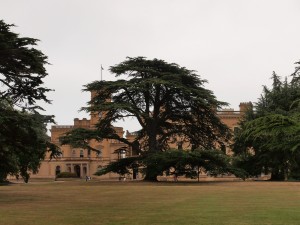 1974 – FJW
Dry until 2nd week in June – very wet since that time.
1940 – CW
During June and July I have taken over 2000 seed pods of the old Parviflora Magnolia, over 3500 from the big one, and 2000 off the others – about 1200 of the big Sinensis and 1000 of var Wilsoni. The top of Mag nitida has just died. Good rains lately but very dry June. Various Decorum and Discolor hybrids all very good now and earlier especially in the quarry.
1918 – JCW
Syringa on the Library has been very fine. Fortunei are over. The end of a long (2 months), dry weather, it has killed some rhodo's – continued to August largest and killed much.
1916 – JCW
G Waterer came for the day. R brunonis at its best. Azaleas over except viscosum. Fortunei open, just at their best but only a few flowers.