2018 – CHW
While I have been away Jaimie has been keeping me updated with news at home.
Clematis uncinata has grown right through a tall Camellia sasanqua and up the castle wall behind it. It is now in flower and very nice it is too. The seeds were given to us by Peter Moore who probably collected them originally in the wild.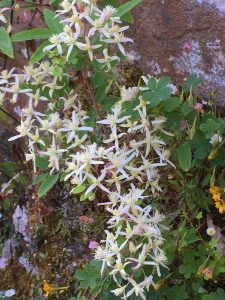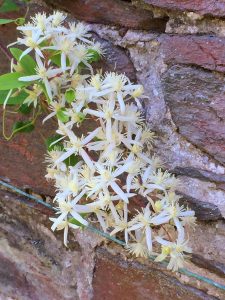 The Schefflera macrophylla branches which we cut off for Chelsea are already generating new shoots from just below the two cut stems which are still bleeding sap. A remarkably quick response.
Grass cutting completed in Forty Acres wood where some of the American magnolia collection are starting to become proper trees.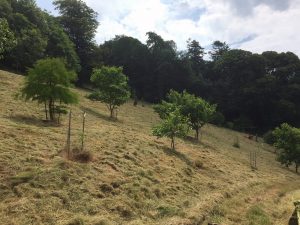 A trip to Osborne House by East Cowes to photograph the herbaceous planting combinations in their huge walled garden. Constantly trying to avoid numerous busloads of small children with their irritable teachers all over the gardens.
Achillea filipendula and asparagus setting seed was a novelty combination indeed. You will see the rest which I took on our website soon.
Here is the front of the main house all parched and very dry everywhere. Rhododendrons turning up their toes everywhere.
My favourite Magnolia grandiflora in full show facing north at the rear of the house and sheltered by the two huge wings alongside it.
I did not recognise this plant here last year but the slightly pinky white flowers are of course Ugni molinae (formerly Myrtus ugni). Nearby a clethra and a callicarpa were dying of drought. Ugni still fine.
Myrtus communis subsp. tarentina pictures for the care article just written on this subject and perhaps better than we have for website too.
The second Cornus hongkongensis is rather more floriferous, although in far more shade, than the one seen last week.
We cut this enormous wild collected Osmanthus yunnanensis back last year. At least two of the trunks are starting to shoot quite well. The tree was over mature, very elderly and in serious need of rejuvenation but a big risk with a historic tree which came here in 1923.
Eucryphia x nymansensis 'Nymansay' will be out in a week or so.
I never cease to be surprised at how many odd Rhododendron 'Polar Bear' we have dotted about. You pass them twice a week but never think or look twice until July. There are three in the Rirei Opening which I had not taken in before. This one full out, one over and one still in bud. Individual Polar Bears can emerge any time between late June and September. You smell them first!
Another pure white Rhododendron viscosum growing in full shade by Tin Garden and much later into flower than the several others we have seen earlier.
A few odd seeds show up from last October's flowers on Schima khasiana. A bit like small figs. The seasons are a bit the wrong way around with this plant!
This 10 year old Rehderodendron macrocarpum tree is laden with ripening pinkish fruits outside the front gate. One or two appear to have split in the recent heat. A hell of a crop to collect in a month or so from such a young tree.
2016 – CHW
Nick Macer from Pan-Global Plants arrives for a tour. We had not met but Jaimie had showed him around before. He trained at Wakehurst.Mahonia oiwakensis has a delicate reddish bronze hue to its new growth and Nick is a mahonia lover. Sadly I am not!
Aralia vietnamensis has gigantic new leaves and looks too tender for us but I may be wrong. From a distance I had assumed another odd shefflera species but I was well wrong.
Kalopanax septemlobus is about to flower in profusion. We seldom remember to go and look at this time of the year.
Ehretia dicksonii is also in flower and the smell is disgusting. Jaimie says 'cat's piss' but we have never had a cat!
Seed forming in Symplocos dryophylla which will eventually turn blue-black and Asia needs to try growing it as well as taking cuttings shortly.
Styrax serrulatus is now full out and much later than all other species. No scent but attractive bark and a drooping habit. The best thing in the garden today I think.
Here is a new plant for the 2017 Burncoose catalogue already doing well. Fatsia polycarpa has much narrower leaf divides than Fatsia japonica and has made a well-shaped shrub here. I have failed to find it in the nursery to photograph so now the job is done. It is Taiwanese in origin but apparently hardy to minus 10°. We will see but it must be eight to ten years old already.
This is labelled Magnolia aff floribunda var tonkinense and is a Crug wild collected plant flowering for the first time. Despite its name it is clearly a manglietia and no relation (really) to our or the Tregrehan Michelia floribunda. We have just missed the first flower and there are no more buds so cannot call the real colour on opening. Not that exciting however!
The Rhododendron sinonuttallii by the main quarry is just out a month later than the other Glendoick sourced clump above the greenhouse. This is much more like the one which grew for 20 years in the Burncoose conservatory and stank us all out. Attractive reddish-purple new growth. This plant looks tender but the others less so.
2015 – CHW
The oldest plants of Hydrangea sargentiana remain alive, just, in the Auklandii Garden but have long since died out near Rookery Gate and Donkey Shoe. They live longer in shade. This group was planted in 2008 and already has plenty of flower although smaller and more compact than I remember the originals.  Next to it is Viburnum betulifolium now full out three or more weeks after I photographed the bud. This too was planted in 2008. The best clump at Trewithen is grown up a wooden trellis which displays its berries to best effect in the winter.
Amazing how plants have moved on in a fortnight. Good to be back! The wonderful Roy Lancaster introduced climbing rose species is nearly over on the front arch. I have no idea of a name? The hips are even more impressive than the flowers.
On the top wall Dierama pulcherrimum in full flower. Some flowers are very dark and some have unusual and different striping. The dark flowers are Dierama pulcherrimum 'Blackbird' but I have no idea about the striped ones. A big surprise and must remember to collect seed.
2002 – FJW
First hot day of the summer.
1980 – FJW
Wet summer. Flowers on 3 Camellias – Midsummer's Day, Konron Jura and one in 'White Piece'.
1919 – JCW
Plagianthus lyalii is just opening, R brunonis is good. Escallonia pteroclaydon is fair. L giganteums are going over. The Romneya is coming on.
1918 – JCW
Plagianthus lyalii is very good indeed. There is very little else, and a fine lot of rain after a very dry bout.
1915 – JCW
Two years old stuff all out of their pans. Plagianthus lyalii did half the D and L's. Yesterday, not really open. Buddleias have hardly opened. R r remains poor, too damp. Mitraria fair. Very little in the hard wood way about.
1898 – JCW
No real start in [bamboo] Nitida yet. Many seedlings planted in the new ground, say one third. Everlasting peas open. Put in from 207 to 218, new things of E's.
1897 – JCW
Nitida has lately started to grow properly. All Engelhart's bulbs are planted. I speciosum at its best.