2019 – CHW
A visit to Shanklin Chine with the former owner and now president of the charity which owns and runs this historic gorge leading from Shanklin to the sea. About a quarter of a mile in length and one of only two chines in the UK. Smugglers paradise 200 to 300 years ago. Today 80,000 visitors (entry £3.00 for OAPs and £4.00 adults). Half is a natural woodland gorge with steep steps and narrow walkways and half supposedly more formal but in a state of disrepair. Three unqualified 'gardeners' who have all started this year have a major job to get it back in hand from years of self-seeding, brambles, scrub and neglect. Some pretty invasive weeds much in evidence too as well as ash disease on a key young ash. The real threat to 'the garden' or gorge is landslides and trees toppling in over the top of the ravine. How you do a tree survey or risk assessment for this I have no idea. A great exhibition room and a room devoted to the D-day landings of which Shanklin was a key part.
Anne Springman approaches the top entrance to the chine having parked illegally blocking a goods yard. The chine opens for about seven months of the year from 10.30am to 10pm.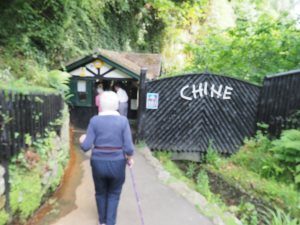 Narrow steps
The partly made up waterfall which would be even more impressive after high rainfall. Surprising it was running at all today after such a dry period. The chine has been cut out of green limestone over thousands of years. The water comes from springs on chalk and hence this extraordinary natural feature.
A bank in urgent need of clearance and replanting. There is plenty more of this.
Tearooms and exhibition at the beach end of the chine.
A little of the exhibition with a collection of clay pipes and roman coins dug up nearby
40 Royal Marine Commando war memorial overlooking the sea.
The wisteria growing on the house was having a second flush of flowers in the heat.
Drimys lanceolata used as a garden hedge in very dry conditions was effective. Only at Tregothnan have I seen it used elsewhere for this purpose.
The combination of the tall growing Verbena bonariensis and the much lower growing Verbena rigida was effective.
So was Verbena bonariensis and agapanthus.
This is Buddleia 'Harlequin' which should have variegated foliage. However half this large bush has reverted to having green leaves although the flower remains (in theory) 'purplish-red'. Not much red really?
The Hothead and underground spring with upraised beds for dwarf rhododendrons. Needs a good clean out and tidy. The two sycamore trees above the well will be cut down shortly. A few saplings to go too.
This is labelled Magnolia tripetala but the leaf looks a bit too small for it to be the true species. Perhaps Magnolia 'Ralph' or 'Charles Coates'? Not quite like the M. 'Charles Coates' at Burncoose in flower form (more yellowish than white) and colour though? Nevertheless it is a bushy shrub with many shoots so probably it is Magnolia 'Charles Coates'. M. tripetala is a single stemmed tree and grows elsewhere.
The frames are crammed full of superb young rhododendrons ready to be planted out next spring. Then we can restart them with Asia's crops of specie rhodo seedlings.
Ziziphus sativa has never really recovered from my brother lighting a fire too close to it and scorching all one side of it. Does not like our climate I fear and will never perform or fruit. It is a hot Mediterranean tree really.
This rather nice crocosmia variety has grown in profusion by the greenhouse for at least 50 years. It is far better than I remember and perhaps we can name it? (Is it Crocosmia 'Saracen'?) Amazing that the county council deliberately spray out wild crocosmia clumps on roadsides as being 'non-native'. Will these same plant fascists spray out all Austrian and Swiss daffodils growing wild too? Political correctness again of course but total ignorance, vandalism and worse in reality.
2016 – CHW
The five Magnolia 'Caerhays Splendour' planted on the bank above the house are starting to put on a secondary set of new growth.
The Mespilus germanica 'Nottingham' planted by The Worshipful Company of Fruiterers a month ago already has some well-developed medlars. One fruit, alongside a flower, has been eaten by something.
This Schefflera alpina was planted in 2010 and is already 12ft tall. The new growth is oddly 'umbrella-like' and more attractive than I had thought.
2015 – CHW
So another hunt for some more unusual hydrangeas:
Hydrangea involucrata 'Viridescens' – the florets open green then go white. Not exactly an eye catching variety.
Hydrangea serrata 'Midori' – dwarf with tiny blue flowers. Another for the collector or the rockery but probably not for gardeners.
Hydrangea serrata 'Shichidanka' – a bit bigger growing but equally uninspiring and over very quickly.
Hydrangea 'Sheila' – an attractive newer variety with bronze new growth
Hydrangea 'Alpengluhen' – not a bad red even on our acidic soil in this area of the garden where all blues tend to be blue rather than pink.
Armed with yet more pictures from Arboretum Wespelaar Asia and I try to confirm the identity of Stewartia sinensis on Burns Bank.The flower is clearly correct (five petals and small) as is the hairy seed. The leaf on our mature 80 to 90 year old plant is much smaller than in the reference books but I suspect that is simply age related. The bark is however more of a problem as it simply does not peel like the Lamellyn plant pictured. The article does say the bark is 'variable' so let us leave it as that and confirm Stewartia sinensis as a fact rather than as a handed down name from the past.
2003 – FJW
Rain came after warm (not hot) dry spell.
1989 – FJW
Very hot spell continues – no end in sight.
1955 – CW
It has been very hot and dry for 3 weeks. Double pink Camellias by lodge both still have flowers also Kimberley. Still some Griersonianum, Phis and Eriogynum beginning. Big Maddeni in quarry nursery very fine, also Metrosideros. Big wall rose fine. Not much else. Rabdotum just over, a few whites coming.
1935 – JCW
Very hot and dry for a long time, some of the gardeners are ill and away, but the fuchsias are good. Romneya is very good, the Maddeni have carried a lot of flowers but the great heat finished the flowers.
1933 – JCW
I Clarke is here, not much open. Mag delavayi all flowering well.
1914 – JCW
Just a cyclamen open to wear by and a Lapageria. Buddleia's nice. Romneya fair. Brunonis over. The following rhodo's show bloom: maddeni, cinnabarinum, micranthum, fastigatum.
1911 – JCW
L giganteum long over. R coulteri goodish. Wilson here and saw his Buddleias at their best.
1906 – JCW
Just back from a month at Strathvaich, Brunonis very good yet, 100 spikes of L giganteum open. R coulteri very good. The three beds of tea roses remain good.Sweet peas open.
1899 – JCW
The first of the autumn cyclamen open.