2018 – CHW
A visit to an Honnor & Jeffrey garden centre at Dalverton. There are in fact three garden centres only a mile or so apart near Arreton.
Passiflora caerulea 'Snow Queen' rather better than the more common Passiflora 'Constance Elliot'.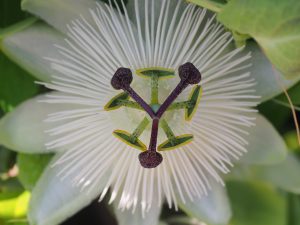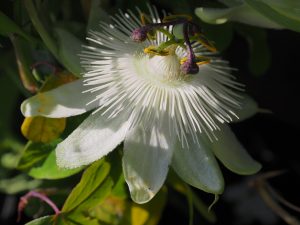 We stock three varieties of 'Inca' alstroemerias but not these three:
Euphorbia x martinii 'Ascot Rainbow' may have lovely foliage and contrasting flowers but, when the flowers are full out, they are particularly fine.
Allium senescens is a new species to me. A very decent late flowering pot full here.
Seed forming on young plants of Camellia forrestii which is exciting. Huge seeds in comparison to the leaf size.
This is Hydrangea aspera 'Kawakamii' x Hydrangea involucrata just coming out. Nothing startling as yet.
The agapanthus are just out – a wonderful plant.
You can just see the tree surgeon dismembering a huge turkey oak in the new clearing.
2016 – CHW
The newer planted hydrangeas above the Green Gate are really starting to make a proper show.Hydrangea 'Hobella' is just out with a nice hint of pink in this semi shaded spot.
Hydrangea 'Love you Kiss' with its black stems is also just out. A clump of five planted in only 2013 and already four to five feet tall with a similar spread. Although taller growing the colour mix is very similar to Hydrangea serrata 'Kiyosume' as I have argued before.
A much older clump of Hydrangea 'Libelle' are doing well having again been cut right back a year or two ago. Still the best white lacecap hydrangea.
I am not sure if we have a close up of the plaque in situ in the granite bolder but I need one for the new catalogue proof anyway.
I photographed Hydrangea 'Geoffrey Chadbund' here with a flower on in January! Here it is coming into flower again just behind the plaque.
Tropaelum cilitum has been out for a while but this is the first time it has flowered below ten feet up the castle wall.
Eucryphia milliganii full out with its dainty small white cup flowers. It looks dwarfish but achieved 20 feet at Burncoose in as many years.
1975 – FJW
1st part of Delia's Grand Design [tapestry] unveiled 5'11" x 3'1" – day space men shook hands.
1934 – JCW
Fuschias goodish. Romneya never so good. Mag delavayi very full of bud. M parviflora had 1900 pods taken off by Charles. He also took 1700 off another plant.
1933 – JCW
As in 1932
1932 – JCW
M delavayi, M parviflora, M nicholsoniana and M hypoleuca are showing bloom. Fuchsia are coming on well but ought to be much bigger to do their best. Eriogynum is very good. L giganteum is very nice indeed and so the galax.
1930 – JCW
Mag delavayi is good, some Parviflora flowers left. Styrax Langlongense is good. Plagianthus good. Romneya and American Pillars good. Lonicera macrophylla has been remarkable.
1927 – JCW
The Romneya is very good and the [rose] American Pillars. Plagianthus lyalii is nice. We still have blooms of Griersonianum. Eriogynum is over.
1916 -JCW
Plagianthus and Buddleia are starting, also the Romneya and Lonicera macrophylla is very good indeed.
1915 – JCW
About a week later for the buddleia. Plagianthus lyalii is the best shrub now.
1912 – JCW
Both buddleias are open and quite nice.
1909 – JCW
Returned from Scotland, R brunonis very fine. Mitraria nice. No cyclamen. No buddleia's. R decorum flower buds not moving yet. R cinnabarinum good and shaping.
1897 – JCW
Anemone japonica open.