2021 – CHW
A young and newly planted clump of Hydrangea paniculata 'Wim's Red' just out – no red as yet.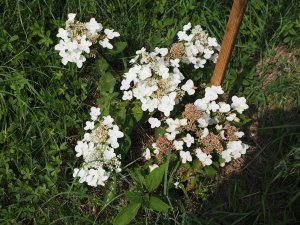 Magnolia delavayi full out under the wall.
Hydrangea serrata 'Crug Cobalt' not very exciting so far.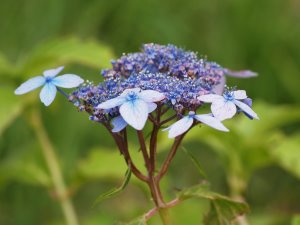 One always forgets how wonderful hollyhocks (alcea) can be but never in wetter parts of the country where, unless in a very dry spot on the coast, they always get rust and slug damage. Here, in Townsend GC, some very nice double ones and performing even in pots.
Liriope muscari 'Money Maker' was especially floriferous and full out. Seemed taller growing than usual?
Salvia patens was once in the catalogue and we sold seed of it at Chelsea. Well worth returning to the list I think.
Seeing bulrushes reminded me to remember to get them sprayed on the pond at home before they form a major clump.
Sanquisorba officinale has smaller flowers and is more dwarf than our Sanquisorba menziesii. Quite nice but do we need two sorts and does this sell? Need to check.
A new abelia; Abelia 'Sunshine Daydream' with pink buds, white flowers and an odd foliage colour combination. Strong growing shrub by the look of it but do we need another Abelia x grandiflora or is this one better than the ones we list?
Hebe 'Rosie' looking nice here. Once sold well. Time for a comeback or is it still patented?
While I always think stocking hebes is a huge risk with botrytis etc and while we have traditionally 'skipped' more than we have sold this dwarf one with blue flowers, Hebe 'Margaret', looks good here today.