2018 – CHW
A catch up on the rhododendrons still out as the season ends. Starting above the old Orchid House Nursery bed.
An Alan Clarke collection of what I assume is Rhododendron maddenii with the most enormous scented flowers. Definitely one for Asia to concentrate on with cuttings soon. Possibly worth a name in its own right.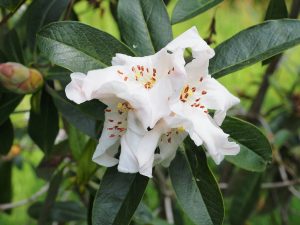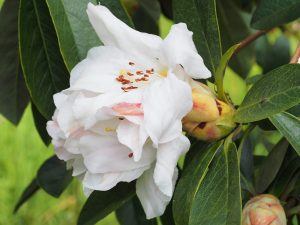 Is this our Rhododendron 'Treberrick'? I think not as 'Treberrick' is a 'Mosers Maroon' x griersonianum cross which is next door and much darker but now over. From the same seed pan though.
Euonymus hamiltonanus 'Popcorn' is in flower. We await the seeds to test the veracity/stupidity of the name.
Neolitsea sericea with its drooping bronze-brown velvety new growth. Stunning today.
A more conventionally sized Rhododendron maddenii in flower below Donkey Shoe. Less scent. The trusses seem very tight and do not open out much.
Rhododendron auriculatum just coming out by Georges Hut. One of the parents of Rhododendron 'Polar Bear'.
This Paulownia kawakamii has sadly split in half in the gales. If you grow 30ft in 10 years this is the risk you run. Very few light blue flowers like last year.
Magnolia globosa with a good show of flowers at last after a few years of just a couple. A hint of pink in the inner tepals as they first open out.
Tail end flowers on Rhododendron 'Tortoiseshell Orange' above the greenhouse.
Lithocarpus lepidocarpus has very typical lithocarpus new growth but is still struggling to get away after 10 years or so in too exposed a position.
A wild orchid has popped up by my parents' golden wedding plaque. We see very few of these at Caerhays. I assume it lay dormant for decades when this area was covered in beech trees.
A youngish clump of Rhododendron 'Polar Bear' out early but the leaves are not looking that happy in the wind in an exposed position.
Our crosses on Magnolia 'Yuchelia' remain intact – or the paper bags do anyway.
This clump of rhododendrons was grown from seed supplied by Major Howell (perhaps via an RHS seed list). None are very inspiring or in a good place. However this unnamed one is very late into flower and has an odd green flash in the white trumpets. I have not seen this one before and it is different!
This is our largest surviving Styrax hookeri in the Rookery. The flowers have mainly shed onto the ground. You can see how large the flowers are on the ground with their pronounced yellow anthers.
This elderly clump of Rhododendron 'Polar Bear' in the Rookery usually goes unnoticed by visitors. Strangely the odd lower flower is full out while most of the tree is still in tight bud. Wind blow again I expect from last Monday's storm.
2016 – CHW
The Schizophragma hydrangeoides on the top wall is better than I have ever seen it although the flowers are just going over. There used to be a huge plant 50 years ago on The Rabbit Warren.
Next to it Magnolia grandiflora 'Russet' has one huge and heavily scented flower. I believe the grandifloras have, between them, had a flower out now in every month of the last year as we have seen. Plenty more bud to come soon too after the welcome rain has bashed this one a bit.
2015 – CHW
More magnolias are emerging as we move into summer.
Magnolia obovata 'Pink Flush' (below Slip Rail)
We have missed the first flower but this looks much better than the old Magnolia obovata above the Auklandii Garden which everyone misses.  This one is clearly flowering at a very young age.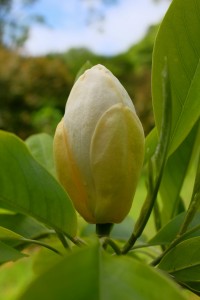 Magnolia virginiana 'Satellite'A proper evergreen with a large flower unlike our Magnolia virginiana by George's Hut.  The original virginiana was crushed in the 1990 hurricane.  Of the several forms of virginiana we now have this is the best.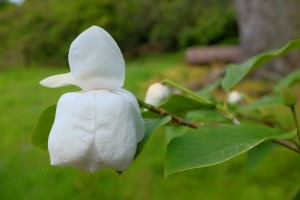 Magnolia sieboldii 'Colossus' (above Crinodendron Hedge)Flowering later than all the other Magnolia sieboldiis looked at over the last two weeks but is it really that different or colossal?  Not in my opinion anyway.  We had both sorts together in flower on the Chelsea stand all labelled as Magnolia sieboldii (plain) and no one noticed – not even the judges – which rather proves my point.