2023 – CHW
Brassaiopsis dumicola (KWJ12217) trying to flower.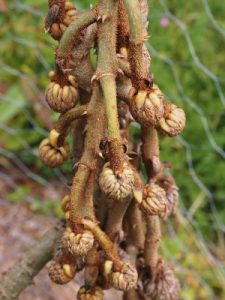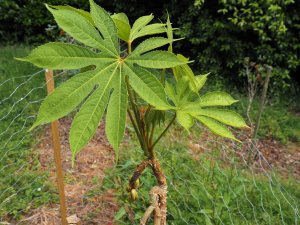 The massive trunk of the Quercus acuta above Roger's Quarry.
Magnolia sieboldii sinensis x M. virginiana.
First flower out on Magnolia dealbata.
Fatsia polyneura with attractive new growth.
Magnolia moto covered in buds this year; even low down.
First flowers ever on Castanopsis sclerophylla. Undersides of the leaves spectacular as on all Castanopsis.
Cornus kousa 'Weaver's Weeping' is now in full shade and flowering below its potential.
Hydrangea serrata 'Tiara' full out. Purple foliage and the blue flowers will fade to pink.
Azalea indica – one of several different coloured forms towards the top lodge in three elderly clumps.
The St Michael Caerhays flower festival in its full glory for the next three days to help raise funds for our tiny church. The flower festival will sit alongside the Caerhays charity fete on Sunday.
Viburnum wilsonii has made excellent growth in three years and now plenty of flower. Not that different to V. odoratissimum in flower although not evergreen.
The evergreen Syzygium smithii with its exceptional bronzy new growth. Myrtaceae family and known in New Zealand as the 'monkey apple' because of its large clusters of white to maroon edible berries. Unpruned it may grow to 15ft in height.
Viburnum parvifolium lives up to its name in terms of leaf and flower size. A neat compact bush which adds to our viburnum species collection.
2021 – CHW
Thick coastal fog for the start of the G7 leaders conference in Carbis Bay. Helicopters that only a US president could bring in the sky and along the coastline. Not much sightseeing in Cornwall with Carrie Johnson as host. They went to St Michaels Mount.Fuchsia exorticata still full out on the top wall.
From Crûg an Ilex perado subsp. azorica (BSWJ 12526). In leaf form some way between Ilex perado subsp. platyphylla and Ilex perado itself.
Daphniphyllum paxianum (BSWJ 9755)
Syringa tomentella flowering in the frames.
First flowers on our replacement Magnolia x brooklynensis 'Woodsman'. The old plant died.
Catkins on Morus cathayana.
There always is another bit of Rhododendron ponticum to remove.
Crataegus laevigata 'Paul's Scarlet' at its best.
Pinus mugo 'Zundert' in full new growth with its yellow winter needles now vanishing until the autumn.
Philadelphus caucasicus now full out and very fine!
Photinia niitakayamensis in flower.
Crataegus laevigata 'Crimson Cloud' nearly over.
Rhododendron eriogynum by the pond. Nearly black in bud and very late season.
Cornus kousa 'Wolf Eyes' covered in flower and growing well unlike the one we saw two days ago at Caerhays.
Cornus kousa 'Samaritan' which is not much different. Both have wavy leaves but I suspect that the autumn colours may be different when the pink tinges appear.
Magnolia x wiesneri 'Aashild Kalleberg' just going over.
Huodendron biaristatum with its reddish new growth is doing well unlike the three which I have lost at Caerhays.
The Wollemi pine has male and female cones for the first time. We lost the two plants at Caerhays in silly places. Progress has been slow and the tree is now about 7-8ft tall.
Squirrel damage on a young beech tree.
Weigelia coraeensis doing well on the drive. Initially the flowers are either white or pink but the pinker ones fade to red. About 5-6ft tall after 10 years and an outstanding small shrub.
House martins turfing their eggs out of the nests under the battlements. The second hatch off.
I am sent this from Camelot Castle hotel (Tintagel) with the caption 'Hope there is limited rioting at Caerhays'!
2019 – CHW
These are some pictures of Dipentodon sinicus taken in flower at Tregrehan Garden by Jaimie and Michael during the rare plant fair. It is an entirely new genus to me but Tom Hudson's reply (attached) to my query with the Forrest note suggests it was once at Caerhays but failed to propagate or died out in cold winters. We look forward to Tom's offer of a seedling. The page about Dipentodon sinicus in 'New Trees' is also attached. Odd that a plant with such a widespread distribution in China only appears today in one UK garden (Tregrehan as usual!).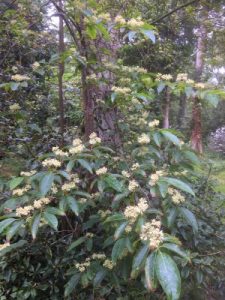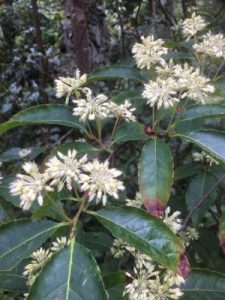 A simply perfect bud on Magnolia 'Summer Solstice'.
Rhododendron 'Pink Polar Bear' just coming out. The white form in more shade not yet showing.
Magnolia 'Porcelain Dove' smelling very lemonish. This is a superb magnolia with a long flowering span.
New growth on Gevuina avellana after some cold damage.
Styrax japonicus 'Emerald Pagoda' is also full out and has grown quickly into a floriferous small tree. Larger flowers than on any other styrax species or variety? A slight scent today but the bees are going mad for the flowers as you can see.
Sorbus gongashanica in flower for the first time. Not exactly a species to write home about but rare and new.
Styrax serrulatus – we gave the lower branches something of a haircut in the winter to lift the crown off other adjacent plants. The reaction has been to shoot vigorously from the base. Note how different the bark colours are to Styrax hemsleyanus or Styrax formosanus seen yesterday. This is clearly a spreading evergreen tree which wants to be multi stemmed. The flowers are still some way off opening and this 26 year old tree is now 20ft tall with a nearly similar spread.
Magnolia globosa has a few more flowers than last year and is growing away well.
This younger clump of Rhododendron stamineum is flowering a fortnight later than the old plants in the main quarry. Its leaves look much healthier too.
One of a clump of Rhododendron auriculatum is just coming into flower. I do not remember these in flower until now although I may well have missed them. On a drab day they are too high up to photograph properly.
A recently planted Rhododendron sutchuenense (collector's number AC6126) has three flowers. Can this possibly be correctly named flowering months later than it should? I suspect grown from seed by us originally so this is what happens. Either a first flowering aberration or 'one of those things' when you grow rhodos from seed.
This Rhododendron keysii is full out today at the end of Hovel Cart Road. All the other clumps of this species have been over for weeks. Is this the sign it is going to massively over-seed and die?
Styrax japonicus 'Pink Chimes' is far from out yet but you can see how it sits nicely on the bank above the drive so that you can look up into the flowers properly. Otherwise they would be mainly hidden from view.
2016 – CHW
Off to the Royal Cornwall Show where four stands have to be visited and time taken to support:Burncoose Nurseries stand had won a Gold Medal and Justin was in charge!
The Cornwall Red Squirrel Project (CRSP) had Natasha at the helm and was visited (later) by Bishop Tim of Truro and Lord and Lady St Levan.
The Caerhays Estate stand had Lucinda and Edwina flogging weddings and holiday lets.
Things were getting a bit alcoholic by the time we got to the Game & Wildlife Conservation stand to launch the Cornish Grey Partridge reintroduction project at 5.30pm. I forgot to take any pictures so you will have to make do with a copy of the leaflet.10 Jun16 Cornish Grey Partridge Project
2015 – CHW
A cornus hunt reveals:Cornus kousa var Chinensis 'Wisley Queen'This plant was given to my father by Richard Carew-Pole when he was RHS president.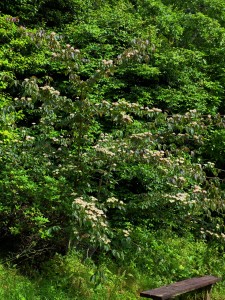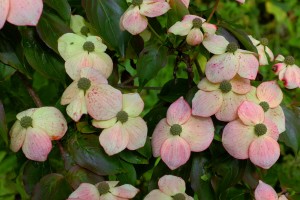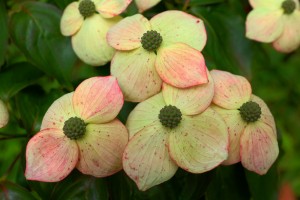 Cornus kousa 'Satomi' ('Miss Satomi' in the new Hillier's)
Growing in full sun in the open this is a real stunner and has been showing a good red colour for a fortnight.  The reference books say 'pink' but it is very clearly a red so I wonder if the naming is correct or whether it will fade?   Is it really a Cornus kousa or is it really a Cornus florida variety?
Cornus florida 'Red Giant'
Planted in 1991 this enormous but rather hidden away plant will be the best thing in the garden in a fortnight or so.  The adjacent Loderi 'King George' is over but some years the two coincide.
1997 – FJW
Delias grand design – 5 pieces done – bad storm, much salt damage in Laurel, and damaged trees around Noahs Ark and the Beeches.
1972 – FJW
Delia started on her Grand Design.
1902 – JCW
Habranthus is now very good, moved the big lot of Polyanthus primroses. None of the waterlilies show flower yet, a few Arums about, a very cold late season.