2017 – CHW
Jaimie and Michael have cut down most of the clump of camellias which were sent to us from California as cuttings in the early 1960s by Milo Rowell. None would be viewed as that brilliant in flower today but a historic collection for which we do have names even if not a very accurate plan. Do we dig them out or not? Over the top of them are two Magnolia kobus var borealis which are record trees. One has a single trunk while the other is multi stemmed. If we rip the camellias out there will be very little light to grow anything else unless we fell three overhanging smallish sycamores. Felling these could damage the record trees. We can puzzle over this for a few months before we decide.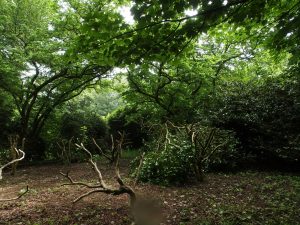 First flowers on a young Stewartia sinensis (syn gemmata). There has not been a mature plant of this species of stewartia in the garden in my time here as far as I can recollect. Nice buds which look a bit like Stewartia rostrata.
No flowers yet on the nearby young Stewartia malacodendron which has very different leaves. We do have a mature plant of this one.
A later flowering clump of FJW's last rhododendron hybrids. We saw others earlier. Late and quite nice but sadly not worth naming.
A first and only flower on one of Tom Hudson's new wild collected styrax. Presumably a new species? So far we only have Tom's collection number to work with – 1390. This was only planted this year and has some (inevitable) dieback.
This is another young Styrax japonicus 'Sohuksan' ('Emerald Pagoda'). The leaf is even larger than on our more mature plant. Enormous by comparison to any other Styrax japonicus variety or the species itself.
Styrax japonicus 'Evening Light' is now full out. This is the second one out in the garden. We lost the first in a dryish summer in too much sun.
Yet another new variety of Styrax japonicus captured in flower today. This one is called 'Crystal'. Very long flower stalks and large flowers but it would be hard to find it that different?
2016 – CHW
Hydgrangea scandens, a Crug collection, is especially fine outside the front gate. I have never seen it showing up so prominently before. It looks as though, as its name implies, that it would like a wall to climb up but seems happy enough without.
Three plants of Rhododendron royalii 'Yellow Flush Form' planted in 2008 are looking well although the rain has bashed and bruised the flowers a bit. Twenty years ago we thought Rho royalii and all its hybrids had died out from powdery mildew. Some are now making a comeback but of course not the best red and pink forms which were bred here. The parent of these three still survives, just, on Burns Bank.
Cornus kousa 'Doubloon', also 2008 planted, has huge flowers albeit still only on its lower branches. This is a very good new cornus. Note the size of the fly compared to the flower! Was a Spanish gold coin really as big as this?
Syringa vulgans 'Sensation' is nearly over. Missed it properly again this year. This is one of the better lilacs!
2015 – CHW
We start to move into the stewartia and styrax flowering time although these have all been out in the nursery for several weeks.  We photographed the rare Styrax wuyvanensis only last week.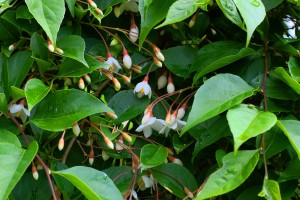 Styrax japonica 'Pendula' is just coming out.  It really is a pendulous tree and ought to be on a bank where one could look up at it.  The other big Styrax japonica are some way off coming out.
2001 – FJW
No Royal Cornwall (Show) – cool dry six weeks now gives way to rain. Rho excellans and Lyi still hold their own.
1999 – FJW
Wet few days. New growth excellent – but dry Royal Cornwall. Very telescoped rhodo season. Rho on rubbish dump full out. R weyrichii gone. Big display in Old Park been over for some time. Wilsons' R fortunei in Big Quarry well out. Saw Maddeni species in Auk Garden – and mother stoat and three family hunting.
1993 – FJW
End of very very wet few days – 200th Royal Cornwall Show. Abandoned – Simon Trudgeon from married.
1968 – FJW
Cut 9 foot thistle on Sinogrande Walk. Garden still late – Drive azaleas good.
1966 – FJW
A wet week has knocked off the Azaleas. Megacalyx excellent. A pretty normal year with mercifully little winter or spring frost. Griersonianums exceptionally good.
1899 – JCW
Habranthus pratensis out, R edgeworthi and gibsoni, a big lot of roses, a few waterlilies, a fair lot of Arums, picked of seed this week some Emperor, P Mary, no 23, and G Bell. All the early trumpets picked, moved a lot of bulbs.