2019 – CHW
A horrid NE wind and quite a bit of twig debris on the paths but, at least, more good heavy rain. Up to the Rookery to inspect this year's new planting there for the second time recently. Quite sizeable branch debris here in the teeth of the wind.
Probably too cold and stupid a place to have put Merrilliopanax alpinus unless something has eaten the emerging leaves? Perhaps drought too but it is 85% dead. I think we have another in the frames to try out next spring somewhere rather better.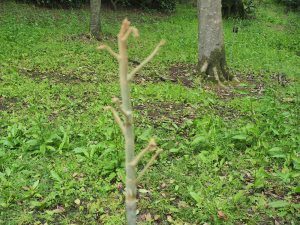 Magnolia sinensis x sieboldii 'Jersey Belle' with its first smallish flower. This is a good hybrid which we grow elsewhere here and is occasionally offered on the Burncoose website.
A good Melliodendron xylocarpum making headway unlike most of the others.
First flower on Illicium philippinense and the bronze new growth is excellent.
Cotoneaster fangianus just about to flower with light green rounded leaves on arching stems.
Euonymus wilsonii now in full flower and rather striking for a euonymus.
The new laurel hedge protecting the Rookery from salt laden westerly gales was planted this spring. Some drought casualties as it only went in the ground in late March.
The hedge of Ilex perado ssp. platyphylla on the other side of the same path is already doing its job about eight years on from planting.
The extended Rookery nursery bed pleasantly weed-free for this time of the year and with a good crop of new growth on scores of rhododendrons.
Look at the views over Porthluney Beach from here.
The landscape trees planted in the Trevanion deer park above the beach are doing well.
First cut of the grass on the banks outside the front door.
Buddleia colvillei just out by the regular bonfire.
I got a strange email from overseas after Chelsea asking if we had a plant which was a cross between an eriobotrya and rhaphiolepis. I said I had heard of it but that I had not seen it. Then I find a plant in the frames for planting out next year! Asia will need to tell me where it came from? It is called x Rhaphiobotrya 'Coppertone' which I suppose assumes it is a cross between Eriobotrya deflexa and Rhaphiolepis (perhaps) umbellata. I have missed the flower which was light pink and rhaphiolepis like but the leaves look more like a gordonia to me? So does the habit which seems to turn in on itself. Like all bigeneric crosses in the plant world it is rather odd and ugly. Or in the animal world come to that (eg labradoodles for starters).
Some of the ancient Azalea indica clump varieties in the Auklandii Garden are over, some out now and some still to show. Today we have red, pink-large single flowers and pink-smaller flowers. Quite a mixed large clump as you can see.
2016 – CHW
Work on the old kennels is nearing completion and is well underway on capping off and repairing the kitchen garden walls before the pheasant poults arrive in two to three weeks.Rothwell construction have moved on well considering how difficult access is. We now have a useful building for garden visitors and shoot party drinks but I really do wonder quite what 'we' (ie the taxpayers) are preserving for posterity that is useful in the kitchen garden walls themselves.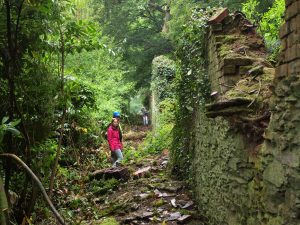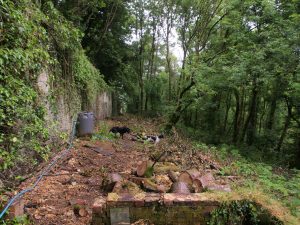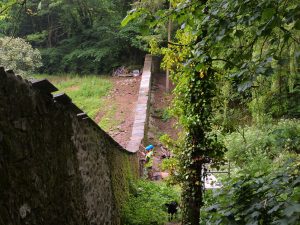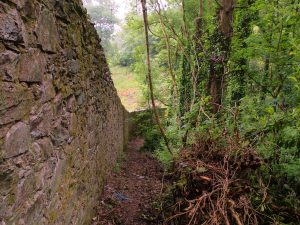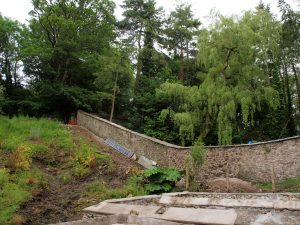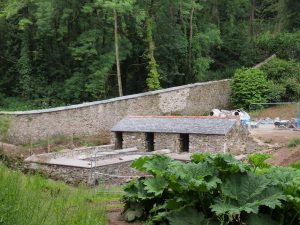 2015 – CHW
A few oddities to amuse anyone who thinks a spring garden has no surprises left!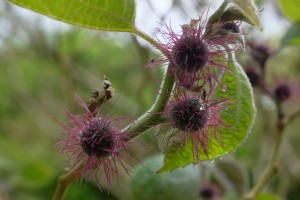 Broussonetia papyrifera  – this is one of a pair of female plants with peculiar flower clusters. The Paper Mulberry.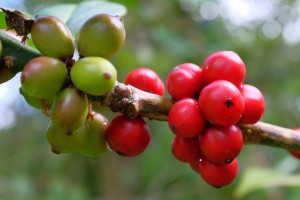 Ilex latifolia – who would have expected a holly to be producing an abundance of red berries in June? Some are still green but most are ready for the birds who have scattered seedlings of this plant allover the garden in shady areas. The old original trees now look ancient and sick.
Tropaeolum ciliatum  – it never died down in the mild winter and is in full flower already.
1918 – JCW
Much of our daff seed has been picked after a long dry period. Rhodo bloom done in by it. Foxgloves very good. A Arborescens is open in part.
1917 – JCW
I sowed some Cyclamineus seed today, some is unripe. Shrubs much as above. 40 Acre and pond shooting ride bit of valley very fine.
1916 – JCW
We are picking some daff seed. P. helodoxa is very good. The following rhodo's are in flower – R brachycarpum, R brachyanthum, R zealanicum, R lepidotum, bits of Auklandii, various Azalea hybrids and Waterer hybrids including R picotee with one or two Maddeni hybrids.