2018 – CHW
A fine crop of blueberries are emerging on the newly planted plants in the Isla Rose Plantation. Isla is now walking without support at 15 months old so she might just get to taste them later.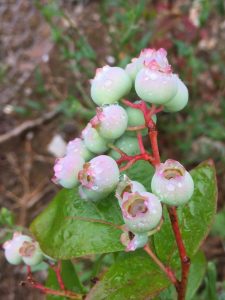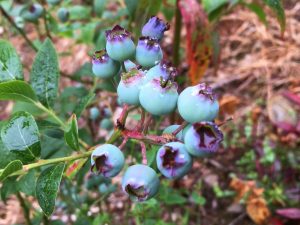 Delphinium 'Wishful Thinking' will be a pleasant bicoloured addition to next year's catalogue.
Carpinus tuczaninowii will be new for next year too.
Trachelospermum asiaticum 'Summer Sunset' has a gorgeous mix of leaf colours as the sun bleaches them red.
The five young plants of Magnolia 'Caerhays Splendour' are all growing on well on the bank. 2ft of new growth this year.
Magnolia grandiflora 'Overton' has some stunning flowers. The other on the top wall are not out just yet.
Gingko biloba 'Saratoga' has an extraordinary leaf structure. Very slow to get going as this has been here for eight years.
Another unknown but very late flowering evergreen azalea in two clumps between the ferneries. Not very floriferous and not a very nice orange-red. My father never knew its name either. Perhaps worth Asia propagating?
The young monkey puzzle is flowering for the first time. Is this a male of female? On the basis of the Wollemi seen yesterday the dark cones of flower should be male. [Update – they are male! See comments below.]
This ancient Rhododendron indicum by the front door is quite a show!
2016 – CHW
Day trip to Hook Norton Brewery for a monthly board meeting.
2015 – CHW
Another styrax full out; Styrax obassia with the largest leaves of any species and white racemens of flowers hidden amid the foliage.Cornus kousa 'National' (I think) on the drive has large faintly star shaped flowers. This was planted in 1991 and is a good sized tree.Behind it a clump of three white Rhododendron decorum coming into their prime but flowering rather later than the older and ancient original plants in the garden, some of which were out a month ago and all of which are now over.On the Hovel Cart Road the evergreen Cornus hongkongensis is starting the odd flower. The US reference book on cornus does not even mention this variety which one has to say is a pretty dull collector's item. The other one was pruned up by deer.
Near Georges Hut a fine 15 year old replacement clump of Rhododendron auriculatum  flowering its heart out.
Touching them is a 1991 vintage Stewartia rostrata with its first few huge camellia-like flowers with a splodge of pink. This is, to my mind, the best of the stewartias with superb dark purple, almost black autumn colour.
In Kennel Close we find a styrax (ex Crug) which is flowering profusely and the first time seen by me. About six years from planting and now bushy and about eight feet tall. Some leaves are oval and some more elliptical. The reference books are unclear. I think it is Styrax wilsonii but it may be Styrax officinalis which grows rather taller; twice the size in fact.
A new Magnolia 'Summer Solstice' has its first three flowers where we can see them unlike the main 1991 planted tree.
Primula helodoxa is flowering just outside my study window. There used to be quite a collection of candelabra primulas in the Auklandii Garden where they would self sow themselves on damp bare earth patches. It was interesting to note that over time all the new seedlings became yellow and still a few pop up (as here) from time to time. Primula helodoxa clearly has the dominant gene and the only survivor.
1917 – JCW
The Wilson Fortunei's are starting to open. A Mikado is very good and A arborescens, also some of the Harrow hybrids. Papa gontier [rose] is good and also R maddeni, hardly a bud was touched by the great frost.
1897 – JCW
The waterlilies are at their best. Bambusa nigra at full length, Henonis at ¾ of their length, Mitis only now starting in some cases and so nitida.