2018 – CHW
Yesterday a garden tour with a family whose mother works at KPK.
Chionanthus virginicus in full flower hidden away at the top of the garden in a poor spot. The one at Burncoose flowers much better albeit in dappled shade. The American fringe tree is a better bet than the Chinese one in terms of flower and shape of the plant I think (Chionanthus retusus).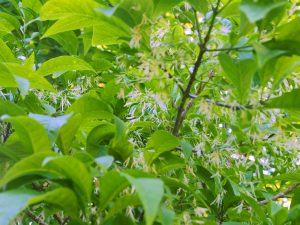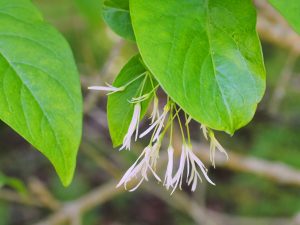 Robinia hispida var kelseyi or var rosea. I am not sure and planting predates 1997 so is not yet computerised. A medium shrub with arching branches and no spines but its leaf form is not that of the R. hispida which we sell in the nursery and the flowers are not pink. Robinia hispida var kelseyi has lilac-pink flowers so that seems the best bet as far as I know.
Deutzia pulchra with its 'lily of the valley' drooping racemes of flowers. The buds are globular. A splendid plant introduced and given to us by Roy Lancaster.
I have just missed the pink form of Rhododendron viscosum flowering away in Old Park. A big clump which it was a surprise to find last year. One for Asia to propagate as it is perhaps nicer than the white form at Burncoose.
Hydrangea seemanii just coming out on the wall. Its bulbous buds are starting to spring open. I first saw this then relatively new introduction at Trevarno gardens 35 years ago by torchlight after a drunken dinner there with Peter Bickford-Smith. The gardens are no longer open to the public and are now owned by an American and a Russian.
This wonderful trachelospermum surrounds the door to the garden. Is it Trachelospermum jasminoides or Trachelospermum asiaticum? The small leaf suggests Trachelospermum asiaticum but the flower is pure white and does not look to be fading to yellow as it should. The pure white flowers mean it is actually Trachelospermum jasminoides although the leaves are much smaller than the norm. A brilliant scented surround. Is this a hybrid between the two species?
Schizophragma integrifolium standing proud on a wall. Quite a sight.
Cedrus atlantica f. glauca with plenty of new cones formed on a 50 to 60 year old tree.
2016 – CHWLiberation Day!
Having spent another four hours yesterday working out how to fill in the new European woodland grant applications I now do not have to bother. So no more nonsense about climate change, priority species etc and hopefully back to basics in a new UK scheme based on timber production and landscape value. How long will that take I wonder?
The last of the original Styrax japonicas is full out and plastered in bees. The flowers are already carpeting the ground. Two other original plants here and at Burncoose both suddenly died of old age two years ago. Over flowering probably hastened their demise.
I had forgotten that we still have one really decent clump of Rhododendron royalii 'Pink Flush'.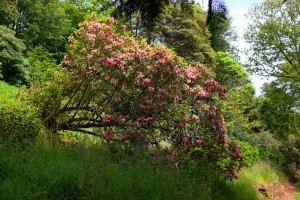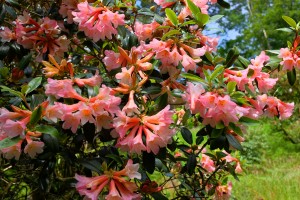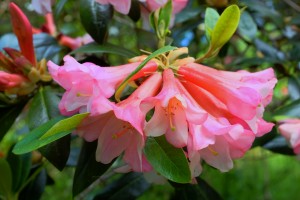 2003 – FJW
Catalpa duclouxii in flower from suckers (sign of hot summer?). Quercus oxyodon in flower (first time?).
1998 – FJW
Picked flower of Sinocalyanthus – first time it has flowered here. Young Lithocarpus pachyphyllus by Charlie Michaels Nursery setting seed. Two Mag rostrata still some.
1965 – FJW
A sad day, Laurence Trudgeon left after 16 years in the garden. he worked as hard on his last day as he did on his first.
1962 – FJW
This has been a very late year. The drive Azaleas were at their best between June 5-15th. Falconeri is still out. Camellias in main piece and up the drive are still out. It is now hot and the first field of hay bailed.