2017 – CHW
I have featured this superb white climbing rose in the diary before. A wild collection (one of three here) by Roy Lancaster but far and away the best of the batch which was enjoyed by my parents for several decades. I will have to ask Roy if he can put a name to it as Philip Tregunna's 'little red book' of plant gifts and annual plantings seems to have omitted it.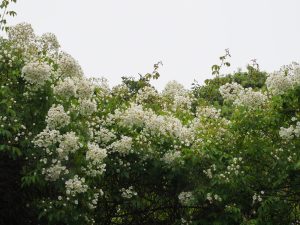 The Rhododendron weyrichii (in the shade) in the Rockery is a dark red rather than the orange-red flowered plant I photographed last week. Quite a sight today but not as good as the Rhododendron auriculatum or the Rhododendron fortunei var discolor which I also showed last week.
Trip Advisor slags us off (only one bolshie late season customer for whom a 2For1 deal was not enough) for having 'nothing to see'. Amusingly other visitors have replied to the 'slagging off' for nothing to see / no grass cutting / idle / useless / disgrace etc etc rather differently. Trip Advisor was supposed to protect the public from business frauds and cheats. At one level it also allows one uninformed and belligerent (ie rude to our staff) twat to accuse us of all sorts. Thankfully we get few of these horrible people and our customers are quick to refute online. Running a restaurant where these 'twats' complain to get a free meal must be a nightmare! Where is the fraud here?
Hydrangea longipes is almost over unnoticed by me. Not that exciting really in comparison to aspera villosa or sargentiana types which are still some way off flowering.
I had nearly missed the 'full monty' flowering of Eucryphia lucida 'Pink Cloud' although we did find a flower in December last. It is about to rain so I am playing with the new buttons on the new camera to try to get the pictures better. Total failure I fear.
The seed heads are forming on Symplocus paniculata. These will turn blue in September. I missed the flowers on this Record Tree which is easily done. It is actually a clump!
Last year's rhododendron planting outside the front gate is taking shape with few/no casualties as yet. Rain tomorrow which will help stabilise the new growth which has doubled the size of most of these taller growing young rhododendrons. So far so good!
Gingko 'Jade Butterflies' has benefitted from being out in the open following the clearing and new planting here. Another unusual but very attractive leaf formation which is so different from the gingko cultivar last week.
First flower that I have noticed on Magnolia delavayi below the Lawn. Due for a chop down to battlement level soon. Plenty of buds still to open over the next few months.
2016 – CHW
Brexit sinks in and very few website orders for Burncoose over the weekend. Just time for a few more new plant pictures for 2017:Leucanthemum 'Goldfinch'
Leucanthemum 'Banana Cream' – the name seems to apply more to the buds than the fully open flower unless these two are labelled the wrong way around?
Helenium 'Ruby Tuesday' is quite nice in flower.
The new hydrangeas are being picked out to go for sale at Hampton Court show starting next weekend:
Hydrangea 'Magical Noblesse' will show more green markings on the flower when out more.
Hydrangea 'Blueberry Cheesecake' (daft name) seems to be a form of Hydrangea 'Ayesha' and has blue AND pink flowers.
Hydrangea 'Black Diamonds' seems to be purple or red with the same name. Quite nice but not that different yet. Not much 'black' about it really. Dutch trying to sell on a silly but marketable name again.
Agapanthus 'Golden Drop' – in flower at last with pale blue flowers contrasting with the yellow variegation. Nicer than I expected.
Echinacea 'Firebird' is a good red.
Lampranthus orange – not obliging us by opening.
Mandevilla laxa is tender but a really wonderful conservatory climber. No obvious scent though.
2015 – CHW
At the Four in Hand a 40 year old Liriodendron tulipifera which has (as they often do) had its leader split out in the wind more than once. You have to stop and look hard to find the flowers but there are several hidden in the leaves. Liriodendron are included within magnoliacae and you can see why when you look closely at the flower. More magnolia than tulip! I saw this in flower by chance last year but how many years it actually took to flower is anyone's guess. Liriodendron chinense at Burncoose took 25 years.
Viburnum betulifolium is about to come out. Not noted for its flowers but rather its subsequent redcurrant fruits which this has yet to produce. Planted a group of three but only one survivor. I think the other two were stupidly planted on the site of a former large bonfire.
1924 – JCW
Much as in 1916 the season has been very good for the growth of shrubs and weeds, perhaps we never had such good growth in my time. Styrax hemsleyanus and the Maddeni's are the best thing.
1916 – JCW
Daff seed has much of it come in. Henonis starts, Papa Gontier on Terrace hardly open. R maddeni is nice. Azaleas just over. E langleyense is good.
1912 – JCW
Have been in Scotland a month, Henonis passing, Escallonia langleyense nice, Sericea pteracantha very good. Most of Wilson's late Fortunei are open, also R rugosum. The odd form of metternichii and Catabiense and Decorum. Some brambles have made a great growth.
1904 – JCW
Picked most of our seed except Langtry and Recurvas, a fair season for it, Arums have been very good, Rosa prunonii just shows colour. Bamboos but lately starting, some Tree Ferns only just starting.
1900 – JCW
I came back from London, things just as at this time last year, except that it is a very bad year for daff seed. The flowers on the Dracoenas in the Drive are good, and all kinds of ferns and rhodo's have done well, the first wet early summer for years.