2019 – CHW
Magnolia sapaensis has its first flower ever out two days after I first saw the buds. The other two buds are a way behind. The three outer tepals are pink on the outside and become quickly recurved. The centre is white with a delicious scent. Unlike other species this has taken no time at all to produce flowers. Very attractive they are too on a small plant.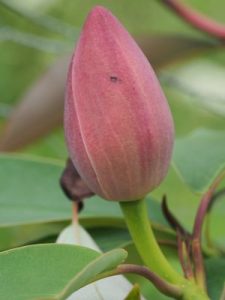 Good new young growth on a young Quercus uvarifolius.
Cornus walteri (formerly Cornus wilsonii) plastered in flowers across this huge bush which has layered itself several times into the drive bank as it has spread.
Tilia tomentosa 'Brabant' has whitish new growth fading to lime green and, today, gives an interesting colour variation in foliage from a distance. This is already a big tree 10 years from planting.
Fagus sylvatica 'Bicolor Sartinii' has grown slowly but its leaves are an odd shape for a beech and the colour variegation is certainly unusual.
Cotoneaster salicifolius 'Pink Champagne' is in full flower too. We have been trying to grow the berries of this fairly rare hybrid along with others who we have given it to. It is no longer offered for sale in the horticultural trade as far as I know. Nothing pink about the flowers though.
Stewartia sinensis is still not out except for a few flowers at the very top of the tree. Stewartia pseudocamellia is long over, Stewartia rostrata going over and Stewartia pteropetiolata just reaching its best.
Jamesia americana is about full out below Tin Garden. This rare small shrub, known as the 'cliff bush', was first introduced to the UK in 1862. Not a showstopper but unusual.
Styrax japonicus 'Snow Cone' is now full out and living up to its name. The flowers are all concentrated at the end of the branches in clusters in a rather different format to other clones of japonicus. Very much later into flower too and well worth growing.
Magnolia globosa is now full out with rather more flowers than I had expected.
The second Rhododendron auriculatum is now out but the third in this group is still some way off. The first plant does not have the greenish blotch in the funnel of the flower which this one does.
Styrax faberi is finally full out. The petals on individual flowers are recurved when full out. Not much scent today and few bees working the tree. The flowers tend to be hidden within the tree but are quite a sight none the less. Only Styrax serrulatus has still to flower this season but S. faberi is the second last species to perform and the third largest leaves of any species here today after Styrax serrulatus and Styrax odoratissimus.
2016 – CHW
I take Alice on a long garden tour in the car – plenty of questions!The lamb is delicious. Kevin's venison less so!
2015 – CHWThe drooping new growth on Tilia henryana is most attractive when viewed from above. This rare autumn flowering tree has distinct leaves but I had not admired the form of the new growth before.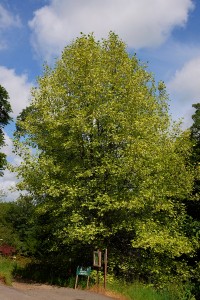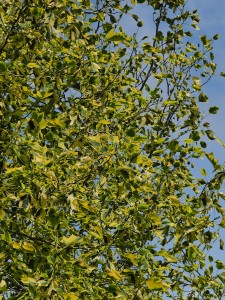 Right beside it and absolutely stunning in the sunlight is the fully fledged Liriodendron tulipifera 'Aureomarginata'. My father detested variegated plants but I cannot see anyone disliking this. Note the reversion to green leaves on one branch as so often happens in genetic variations of this sort. One should cut this out really but it is far too far from the ground.
2004 – FJW
Nice rain on and off for 3 days after a longer dry spell than 1988 – the best flowering season for years for nearly everything – including Philip's one flowering for first time and Ligustrum really flowering. Azalea by front door at its best.
1988 – FJW
First rain since June 9th. A gentle soak – no great storm.
1948 – CW
The pond boat house tulip tree in flower, probably first time. Few fuschias out cut back last 2 winters. Rho stericulum x eriogonum is good also Maddeni series. Hilliers Mag macrophylla out but not true. Warm nights only now started.
1922 – JCW
These last few days have given us a little rain ¾ inch, the first for about 5 weeks of any value but the lawn is hard now.
1899 – JCW
Arums and I. throbuca very good. Some of the Henonis have only lately started. I have picked all the seed but Marvel and Recurvas, a good year for seed, but bad for bamboos. Fern spores have lately started.