2017 – CHW
Compare Tropaeolum ciliatum to Tropaeolum speciosum seen recently. This plant has been flowering since March and never died down over winter unlike speciosum. Wonderful value and one which Asia needs to propagate from seeds or cuttings soon. A welcome addition to the Burncoose catalogue. I wonder if we can obtain any other hardy tropaeolum varieties?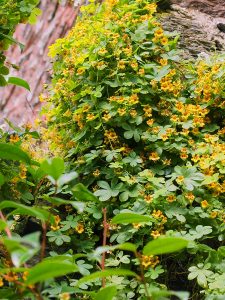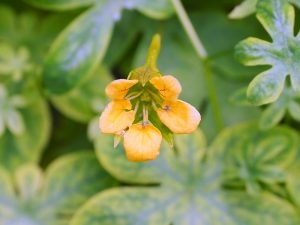 The old fashioned alstromeria which has grown, seeded and suckered itself in several borders.
Fuchsia exorticatica still has an odd flower left but the seed pods are swelling. People often ask us at shows 'how long a plant flower for'? They are often disappointed in the reality of three weeks or less in hot weather. This plant has been in flower for at least five months since well before the leaves first emerged. Good value!
2016 – CHW
Magnolia grandiflora 'Overton' has a huge flower on the top wall.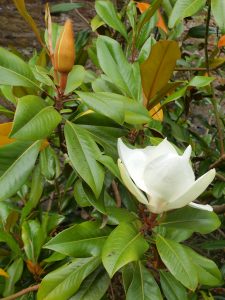 Styrax wilsonii is just going over in the greenhouse. These are replacement plants for this species which died out some years ago outside the back yard.
Styrax japonicus 'Evening Light' has wonderful dark foliage and large flowers with just a hint of pink. This is the first time I have seen this new variety in flower although only one flower left.
Rhododendron 'Pink Polar Bear' is well worth its place and much earlier into flower than the commoner white form.
Styrax japonicus 'Snowcap' was only planted this year but is already performing well. The flowers protrude out and are far more visible than on a normal S japonicus.
Styrax formosanus var hayatiana (BSWJ 6823) was planted in 2010 and has done superbly as a dense multi stemmed tree. The flowers are just going over.
The original clump of Rhododendron griersonianum which we cut for Chelsea still has plenty of good flowers a month or more later.
Magnolia 'Genie' still has a couple of decent-ish flowers as well three months after first showing colour.
Meliosma dilleniifolia subsp cuneifolia is not yet out but the flower spikes are clearly visible.
A maddenia rhododendron with huge white flowers which I have never seen before above Orchid House Nursery.
Echinops battanicus has survived in this border for at least 50 years.
2015 – CHW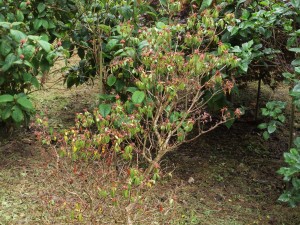 A little rain yesterday after a very dry month. The first rhododendrons are responding to it being dry by dying but it may just be honeyfungus which strikes at this time of the year.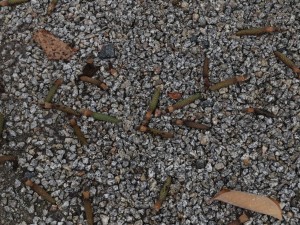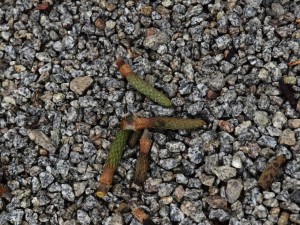 The only goodish news is that several magnolias are, as a result of the dry spell, shedding their seed pods and will not be wasting energy producing huge seeds this autumn. Soon we hope to see next year's buds appearing instead.
There is much talk about second flowerings of magnolias in September but I can find several very late stunted flowers on a Magnolia dawsoniana seedling beyond the Rockery. This was full out in late April. The stunted flowers are a much darker colour and right on the extremities of the branches.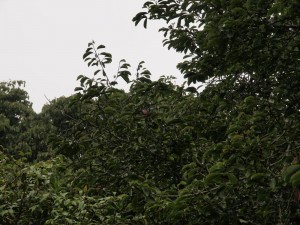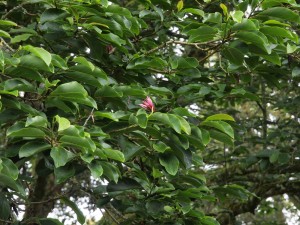 1992 – FJW
First gossamer of rain since June 3rd. It has not been so hot as 1976 but the signs do not look good – bad weather has been hitting north north Scotland and the Mediterranean – newly planted stuff suffering.
1989 – FJW
With Philip near recently dead Rho loderi, saw tree magnolias coming up in the wild.
1932 – JCW
Just as in 1928. Some goodish azaleas, a goodish double pink of Antony is extra good. The big Mag parviflora is extraordinary and many hundreds of flowers are open.
1928 – JCW
Moyesi set of roses nearly over. Maddeni is good and so Arborescens, Styrax, roses in the 3 beds and American Pillar.
1912 – JCW
First crop of roses is over, Arums nice, Escallonia langleyense and the late Wilson Fortunei's are the best things open. Some Azaleas in the Beech Walk are well out. Has been a wet month.