2017 – CHW
The objective today was to photograph some of the very last deciduous azaleas to come out. The colours are unspectacular compared to what has come earlier and is now over but, planted on the drive as they are, a nice display of late flowers for the visitors. I have always assumed they were old Rhododendron occidentale hybrids planted by JC.
Every year for decades a certain specific caterpillar eats all the new growth on this walnut in the field. It produces a second set of leaf later which accounts for its stunted habit. I wonder which moth (or butterfly) does the damage? Years ago we had a birch species in the Rookery which was similarly and quite specifically defoliated in spring by caterpillars.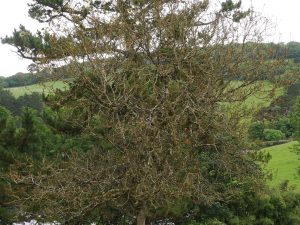 Azalea 'Gena May' (I think) is a good late red with a hint of an orange centre.
Azalea unknown – a big clump by the Trevanion Holly.
Azalea unknown – yellow and perhaps the last of all to flower.
Cornus kousa 'Summer Stars' (perhaps as planting plan obscure but it looks starlike!). Attractive the way the bracts twirl about.
Azalea 'Moidart' is a gentle colour growing in the shade above Hovel Cart Road. 1996 planting from Glendoick.
Rhododendron dichroanthum subsp apodectum is just out. One to hybridise with if time next week but I see no old seed heads so we will need a different seed parent. What an unusual orange colour and a large calyx.
A small oak tree was felled yesterday in our new laurel clearing area to let in more light. An obvious rhododendron planting place for next spring.
Styrax formosanus var Hayatiana (BSWJ 6823) planted in 2010 has made an enormous small tree. It is simply plastered in flowers which, in full sun, are out before nearly all the others.
Paulownia kawakamii (RJW 9909) is now 25ft tall even though planted only in 2010. These are its first flowers ever seen here. This species was only introduced into cultivation in the UK in 1992 from Taiwan. This plant was from Crug Farm nursery. So that is two new species of paulownia flowering at Caerhays for the first time this year (see also Paulownia fortunei)! We now have at least four species here including also Paulownia tomentosa and Paulownia tomentosa 'Lilacina'. Plenty of pictures earlier this year in the diary of the latter. I think we also have Paulownia fargesii but I cannot remember where.
A flower of Aesculus chinensis rather closer to the camera than the tall tree seen last week.
Rhododendron decorum – pink form – is only just now out above the sales point. Huge and very splendid it is. A close run thing as to whether this or Cornus 'Satomi' is the best plant flowering in the garden today.
2016 – CHW
Magnolia 'Coral Pink' is fairly horrid beside Georges Hut. Only two small flowers this year in its second flowering season. Beatrice is examining the Quercus cleistocarpa alongside although we all agree it is now a lithocarpus and not a quercus.
Michelia foveolata is still out weeks after it first flowered but with less scent as we view Lithocarpus (or Quercus?) uvarifolius nearby.
A first flowering of Magnolia sieboldii crossed with Magnolia virginiana (no name yet) is going to be good.
The old and now only surviving Meliosma veitchiorum is in full flower with its strange pale green flowers.
2015 – CHW
Late back from Belvoir and a wander to see what I have missed in flower as things go over so quickly when the weather is hot.A new clump of Rhododendron 'Fabia'  is looking fine but I remember 'Fabia' as a darker colour and more reddish.  On looking it up we now have Fabia Group.  This lot look like 'Fabia Waterer' (dichroanthum x griersonianum).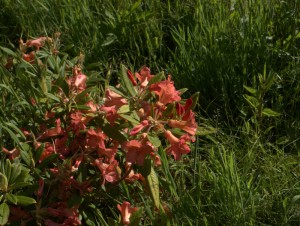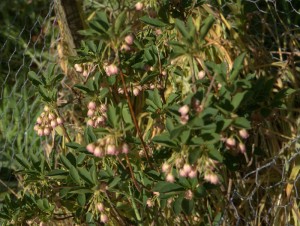 Even more younger Enkianthus have produced late flowers: Enkianthus campanulatus var palibini  – this one looks similar but not identical to three other sets in the garden and quite a bit darker than the one on our stand at Chelsea which had been given pre-Chelsea shade treatment of course.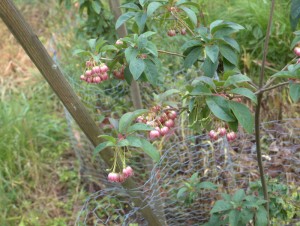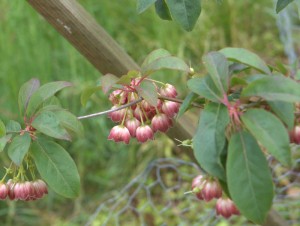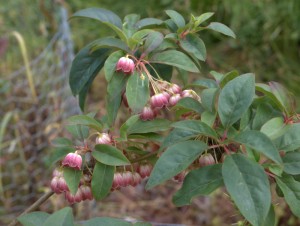 Enkianthus deflexus  – only one of a three year old clump of three plants has flowers but what whoppers they are!  A justification at last for my firm contention that this species is one of the best (Enkianthus hirtinervus excepted).  I have bought sets of this from Glendoick more recently and believe these were of Esvelt origin.  If you were only to grow one species it would not be Enkianthus campanulatus.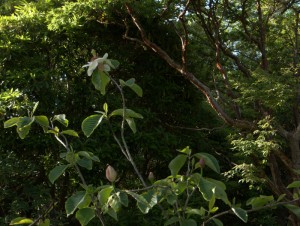 Then another new Magnolia x wiesneri  by Slip Rails flowering for the first time.  Rather more bud than on the plants on our Chelsea stand (Magnolia obovata x Magnolia sieboldii).  Of the nine new clumps of Ghent Azaleas in Kennel Close I have missed three in a week but here are three more to add to the three photographed a fortnight ago as they came out.
The contrast with the larger and blousier flowered Exbury and Knaphill hybrids is considerable.  Their compact habit and complex covering of flowers over the leaves and branches is striking and much in their favour.  I am delighted to have found something radically different for this new area of garden which should be around for many years.
We should now spray out areas for planting big groups of more unusual evergreen azaleas here next year or is it still too hot here for them?  We will need to grow them on into 5 or even 10 litre pots before putting them out.
1989 – FJW
A really good soak after a very dry 6 weeks – weather coming from north.
1927 – JCW
Cornish Loderi is at its best and in shade is very good, marked the best for Lanarth near the cable. A Calendulaceum is very good and I cleared some big ones in the Drive – Magnolia parviflora has flowers to come yet. Paeonies over nearly but have been nice.