2019 – CHW
A cuttings collecting day here with Enkianthus, Staphylea and others with softwood new growth. About 30 different things to set.
Rhododendron yuefengense flowering in the Higher Quarry Nursery Bed. A very distinct leaf shape and a species I first saw at Tregrehan. The plant came from Glendoick.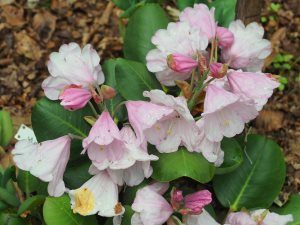 Syringa reticulata flowering for the second time below Donkey Shoe. Not a patch on the flower of another new Syringa species which we saw last week.
Kalmias planted in 1991 are now a bit too much in the shade but we did, last year, uplift a few nearby tree branches.
Abies pinsapo with a multitude of blue cones with spurs on each segment of the cones. This is only the second year that this young tree has performed (nothing last year) and about 35 to 40 cones overall. Abies delavayi nearby is similarly adorned.
Stewartia ogisu flowering for the first time. Smallish flowers with pink buds.
Supposedly a young Stewartia sinensis but I fear that the flowers are far too large. Need to see the seeds to key it out in full even if the calyxes look right.
Stewartia monodelpha about to flower. I am reasonably confident that this young plant is correctly named if only from its foliage colour last autumn.
Rhododendron 'Rubicon' nearly over. James Williams gave us a plant rooted by their head gardener. A cross between Rhododendron 'Kilimanjaro Group' and Rhododendron 'Noyo Chief' or so I look up.
A superb Cornus controversa 'Variegata'. Plastered in flower and by far the best thing in the garden today.
Rhododendron 'Tortoiseshell Orange' just going over. Rather paler than our form so I am not quite convinced this is the right name.
2017 – CHW
The Daily Telegraph has a picture of a 16ft tall Echium pininana growing outside. This beats the 14ft one growing at the Welsh Botanic Gardens in a biome featured in the papers before Chelsea. I suspect ours outside the library window are easily a match for the new Guinness Book of Records entry but am disinclined to prove it. I think that in this record echium year there will be many competitors for the prize – such as it is.Then the rare plant sale at Tregrehan where it rains hard for an hour and a half as Justin and I set up. A good turnout none the less and we sell 50 plants in the first two hours from the 150 which we took.
Back to a lunch for nine including Gerard and Nicky Clinton and, of course, a garden tour.
Another pinkish Rhododendron royalii hybrid has one flower.
Here is part of the group photo.
2016 – CHW
A viburnum species above Hovel Cart Road which is unnamed on the planting plans is looking good beside the newly collected (relatively speaking) Quercus oxyodon.
Sorbus folgneri 'Emiel' is out in flower after its superb berries and autumn colour last year.
Magnolia 'Green Bee' is looking good on the drive but not as good as 'Daphne'.
Enkianthus hirtinervus is just out, much later into flower than every other species and variety.
Rhododendron 'Treberrick', one of Dad's last hybrids, is doing well and he is pleased with some cut flowers.
Aesculus x carnea 'Briottii' above the greenhouse is a superb compact growing plant and well worth its place. Aesculus are never perceived properly as welcome flowering additions to June in woodland gardens.
2015 – CHWMore wanderings and Photima villosa var koreana is flowering nicely in full sun.  Photima villosa is a dull and common plant but this is much better with trailing branches of flowers.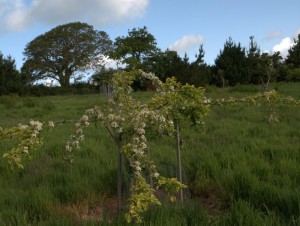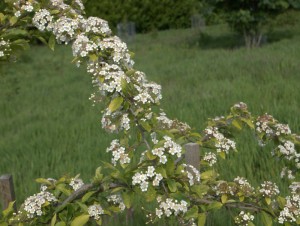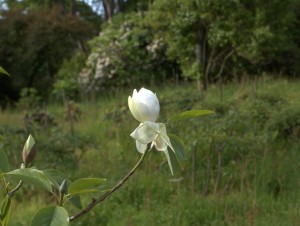 Then Magnolia 'Porcelain Dove' a hybrid between Magnolia globosa and Magnolia virginiana growing in full sun along from George's Hut.  Exceptionally good and a 'must have' for magnolia collectors.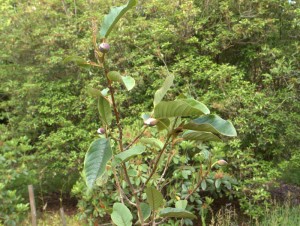 Nearby on the other side of the path is I think our only surviving plant of Magnolia globosa  from Eisenhut in Switzerland.  Two died in this spot but now we have the first flowers or buds anyway.  Magnolia globosa is short lived but this is the Chyverton form with delicious furry golden indumentum to the new growth.  I may be wrong but I think it is the Indian form of Magnolia globosa rather than the Chinese.  I tried to propagate this with material from Nigel Holman's plant eight or ten years ago but failed.
A check on Magnolia virginiana in a thicket shows no buds anywhere near out.
Similarly Magnolia rostrata (Tom Hudson form and rather different leaves from our old original plant – now dead).  No sign of any flower buds this year but the plant is at least 20 feet tall and tucked away beside the podocarpus clump.
Magnolia 'Summer Solstice' is also a Magnolia globosa x Magnolia obovata cross.  We await Magnolia globosa being full out.
Rhododendron 'Lems Monarch' is absolutely superb but will need plenty of room.
1927 – JCW
Griersonianum is at its best.
1915 – JCW
Fortunei hybrids by Park are going over, Azaleas (white, yellow, red) are about their best, good too in the Drive. Madame Lemoine lilac good for a week, all but the Waterer rhodo's are over now. Loder's White good yet. Viburnum plicatum and mariesii good.
1913 – JCW
We are picking daff seed but most of it bad in the stem. Azaleas, deciduous good some of them, picked the first Harrow hybrid sown in 1908, R boothi open for the first time and plicatum and laburnum good. R baylei remains good. Auklandii over. Roses nice. I go back tomorrow.
1905 – JCW
Picked some Caerhays seed nearly all bad. Ponticums well out, also Viburnum plicatum, moved a lot of bulbs. Solanum crispum our best thing.