2017 – CHW
Starting to photograph new plants for inclusion in the 2018 Burncoose catalogue:
Lonicera tragophylla 'Maurice Foster' is out for the first time ever with us. A gentle light yellow flower with a large flower cluster.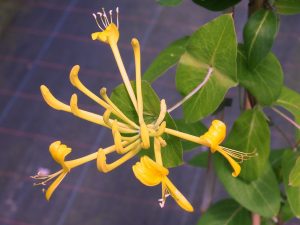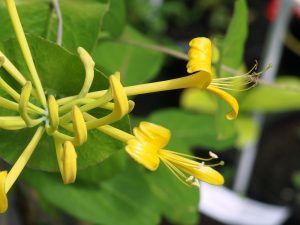 Paeonia 'Moon River' is finally out but I have missed the gentle pink hue it first is.
Dianthus 'Shooting Star' is a dwarfish pink with a good purple flower.
The white wisteria growing up the handrails leading up to the top nursery office door has jumped over into an adjacent conifer and is now flowering nicely through the conifer branches.
Look at this wonderful chunky new growth on an Acacia baileyana 'Purpurea' growing on the side of the packing shed.
2016 – CHW
The medlar tree is in place on the bank outside the front door for the official 'planting' ceremony by the Worshipful Company of Fruiterers later in the month. It sits beside a mulberry which is about as close to a genuinely fruiting tree as Caerhays gardens get. It may well need watering as we are now a fortnight post Chelsea without rain.
2015 – CHW
More quests for magnolias in flower today but nothing much new with two exceptions.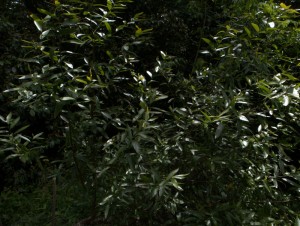 Growing well, but incorrectly in full shade, I find Umbellularia californica.  You get more than a headache if you crush and inhale the leaves.  A tender plant and quite rare outside.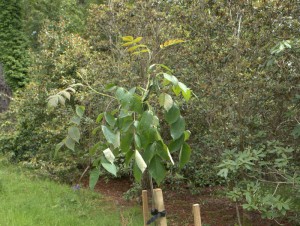 Hidden away beside it is a present from Tom Hudson, Rhoiptelea chiliantha, which he collected in Vietnam.  A forerunner in the juglandaceae/rhoipteleaceae and back into the tertiary and cretaceous periods of fossil history.  A millions of years old plant survivor from the origins of evolution from mosses and algae.  Looks tender (also dull)!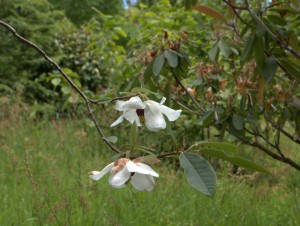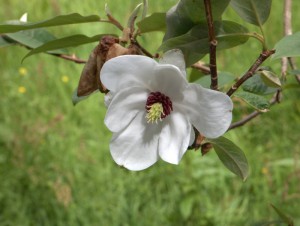 Above the big tree fern on the Main Path is a smallish plant of Magnolia wilsonii. Same coloured stamens but quite different in shape from Magnolia sieboldii sinensis.  Not a very healthy plant.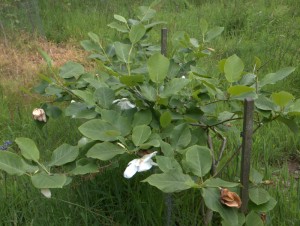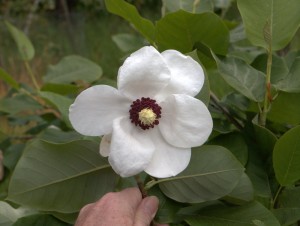 Just above it are two Magnolia 'Pride of Norway'  which look like an improved or selected form of Magnolia wilsonii with a good shape.  These came from Magnoliastore and I need to investigate further.  Presumably the magnolia breeder from Gothenberg?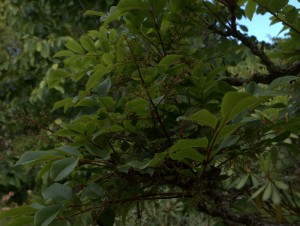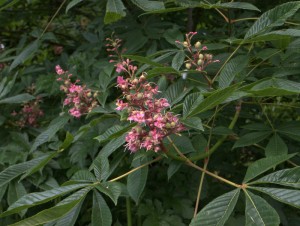 Aesculus bushii  is a quick grower with a beautiful flower just going over today.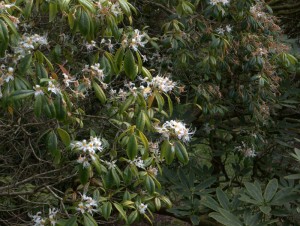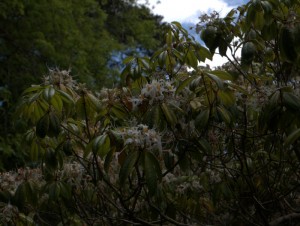 The original Rhododendron staminium in the Main Quarry is nearly over.  A week ago I did not photograph it as it was hardly out.  One year we had this at Chelsea on our stand.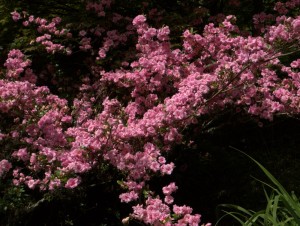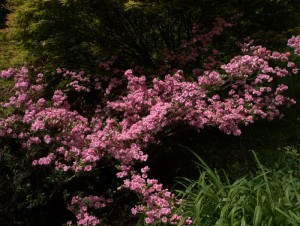 On the way back down to the Playhouse I cannot resist the oldish Azalea 'Rosebud' in full flower.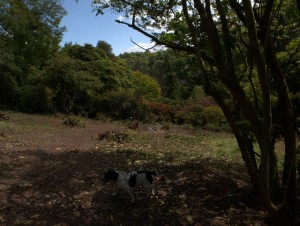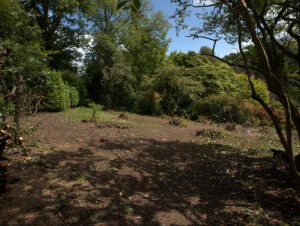 Clearance work now complete  behind the Symplocos paniculata.  Laurel all cut back and azaleas cut down ready for the mini digger.  Our new recruit from Pengreep has done a good job.  Nice place for some large growing rhodos and two more old enkianthus uncovered here too.  Sadly over but look like Enkianthus campanulatus.
1990 – FJW
First 12 hour soak for some time. Wet Royal Cornwall. Rho's out – micranthum, stamineum, decorum, Tally Ho x's. Most azaleas over.
1959 – FJW
Sent the following for Royal Box at R.C. Show – Tally Ho, Griersonianum, Mich. Doltsopa, Stewartia, pink Escallonia, pink Decorum, Souliei hybrids, macrostemum and many azaleas. Werrington had very little.
1918 – JCW
Much on the previous page for 1916 and 1917 is over and the air is too dry for Rhodo's to open well, a good Harrow hybrid with a dark leaf has turned up, no blotch, scented and a nice rose pink. One Wilson late Fortunei is open.