2020 – CHW
The last two days have been busy for the first time for 10 weeks. The estate insurance review and a rather exciting Burncoose management meeting as well as a Burncoose meeting about a new phone system and a meeting on the beach to investigate an automated self-ticketing system which may or may not be feasible.
This large tree fern has lived in a pot in the back yard for at least 10 years and is looking rather tired and pot bound in the heatwave. Jaimie uses the presence of a small digger to move it to a new planting site near the shop in some shade.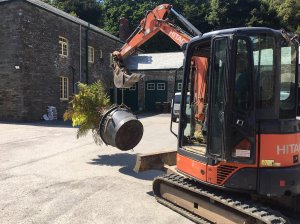 The 20 year old fence on the lawn to keep the dogs penned in has lasted well but has recently started to have rotten posts. Good job the digger was around as the original posts had been concreted in and could not be dug out by hand. A few dwarf conifers which I planted 40 years ago were no longer dwarf at all and threatening the drawing room foundations. Another on the bank was obscuring the view of the sea from the dining room. All gone now.
Reconstruction starts and the new posts are re-concreted in and painted with creosote (or whatever we are allowed to use now).
Iris douglasiana (I think) growing outside the School Room window. Do not remember it being there before?
To my amazement I find Carrierea calycina in flower in the rarities tunnel. Very few people have ever seen this very rare large shrub or small tree in flower in this country. It was a Wilson introduction in 1908 but then died out until 35 to 40 years ago when reintroduced via a US botanist. At Penrice Castle a 20 -25ft tall plant has never flowered. Two grow here and are perhaps 6-8ft tall with a 4-6ft spread but no flowers here either although I must check again. Someone once brought a small spray to a Garden Society dinner but I did not know the plant then or its rarity. As unusual as an Emmenopterys henryi flowering in the UK (only three ever have at Borde Hill, Kew and Wakehurst and our 110 year old tree never has!)? I would describe the flowers as shaped like a toad's mouth opening. The only vaguely similar shaped flower I know is Clerodendron.
Looking good in the nursery today: