2023 – CHW
Six magnolias in flower today and a seventh just over. Who says the magnolia season is over by May?
Kalmia latifolia 'Snowdrift' has been given more light and has responded well.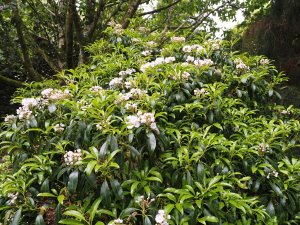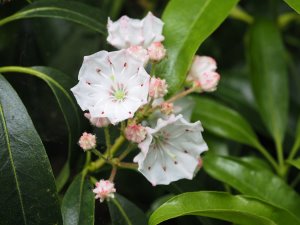 I have never seen Euonymus myrianthus flower as copiously as this all over the small tree. Outstanding!
The very last of the bluebells in full shade.
Last flowers on Michelia crassipes (as we bought it) – now M. laevifolia.
Sadly the original Podocarpus elongatus 'Blue Chip' which fell over last year has not been saved by re-propping it up. This came originally from Lees & Co. Nursery. Time to replace it in this key spot although we all thought it would be too tender for us. I have no doubt that the current dry spell (& last summer) has speeded up its demise.
I have missed the first flower on a young Magnolia macrophylla. This replaces the original tree which died/ fell over a year or two ago beyond George's Hut. As I remember it we used to look for flowers much later in the year.
Calycanthus 'Aphrodite' well out in Tin Garden. This diary saw flowers on this plant last October.
Magnolia acuminata 'Blue Opal' is not as good a 'blue' flower as M. 'Woodsman' and M. 'Patriot' which was out a month earlier. Odd and different!
Philadelphus satsuma (BSWJ 11004) – planted 2017. Less tall growing and vigorous than the other two species seen a week ago nearby in Kennel Close.
Magnolia x wieseneri well out.
Magnolia obovata 'Pink Flush' – some flowers over and some in tight bud.
Cotoneaster glomerulatus didn't flower much or produce berries here last year.
Magnolia 'Porcelain Dove' with plenty of bud to come.
Magnolia globosa just opening.
Deutzia x elegantissima 'Rosealind' on the bank by the top lodge.
The first hydrangea into flower – as usual Hydrangea 'Madame E. Mouilliere'.
Philadelphus coronarius and Metasequoia glyptostroboides 'Gold Rush'.
Cornus kousa var. chinensis and Fagus sylvatica 'Purpurea'.
Crataegus x lavalleei 'Carrierei' newly planted in White Stiles.
Tail end flowers and berries forming on Cotoneaster flinckii.
And on Cotoneaster wilsonii.
Hemiptelia davidii with new leaf and vicious spines.
Cornus kousa 'Doubloon' just about fully out.
Magnolia 'Yuchelia' outside the front gate flowering as you would expect from the proper original cross. Quite what this makes our wonderful 'Yuchelia' I know not but something got very wrongly labelled by Eisenhut 20 or more years ago.
Neil, Serena and Lamorna were at the Trooping of Colour and the flypast last Thursday as you can see before returning to quieter village life.
Azalea indicum 'Balsaminaeflorum'
Agapetes serpens with flower buds in the Rockery. Planted in March.
Gladiolus communis appearing as a decent naturalised clump outside the front gate.
Syplocos paniculata in full flower.
Rhododendron 'Olga'
Some Rhododendron decorum seedlings with a hint of pink in the flowers.
Still a few tail end flowers on Magnolia 'Daybreak'.
The barn conversions at White Stiles are nearing completion.
Crataegus dahurica in flower for the first time here.
Vallea stipularis flowering away.
Brassaiopsis dumicola with a flower bud.
Leaves and new growth on Viburnum furcatum.
A present of four new oak species from Thomas Methuen-Campbell.
Quercus tavoveensis
Quercus pinnatinenulense
Hydrangea quelpartensis on the top wall.
Sorbus dunnii in flower.
Thomas Methuen-Campbell was of the opinion that this could not be Quercus acuta. One to show Sue and Bleddyn from Crûg on Monday.
Thomas identifies this unnamed oak above Crinodendron Hedge as Quercus sessilifolia.
Catkins on Quercus kiukiangensis.
A flower bud or two on Magnolia sapaensis.
Rhododendron 'Mrs J C Williams'
Neolitsea aciculata – a gift from TH.
Magnolia 'Silk Road' flowering properly for the first time. Easy to see the Magnolia tripetala parentage.
Viburnum setigerum now out.
The 20 year old fence on the lawn to keep the dogs penned in has lasted well but has recently started to have rotten posts. Good job the digger was around as the original posts had been concreted in and could not be dug out by hand. A few dwarf conifers which I planted 40 years ago were no longer dwarf at all and threatening the drawing room foundations. Another on the bank was obscuring the view of the sea from the dining room. All gone now.
Reconstruction starts and the new posts are re-concreted in and painted with creosote (or whatever we are allowed to use now).
Iris douglasiana (I think) growing outside the School Room window. Do not remember it being there before?
To my amazement I find Carrierea calycina in flower in the rarities tunnel. Very few people have ever seen this very rare large shrub or small tree in flower in this country. It was a Wilson introduction in 1908 but then died out until 35 to 40 years ago when reintroduced via a US botanist. At Penrice Castle a 20 -25ft tall plant has never flowered. Two grow here and are perhaps 6-8ft tall with a 4-6ft spread but no flowers here either although I must check again. Someone once brought a small spray to a Garden Society dinner but I did not know the plant then or its rarity. As unusual as an Emmenopterys henryi flowering in the UK (only three ever have at Borde Hill, Kew and Wakehurst and our 110 year old tree never has!)? I would describe the flowers as shaped like a toad's mouth opening. The only vaguely similar shaped flower I know is Clerodendron.
Looking good in the nursery today: