2017 – CHW
The first Rosemoor Show is a disaster. The tent erected collapses so the classes are stuck in various rooms. We stage the magnolias on Friday night and they have flopped badly in the heat by the time of judging. No cup this year (first time for five years!). This is what they originally looked like! A confused show with a few nice things which were new: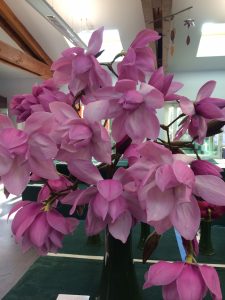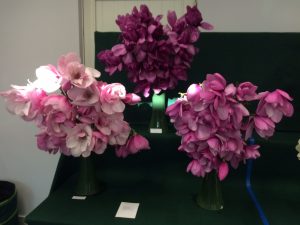 Acacia potaczeki was attractive and new to me.
Pieris formosa var forrestii 'Rowallane Spike' – flowers as its name implies.
Illicium simonsii won a cup (Trewithen). The flowers are rather hidden in the foliage.
Prunus laurocerasus 'Castlewellan' – a great deal better than our erratic 'Marbled White'.
Schefflera delavayi growing well with a little leaf yellowing over winter.
Pittosporum dallii – looks more like a pseudopanax.
Chionodoxa forbesii 'Blue Giant' would make an easy spring bulb pot sale with little effort.
Rhododendron Nimrod Group was very fine. A Rhododendron barbatum cross?
Forsystia x intermedia 'Goldrush' – huge flowers on this excellent form which was also for sale in their garden centre. I saw this last year too.
Xanthocyparis nootkatensis 'Pendula' – a superb and rare tree but could you ever grow it into a saleable state in a pot? (Recently reclassified as xanthocyparis rather than chamaecyparis.)
Aucuba japonica 'Dentata' – for shape and density as a large evergreen this was quite a surprise even if you do not like aucuba!
Chionodoca 'Pink Giant' – a good light pink form too which appeared to self sow itself.
Rhododendron vialii – almost a vireya but what a red!
Our Camellia 'Lipstick' is well worth propagating – no prize for this though.
Camellia 'Sweet Jane' a new Camellia transnokoensis hybrid so probably very tender. Better just opening than full out as you can see.