2017 – CHW
A Burncoose day to decide how to cope with a 34% increase in internet order numbers over last March and to prepare emergency measures if the packing sheds do get swamped. Still time for a few more new website pictures though.
The purchases (mainly acers) from the Lees & Co closing down sale have arrived in good order.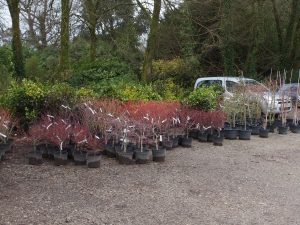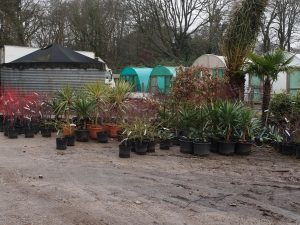 Some bought in Leucospermum cordifolium 'Copper Carnival' were in full flower.
Leucadendron salignum x discolor 'Sixteen Candles' also just coming out but already put aside as sold!
Cercis chinensis 'Arondale' with more flowers than I have ever seen on a small tree.
Akebia x pentaphylla now full out rather than just in bud as we saw 10 days ago.
Epimedium x warleyense – first flowers with old leaves still present.
Pinus strobus with delicate small needles.
We have been trying to get Edgewarthia chrysantha 'Red Dragon' for several years with many promises from Holland and Italy. At last we have some very small plants. Much better colour than the normal yellow one.
Parriotopsis jacquemontiana is not an evergreen and the flowers are a great improvement on Sycopsis sinensis which is the same cross the other way around and photographed last week
2016 – CHW
One of the finest things in the garden today after a mild winter is the very tender Rhododendron stenaulum (now renamed Rhododendron moulmainense) from Moulmein in Burma. The plant with its very attractive peeling bark is about 15-20ft tall. We used to have a white form above the wall which once got Dr Davidian, the great rhodo expert and author from The Royal Botanic Gardens in Edinburgh, into a huge state of excitement. We have grown this ourselves from seed but never from cuttings as yet.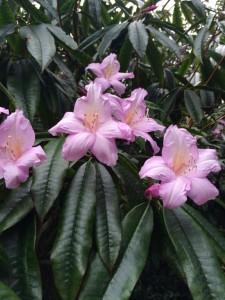 Camellia 'Nightrider' has its first almost black flowers in the greenhouse. It looks very tender. The plant came from a French nursery and is too small to go out for a while yet.
Sorting out the next batches of magnolias and a few other climbers with Asia for planting out in Old Park (fifteen) and Penvergate (five) after Easter. A soothing light rain and no wind to spoil the magnolias. This just leaves the rhododendrons in the frames and the nursery beds to deal with to complete this year's planting out. Around 80 new named magnolias already sorted and in place. Quite a full on year as usual.
Tilia endochrysea is further into leaf in the greenhouse and what a stunning plant this is a fortnight on from when the first buds broke.
Maurice Foster gave us Magnolia 'Chindit' which is a good new plant for us and this is safely potted on for planting out in 2017 or 2018. Tom Hudson gave us a new neolitsea species and two plants of a new camellia species whose names I forget. Bluebells popping out everywhere before the primroses are at their best. Who has ever seen this before?
2015 – CHW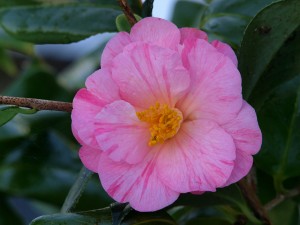 Off to Monica Dance's funeral in Camborne with a bad hangover.  Monica's husband, Arnold Dance, ran Burncoose Gardens for 42 years until his retirement in about 2002. Monica's son, Steve Dance, was born at Burncoose Lodge and currently runs the Burncoose office.
Her coffin was covered with a huge spray of Camellia x williamsii 'Monica Dance' which Arnold bred at Burncoose.
1993 – FJW
Very little rain for 8 weeks – garden very early – most of the Magnolias are over. Visited Marwood Hill.
1980 – FJW
Flower still out on Lanarth seedling above crino hedge.
1979 – FJW
First flower spotted on Magnolia 'Mr Garden'.
1978 – FJW
Still wet and windy Caerhays Belle excellent – best new USA Camellia Kramer's Supreme. Poor flowers on Lanarth seedlings above crino hedge.
1976 – FJW
F/M Monygomery died. Frost knocked out Magnolias except in Rookery; the Diva, – Rogers Quarry – all above frosted.
1962 – FJW
Killed Moorhen marked by Copenhagen Zoo.
1960 – FJW
The east wind stopped after a week. The Diva at its best as is the Robusta above E.R's Quarry. Calophytum sutchuenense hybrids best rhodo in the garden.
1952 – CW
Old Magnolia robusta no buds – 3 out of 5 young out, one fully (Donkey Shoe), Campbellii at best. Also old Mollicomata ¼ out, rest not including ten young with buds. Salicifolia one good. Diva a few flowers. Reticulatas and St Ewe at best. Saluenensis past best. Daffodils mid stream. Barbatum at best.
1941 – CW
Magnolia sargenteana fully out – Mollicomata beginning – Campbellii been out some days. Salicifolia below Engine House good. Denudata not ¼ out. Rhodo Blood Reds at their best also Sutchuenense hybrids, Daffs nearly at their best. Barbatum perfect – Cam reticulata species at their best – Reticulata not out.
1914 – JCW
Blackthorn well out under the drive, picked 3 buds of seedling Poet.