2019 – CHW
Some new magnolias flowering in Old Park on another glorious day. Three hundred and forty visitors to the garden last Sunday.
Magnolia 'Livingstone' – not one of the very best New Zealand hybrids perhaps but very well worth its place. 'Cleopatra' is better I think but, perhaps, early days.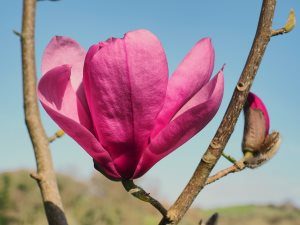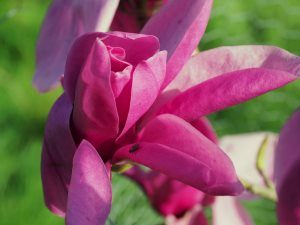 Magnolia 'Gold Cup' – fair I suppose but nothing exceptional.
Magnolia 'Anticipation' – quite a longstanding and well known hybrid soon to be superseded by better. From memory a Magnolia denudata form?
Magnolia 'Purple Dream' x 'Star Wars' – more Star Wars than purple in its first flowering.
Magnolia 'Early Rose' – I saw this first at Hergest Croft but it is actually a sister seedling to 'Star Wars'. Nothing that special as yet.
Magnolia 'Tikitere' not yet out so very late and heavily budded with huge buds.
Magnolia 'Early Rose' – the second plant in a more sheltered spot is further out.
Rhododendron gratum is brand new to Caerhays. First flowering. Not in the rhododendron handbook but with a collector's number I cannot quite read.
Magnolia 'Eric Savill' x 'Felicity' – not that exciting as yet but may improve on this first flowering.
I wonder how many different magnolias (new and old) I have photographed in this wonderful magnolia spring? Approaching 150 or more I guess?
Magnolia 'Iolanthe' about to come out and seemingly undamaged.
Rhododendron kiyosumense just showing on the drive. Another plant was out before the cold weather struck.
Leucojum aestivum nicely out but blown over in the winds. A fine snowdrop species.
Camellia 'Drama Girl' in full flow by The Hovel.
Stachyurus yunnanensis with its evergreen foliage burnt off in the cold but still with plenty of flowering tassels.
Stachyurus chinensis looking quite splendid (deciduous).
Stachyurus lancifolius also nicely in flower (deciduous).
Another Stachyurus yunnanensis or perhaps Stachyurus sigeyosii? No leaves left and I think more likely to be S. sigeyosii which is semi-evergreen.
The best thing in the garden today is a young Rhododendron sutchuanense just coming out below the main ride. Its more elderly parents were out too soon and frosted out a month ago.
At last a half decent tree magnolia in flower. Here a Magnolia sprengeri 'Diva' seedling.
2017 – CHW
A visit to the greenhouse but no opportunity to compliment Asia on her work as I am late. Amazing new seedlings and recently potted cuttings – many very rare – on display. More photos to come!
Stauntonia hexaphylla growing on and over the wall is nearly open. Flowers only on last year's new growth.
Tom Hudson's Camellia chekiangoleosa with its very first ever flower with us. Grown from seed. Leaves look a bit chlorotic but indeed a 'sumptuous red' as described in 'New Trees'. We need to catch up with more of these new camellia species.
Then off to Forty Acres in the sun to view the American magnolia plantings now 15 plus years on. Plenty of room to plant more here this year though.Magnolia 'Frank Gladney' is nice enough but nothing special really.
Magnolia 'Crimson Stipple' has only the odd hint of crimson in the inner tepals and on the outer tepals only in bud. It seems to fade as they open.
Magnolia x loebneri 'Powder Puff' is exceptional and easily the best magnolia here today. One of Jim Gardiner's favourites too.
Young Rhododendron calophytums in the distance – one pink, one white.
Magnolia 'Delicatissima' is not bad with a nice habit for smaller gardens.
Views across the whole huge clearing as the magnolias achieve a reasonable deer proof size.
Magnolia 'Big Dude' a bit weather beaten but a better colour than photographed a month or so ago elsewhere.
A giant schefflera which we always forget and I forget the species name! Schefflera delavayi?
We have known this magnolia was wrongly named as 'Randy' since it first flowered and had meant to move it. I think it is probably Magnolia 'Fireglow' (cylindrica x denudata 'Sawadas Pink') as the description fits.
Camellia 'Midnight Magic' is looking fantastic below the path towards Rookery Gate. What a red! This will be a bestseller for many years for Burncoose Nurseries.
The small plant of Magnolia 'Philip Tregunna' below The Pound is just past its best. Its parent is perhaps the best magnolia in the garden this week.
Then the second wrongly labelled magnolia. It is labelled 'Joe McDaniel' but is nothing like it. Another white with a hint of pink at the base but rather larger than 'Fireglow' above. From the reference books and its shape reckon it is Magnolia 'Pickards Coral' which is white with pink undertones. We need to change the label but, looking today, I am glad we did not ditch or move either of these quite good plants.
These Rhododendron ririei came from a Tom Hudson collection. The three plants are all a bit different but a great colour if you like mauves.
The first of the old Magnolia sargentiana var robustas on the Main Ride is suddenly out.
Rhododendron 'Crossbill' has had a hint of colour for a few weeks but is now fully out exactly on time.
A quick look at Gordonia axillaris which has come through the winter unscathed apart from deer nibbling at the base.
Magnolia 'Moondance' looks only a bit different to 'Pickards Coral' or 'Fireglow' FAR too many similar ones have been named in the USA. Not far off Magnolia soulangeana 'Sundew' either.
One of those amazing garden views that only March, Magnolias and a Magnificent day can bring! A Magnolia campbellii Alba seedling (left), Magnolia 'Philip Tregunna' (centre) and Magnolia sargentiana robusta (far right).
Now a slightly battered Magnolia 'Pickards Firefly' which just adds to the confusion with 'Fireglow' and other named Pickards magnolias. I doubt anyone will ever definitively sort it out but any magnolia looks ok today.
Magnolia 'Sayonara' has a much smaller whiter flower than I remember.
This plant was originally Magnolia denudata var purpurascens otherwise known in the 1920s as Magnolia sprengeri var elongata. However since sprengeri elongata is white and the plant beside it is clearly a pinkish purple sprengeri form as well dating back to pre 1920 I guess we have both whatever the botanists have reclassified them as now.
Lindera umbellate membranacae (BSWJ10837) planted in 2011 is doing well and now flowering. New Trees says it is a form of Lindera sericea.
Magnolia 'Caerhays Philip' is simply splendid. You sit and look at this in simple amazement. The best thing in the garden today.
Another stunner against a blue sky is Magnolia 'Princess Margaret'.
Magnolia 'Atlas' is full out but still here in the shade. The flowers are truly enormous.
This is the Queen Mother's magnolia planted by her in the 1970s. Not particularly unique but nice enough.
Another towering Magnolia sargentiana var robusta which you get a perfect view of from the churchyard and village.
In the ririei opening we have Magnolia mollicomata (left) and Magnolia sargentiana robusta (right) and Magnolia campbellii Alba (back) all growing together side by side and all at their best today.
Rhododendron morii has had the odd flower out for six weeks or so but has now decided to come out properly. I planted this clump 35 years ago and another clump on the drive. Both are now starting to die off from old age. Overflowering and overseeding I suspect.
1930 – JCW
Magnolia kobus open, no stellata.
1925 – JCW
Mag denudata opening, kobus and halleana as in last year perhaps 50-60 species of Rho show flower more or less.
1923 – JCW
No frost as yet for the winter i.e real frost, M de Graaf opening. The first Magnolia denudata bud opens, the early Kobus is in full flower, some Magnolia soulangeana, some halleana, Prunus subhirtella in Old Park is open, the tall form.
1916 – JCW
Cold and some frost. Several R reticulata open, a few Auklandii x Blood Red, some [?] carlesi. Erica hybrida is good and has been since Christmas.
1913 – JCW
R ciliatum nearly over, C reticulata half out, much as in 1897.
1904 – JCW
Just about 1899 to the day.
1903 – JCW
Very near 1897 in point of time.Narcissi Weardale, Monarch, [?] all more or less out. Have picked most of the flowers for the show on the 31st. Princep Mary nearing the turn to go back, very nearly mid season for daffs.
1901 – JCW
Say a week of mild weather behind 1899. Magnolia halleana open for a day or two.
1900 – JCW
Have been away for a week, but little movement in the daffs, we are about five days behind 1899.
1899 – JCW
Two or three Reticulata, a few Ciliatum, a few Emperor and Empress, most of the Sir Watkin, a few 116, one Princep Mary, several Commodore, all 23, most of 122.
1898 – JCW
North east gale and sleet. Commodore opening and the big Sir Watkin seedling. Queen of Spain open, double peaches in the drive, and the scarlet crabs.
1897 – JCW
F Wilson out, Mrs Vincent, half the de Graafs. Scarlet tulips and Reticulata at their best. Queen of Spain out. I find the Aureas have been throwing up for a long time.