2021 – CHW
Finally, our long-planned trip here with Nick Lock to view some of the dull and rare plants in the following families – Schinus, Foresteria, Shepherdia and Melicytus. Nick had sent me pictures of his Schinus latifolius (attached here) which came from Burncoose many moons ago. We looked at what I think may be our Schinus polygamus or Schinus mole which had lost most of its leaves in the cold below Tin Garden. Neither of us are sure if it is correctly identified as either. We expected Melicytus crassifolius to have yellow flowers but ours has pinkish ones. The plant of M. crassifolius which Nick kindly gave us did have white rounded berries. I have never seen any berries on our plant. It may be another species of Melicytus or it may not but we do have another plant with smaller darker leaves which looks more true to name.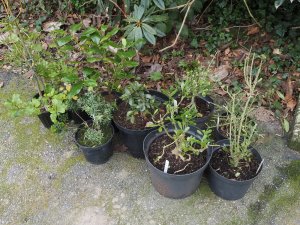 A few white berries left on Melicytus crassifolius.
Tiny and intricate leaves on Pittosporum michei.
Magnolia cylindrica 'Bjuv' just coming out in Kennel Close.
Magnolia 'Bishop Michael' with a few low down and perfectly coloured flowers.
Magnolia 'Albatross' now full out.
First flowers opening on Magnolia 'Atlas'.
Rhododendron gingongshanicum (AC 5108) is extraordinarily rare. Here it is making a fine plant.
A couple of good coloured young plants of Rhododendron calophytum by Georges Hut.
Rhododendron arboreum 'Tony Shilling'
I had wondered if these were Rhododendron irroratum but, now fully out, I can see the blotching in the trumpets.