2023 – CHW
Here are the details of the gift made by the Rhododendron, Camellia and Magnolia Group to His Majesty on the occasion of his coronation. Caerhays contributed 3 magnolias to the gift.
2022 – CHW
The grand tour of Cornish gardens with the 31 RHS Fellows continues.
Illicium philippinense (CWJ 12466) in flower in the Rookery.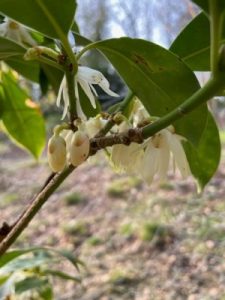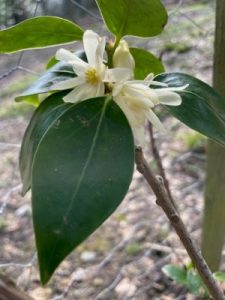 The first time that our Rhaphithamnus spinosus has produced its pale blue flowers.
Sally Hayward forwards the conclusion of the research into Camellia x williamsii 'Delia Williams' and 'Citation':
First flowers out on Magnolia 'Sundance'.
Magnolia 'Caerhays Surprise' and a blue sky.
Rhododendron macabeanum and Magnolia 'Wada's Memory'.
Symplocos paniculata in flower.
The Fellows gathered on the lawn.
The Fellows at Tregothnan.
Magnolia 'Milky Way' on the Bowling Green at Tregothnan.
Quercus suber and Michelia doltsopa.
Pinus montezumae and Rhododendron 'Cornish Red'.
Rhododendron protistum – pink in bud but fading quickly.
The rare Camellia glabsipetala.
Labelled Camellia japonica species?
Quercus agrifolia in flower.
Rhododendron cilpinense and Rhododendron bauhiniiflorum.
Erica canaliculata and Azalea 'Amoena'.