2018 – CHW
So who says that there is nothing to see in the garden. Already things are breaking out again. A half decent Camellia x williamsii 'Monica Dance'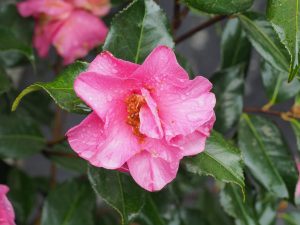 A pretty fair Camellia 'Dr Burnside'
Some Camellia x willimasii 'Debbie' starting to open
A small Camellia 'Grand Slam' perhaps?
Rhododenron moupinense has perfect new flowers appearing after the frosted ones. Very resilient indeed!
Another just discovered storm damage casualty. A beech tree above the greenhouse. Not sure how we all failed to see this until now. More hassle and work. A beech branch brought down an oak tree.