2019 – CHW
Frankie Tregunna and Ross Collins both have huge machines clearing the old Tin Garden pheasant pen to make way for a new planting around the Tin Garden shed to commemorate my father's life and his plants. The family want to donate seats etc and we will have a few pictures in the hut for visitors to admire. In the dry weather it should take only three or four days to clear the rubbish, dig out all the roots and work up the ground for planting this year – even next week!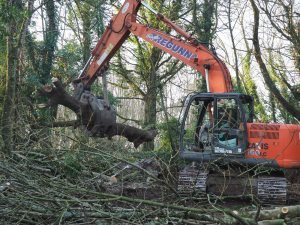 Magnolia 'Sweet Valentine' just showing nicely as the small tree matures.
Magnolia sargentiana 'Blood Moon' – the first flower on this young plant is not as dark (yet) as expected.
Magnolia 'Black Tulip' x 'Pickards Ruby' – first interesting flowers on this as yet unnamed hybrid which I strongly suspect is of Belgian origin. Darker than 'Pickards Ruby' but retaining the nice whitish edging to the tepals. I now see that this cross is called 'Venus'.
Magnolia 'Rebeccas Perfume' – first decent full flowering with us. A good hybrid which has bicoloured tepals at first as you can see.
Magnolia denudata 'Double Diamond'. Not really a full double but more tepals than in conventional M. denudata. The plant at Burncoose is labelled M. denudata 'Dubbel' which I assume is the same thing. The Burncoose plant is now 26-30ft tall.
A pretty fair Camellia 'Dr Burnside'
Some Camellia x willimasii 'Debbie' starting to open
A small Camellia 'Grand Slam' perhaps?
Rhododenron moupinense has perfect new flowers appearing after the frosted ones. Very resilient indeed!
Another just discovered storm damage casualty. A beech tree above the greenhouse. Not sure how we all failed to see this until now. More hassle and work. A beech branch brought down an oak tree.