2023 – CHW
Our 2022 Jubilee planting of Malus in the Old Kitchen Garden has been formally recorded as part of The Queen's Canopy map and is there as historical record for all to see.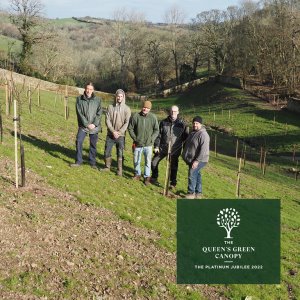 Camellia japonica 'Midnight Variegated' a good new addition to the collection.
Hydrangeas bursting into leaf.
On Bond Street a Magnolia 'Lanarth' seedling is a better colour than I have ever seen it before as it appears above some huge Camellia x williamsii 'J.C. Williams'. The drought has indeed improved the magnolia colours this spring.
Rhododendron oreodoxa var fargesii is doing well above the drive in our thriving young rhododendron plantation on from the Symplocos paniculate.
A huge limb collapsed, but still hanging onto the main trunk, on a Pinus insignis near the Engine House and a tree surgeon had to make it safe for the team to cut up on the ground. Storm Eunice but we had not noticed this until recently. It has hit a rather nicely shaped liquidambar which was a gift to my father from Lord Falmouth.
Magnolia 'Mr Julian' now full out beside a Michelia doltsopa. The adjacent M. campbellii is now over. Breathtaking!
Camellia 'Mimosa Jury' (C. saluenensis x C. japonica 'K Sawada')
The Magnolia campbellii seedling with the huge flowers on the Main Ride.
A view today of this from along the Main Ride with the tree fern to the right.
Jaimie's homebred Magnolia 'Caerhays Splendour' at its splendid best.
Magnolia 'Suzannah van Veen' now fully out with M. 'Caerhays Belle' in the background.
Magnolia 'Jersey Belle' at its very best as well.
The emerging view of magnolias into the Ririei Opening with M. 'Jersey Belle' in the forefront.
Setting out the 12 newly purchased species of bamboo below the Old Kennels.
Eight groups of deciduous azaleas go in on the path up from the Kennels to give more late spring colour to Old Park.
Bergenia ciliata (?) just coming into flower by the front door.
I did not stop today to photograph each new bamboo individually but Phyllostachys aurea 'Koi' already has interesting canes.
Borinda (Fargesia) frigida (syn. frigidorum) likewise.
Interesting seed cones from the very ends of twigs blown off Cunninghamia lanceolata. These were on the path 30 yards from the old tree.
Michelia 'Fairy Cream' nicely out in Old Park. Impressively quick growth into a sizeable small tree.
Tree surgeons felling some elderly sweet chestnuts in Old Park.
Camellia sasanqua 'Yume' is very late into flower for a sasanqua.
The Magnolia 'Caerhays Belle' seedling outside the arch is at its best today despite the cold east wind and minimal sun.
The new laundry sorting and storage shed is moving on quickly in the farmyard.
Having just paid an enormous bill for the Hovel conversion into two dwellings this month I thought it sensible to have a look! The windows and two staircases are now in and it is really taking shape. Should finish on time in May.
Osmanthus americanus is a new species to us. Here its first flowers in the greenhouse. Nothing special really!
Sorbus zahlburckneri already in leaf with flower buds in the first week of March.
Our stock plant of Camellia transnokoensis now lives in the greenhouse after the best plant was killed in the 2018 Beast. It grows very happily outside at Trewithen, so I need to find a better location when we try it again in the garden.
Petals falling under the Magnolia campbellii which has been out for a month.
Magnolia 'Mr Julian' just coming out.
The original Magnolia 'Caerhays Splendour' at its peak today.
Magnolia 'Rebecca's Perfume' just starting.
Magnolia 'Elizabeth Holman' quite superb. Planted in 2014.
Magnolia 'Vairano' (Magnolia 'Iolanthe' x Magnolia campbellii) as good as I have seen it yet.
Magnolia 'Antje Zandee' (Magnolia 'Black Tulip' x Magnolia 'Deep Purple Dream') just coming. Planted 2013.
Magnolia 'Vulcan' x 'Black Tulip' has small rounded flowers. Not sure how these will turn out.
Sorbus aff. ligustrifolia (HWJ 948) is in flower but I am not convinced this is correctly named. 2010 planted. New leaves should be bronzy according to Hillier's but the leaves are indeed privet-like.
Prunus 'Collingwood Ingram' is a much lighter colour in flower than 'Felix Jury'. Excellent!
Wonderful peeling bark in the sunlight on Betula prattii. Planted in 2010.
A Magnolia sargentiana var. robusta seedling planted by the Queen Mother in 1981 is worth its place today. The plaque is showing its age.
Our best Magnolia sargentiana var. robusta in the Rireii Opening. Plastered in flower on every twig.
Jaimie's hybrid Rhododendron 'Maisie' full out.
Camellia reticulata 'Dream Castle' measured beside Lizzie's hand.
Caerhays bred Rhododendron Golden Oriole Group – 'Talavera'.
Magnolia 'Plum Pudding' with another 'pudding' underneath (Nicky).
Camellia reticulata 'Fiesta Crane'