2020 – CHW
A wonderful time in the garden with magnolias galore.
The Magnolia campbellii 'Alba' seedling in the Auklandii Garden is at its best in the sun. Pinkish flamingos indeed!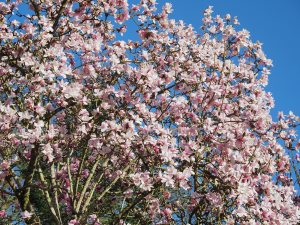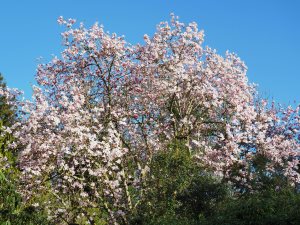 Petals falling under the Magnolia campbellii which has been out for a month.
Magnolia 'Mr Julian' just coming out.
The original Magnolia 'Caerhays Splendour' at its peak today.
Magnolia 'Rebecca's Perfume' just starting.
Magnolia 'Elizabeth Holman' quite superb. Planted in 2014.
Magnolia 'Vairano' (Magnolia 'Iolanthe' x Magnolia campbellii) as good as I have seen it yet.
Magnolia 'Antje Zandee' (Magnolia 'Black Tulip' x Magnolia 'Deep Purple Dream') just coming. Planted 2013.
Magnolia 'Vulcan' x 'Black Tulip' has small rounded flowers. Not sure how these will turn out.
Sorbus aff. ligustrifolia (HWJ 948) is in flower but I am not convinced this is correctly named. 2010 planted. New leaves should be bronzy according to Hillier's but the leaves are indeed privet-like.
Prunus 'Collingwood Ingram' is a much lighter colour in flower than 'Felix Jury'. Excellent!
Wonderful peeling bark in the sunlight on Betula prattii. Planted in 2010.
A Magnolia sargentiana var. robusta seedling planted by the Queen Mother in 1981 is worth its place today. The plaque is showing its age.
Our best Magnolia sargentiana var. robusta in the Rireii Opening. Plastered in flower on every twig.
Jaimie's hybrid Rhododendron 'Maisie' full out.
Camellia reticulata 'Dream Castle' measured beside Lizzie's hand.
Caerhays bred Rhododendron Golden Oriole Group – 'Talavera'.
Magnolia 'Plum Pudding' with another 'pudding' underneath (Nicky).
Camellia reticulata 'Fiesta Crane'