2022 – CHW
Due to lack of time from the impending Rosemoor show and the garden weekend here Jaimie and I had a plant placing out session at 8.30am on Sunday morning. Thirty or more of the rarest plants needing special thought about their positioning. As ever we are running out of space and still have a couple more days of planting out to go as well as a day on rhododendrons from the Rookery Nursery bed and elsewhere. Old Park planting all completed and wired last week as well as Kennel Close magnolias and Crataegus. Lots of stuff still to go out in the Isla Rose Plantation and above the greenhouse. Tender oddments and summer flowering shrubs for the drive / White Stiles.
Magnolia 'Bishop Michael' just out in Rogers Quarry. Much later into flower than 'Bishop Peter'.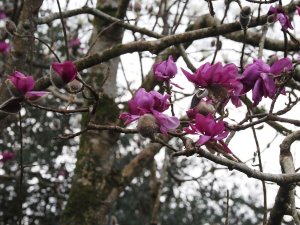 First ever buds on Magnolia ernestii (formerly Michelia wilsonii). A new species to us and eagerly awaited. It may be one to savour at the forthcoming garden weekend.
Flowers on a very elderly pure Magnolia mollicomata. A multi stemmed tree.
Rhododendron 'Choremia' (Rh. arboreum x Rh. haematodes) towards Tin Garden. John Anderson showed this hybrid in his excellent recent online Plant Heritage lecture on Windsor rhododendrons. I guess it was originally a Tower Court hybrid?
A young Magnolia sprengeri var. Diva 'Burncoose' just out.
The colour of Magnolia 'Shirazz' is superb.
First flowers in Tin Garden on the young (and as yet unnamed) Magnolia 'Pickard's Ruby' x Magnolia 'JC Williams'.
More flowers this year on the heavily pruned Magnolia sprengeri var. Diva (seedling) tree in Tin Garden. Definitely a sprengeri var. Diva flower shape.
Prunus campanulatus 'Felix Jury' now full out. A very special colour for a cherry. This ought to be much more widely grown.
The first 'cabbage' flower out on Magnolia 'Felix Jury'. The other two plants in the garden are not yet showing colour.
Helwingia chinensis is a suckering, spreading shrub so we have put another beside the existing one. Note how much bigger the leaves are on the plant from the frames.
With the loss of the three huge beech trees at Higher Quarry Nursery the wind is battering the big leaf rhododendrons and they do not like it!
Magnolia 'Plum Pudding' now fully out. A small round headed shrub and not a big tree.
A white flowered Bergenia 'Bressingham White' by the front door peeping out. The last remnants of what once edged the border here.
Indocalamus tesselatus (Sasa tesselatus) – the largest leaves of all hardy bamboos. Grows to 6ft or so.
Chusquea culeou – 'Foxtail Bamboo' – let us hope it does not seed and die like Chusquea gigantea just has.
Fargesia nitida 'Juizahaigou I' or syn. 'Red Panda' – superb form of this species with reddish canes in spring and autumn.
Borinda scabrida (Fargesia robusta) – persistent white sheaths.
Thamnocalamus crassinodus – zigzags just starting at the base.
Borinda (Fargesia) frigida (syn. frigidorum) – not listed in Hilliers!
Phyllostachys aureosulcata 'Spectabilis' – yellow canes with a green band in the groove.
Phyllostachys viridi-glaucescens – green canes fading to dull yellowish green.