2017 – CHW
Showers and brief sunny periods.
Rhododendron Golden Orieole var 'Talavera' is a Caerhays hybrid between Rhododendron moupinense and Rhododendron lutescens. Short lived and not hugely floriferous but it has lovely smooth bark.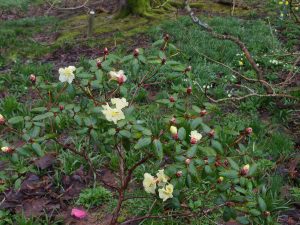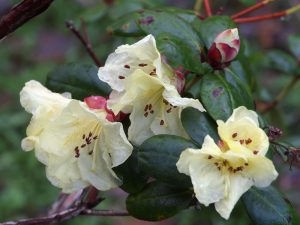 Magnolia sprengeri var diva faces the wind on the drive. Note the drooping branches of this pure form.
This magnolia seedling (unnamed) close to the entrance to White Styles field makes a good show from the drive today.
The clump of Rhododendron moupinense on the drive is outstanding today although we pictured the odd flower a while ago in February.
An early and windblown flower on Rhododendron 'Emma Williams'.
Magnolia denudate 'Forrest Pink' is showing colour but still far from out.
The New Zealand bred Magnolia 'Brixton Belle' is perfect today. Look at its useful spreading habit. Never going to be a big tree and very 'dainty' flowers.
Magnolia 'Susannah van Veen' is the New Zealanders answer to 'Caerhays Belle' and said to be an identical cross. Last year these two smallish trees were very similar but not this year. Susannah has clearly been blown open early. The flowers are small and have a strange bicolour effect.
Magnolia 'Caerhays Belle' is much better today (this year anyway) as I am sure you would agree here.
Another group of my father's hybrids which I need to track and identify.
The group of five are all different and one has a hint of pink. They may be a Rhododendron calophytum cross.
The Magnolia campbellii which took 43 years to flower is just now out.
A young Camellia x williamsii 'Caerhays' with its first two flowers.
The original and true Magnolia 'Lanarth' has snuck out in a few days. Nothing doing last Monday. Awkward to photograph it properly. I have seen it darker in colour.
2016 – CHW
Off to Forty Acres wood to check the American magnolia collection.I can see from the drive that it has been blown and frosted away much like last year but worse. It is a pity it is so far away with so much to catch up with much nearer in the main garden.
Magnolia 'Pickards Opal' has a few flowers of no great note.
The panorama view of the now nearly 20 year old replanting does however show how well those plants which have survived the deer have done. Most are now established small trees but I wonder if I have planted them all in too much of a frost pocket? We did have a good Magnolia 'Ethel Hillier' in January which clearly did not get frosted (and is now over) but this lot have had it apart from those (several) still in tight bud.
Magnolia 'Candy Cane' might have been quite nice.
Magnolia 'Eleanor May' has one decent flower left which is not too bad a colour. One to watch out for perhaps next year.
Magnolia x loebneri 'Mags Pirouette' is largely still to come out and has made sturdy growth. A very good magnolia indeed.
A smallish (six to eight foot) Michelia doltsopa seedling in the teeth of the wind (north) has its first few flowers. Quite a surprise.
The hugely dull Magnolia amoena has a few flowers out. It is very like Magnolia zenii indeed and just as boring but it has made a very nice tree if anyone cares?
Magnolia 'Frank Gladney' is about to open and looks nothing special either but will make a big tree in the open as it is here.
We planted a row of cutting grown Crabiodendron yunnanense at the bottom of the main clearing. Strangely they have set quite a crop of seed. I do not remember the original plant in the Auklandii Garden ever setting seed after flowering.
A rather better plant here too of Saxegothaea conspicua which is rather less drawn and leggy than the one a day or two ago. A good place for this!
A nice clump of narcissus that might be a cross with Narcissus cyclamineus next to the bluebells.
The varied wild forms of daffodil and some that may well have crossed naturally with more cultivated species are at their best allover the place towards the Four in Hand among a crop of primroses that are just emerging.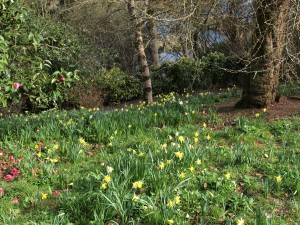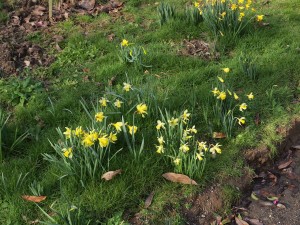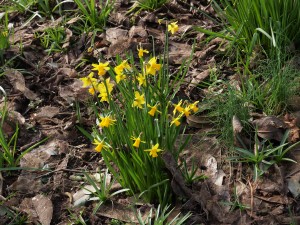 I have picked out a few of the better ones to enjoy but sadly I have no idea of any names. The sun belies a coldish day.
2015 – CHW
The best magnolia in the garden today is a Magnolia mollicomata seedling above Crinodendron Hedge. Although hidden from the main visitor route it is probably today more impressive than the record Magnolia campbellii. Magnolia 'F J Williams' in the Auklandii garden coming out. A good rich colour this year with no wind or frost damage.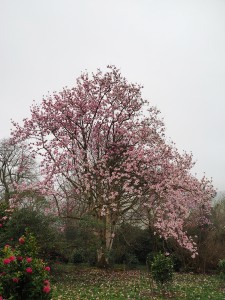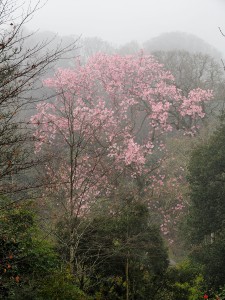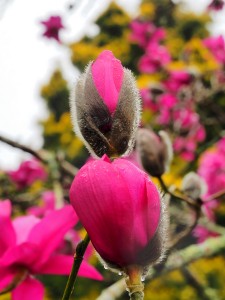 1955 – CW
No colour on any Magnolia. A few early buds of Campbellii show Feb 20 all gone. Camellias coming again including a few Reticulata large double white and hybrid pink below Tin Garden good flowers. About 6 labelled daffodils coming out – very few Rhodo's, some reds and Sutchuenense hybrids coming out.
1950 – CW
Magnolia campbellii out and flowers on stellata, Diva, White campbellii and a young Robusta almost show colour. Camellia hybrids past best, reticulata species very good. Rho moupinense hybrids good. A lot out in wood and Tin Garden. Big Michelia a lot coming out, say 100 buds.
1910 – JCW
We have a bud of Mag halleana (stellata) open, all Caerhays, Irving, Tenby etc since long, Rho argenteum and ciliatum are both good. R praecox has opened heaths very nice. Prunus triloba good, one Cam reticulata.
1903 – JCW
The same as the above, but I see no Emperor but plenty of Princep Mary, Victoria, Sir Watkin etc, it is a very early year so far and we have had hundreds of inferior seedlings open.
1897 – JCW
Most of one batch of Sir Watkin out, all N Horsfieldii, some G Spur and H irving. First Emperor shows colour, Italian trumpet out.