2023 – CHW
The fine, if chilly week continues. No actual frost to hurt the magnolias and lots of new things today to admire in the sun.
A young Magnolia 'Caerhays Splendour' and Camellia japonica 'Magnoliifolia' – one of the 5 'Splendours' on the bank above the front door.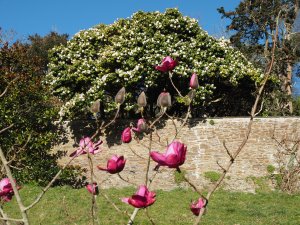 A close up of Magnolia 'Caerhays Splendour' which the east wind has blown open slightly early.
Narcissus cyclamineus at its best and multiplying quickly on the top bank.
The 1913 Magnolia campbellii approaches best against a (cold) blue sky.
Camellia 'Mimosa Jury' just opening. A fairly recent introduction here and good!
Jaimie's new hybrid is a hugely better colour in its third year of flowering. More news on this soon.
Magnolia 'Hawk' just out.
Magnolia sargentiana 'Blood Moon'.
Magnolia sargentiana 'F.J. Williams' – the original in the Auklandii Garden is more sheltered and only showing colour today.
Cotoneaster glomeratus still has berries in Kennel Close. The older plants on the drive and younger ones below Slip Rail never had any at all this autumn.
Magnolia 'Pickard's Ruby' x M. 'J.C. Williams' – worth registering and naming? (or has it already been?) Asia might check the list.
Magnolia mollicomata 'Werrington' very fine!
Magnolia mollicomata 'Black Tulip' just showing colour.
Rhododendron davidii (from Tom Hudson originally) just going over.
Magnolia 'Rebecca's Perfume' in the Isla Rose Plantation with five flowers this year (planted 2017/8).
Magnolia 'Betty Jessel' with a blue sky behind what is becoming a huge upright tree.
Magnolia 'Betty Jessel' and Magnolia sargentiana var. robusta (just coming out) in the Ririei Opening.
Flowers out on Eurya japonica in the Rookery which readily self-seeds itself around and about.
A large camellia blew over and has been re-uprighted on Rookery Path but it now needs a good prune to recover. The flowers are small and not opening properly for lack of sustenance from damaged roots.
2021 – CHW
The tree surgeons are felling a few supposedly dead or diseased sweet chestnuts in Old Park and trying (fairly successfully) not to hit any of our new planting. The tree featured here was around 120 years old and had dead branches in its crown as anyone (apart from the Forestry Commission) might expect in an elderly sweet chestnut starting to decay and reach the end of its life. As you can see here there is no rot in the base of the tree which was not "diseased" at all in its crown. Yes, the regrowth from the base did have some Phytophthora ramorum infection, but this regrowth had already been removed a year ago. The original Forestry Commission contention was that dead crowns meant a new notifiable sweet chestnut disease. This was not the case, but we got caught in the fallout and a compulsory felling order. It seems odd that, at a time when every aspect of climate change / carbon neutral government policy wants trees, veteran trees, and more tree planting, the Forestry Commission is destroying veteran trees rather than letting nature take its slow course. A compulsory felling order here but the Forestry Commission still cannot issue a straightforward felling licence application made over a year ago.
Here are pictures sent to me of the original Magnolia 'Lanarth' flowering a week or so ago in Lanarth garden near St Keverne on the Lizard. The large plant pictured here is actually a first generation Lanarth seedling on the top bank by the house but the closeups are of other original plants. Exactly the right colour and flower shape for the 'true' original 'Lanarth'. The plant by the Lanarth front door which is (as you would expect) a much smaller tree was only just starting into flower and a bit paler in colour. Of the six or so original plants in the Lanarth garden some were already over. I have seen these showing colour in past years in early January and was a little surprised to see these pictures taken in late February which is a bit later than normal for a mild Lizard winter – but then February was not that mild!
Filming today with (ITV owned) Two Four Productions for a series of Cornish coastal programmes on Channel 5 next year. An estate, a farmer, and a fisherman through the four seasons. Today 'Spring has Sprung' and we film the Magnolia campbellii which is looking at its very best in the sunshine between showers. The crew return in a week or two to capture the magnolias generally at their best.
The New Zealand Magnolia 'Lanarth' in the distance over the top of a clump of camellias.
One day on for the magnolias through the arch.
The New Zealand 'Lanarth' closer to.
Camellia reticulata 'William Hertrich' has sprung open today.
We cut two flowers from Magnolia campbellii for the film crew. Just look at the intricate mix of pink veining on the outer side of the tepals.
Magnolia 'Delia Williams' on the lawn has opened a lot in three days.
Ivy removed today from the elderly heathers at the Four in Hand.
An enormous Acer campestre; the Field Maple.
Scilla bifolia in a woodland setting.
Camellia 'Black Magic' almost black in bud.
Magnolias tower over the woodland valley garden. The dark one may well be 'Bishop Michael'.
Camellia 'Fairy Wand'
Cotoneaster floccosus with berries.
A new sculpture entitled 'The Green Man' on a rock face.
Antony House from two of the Repton vistas to the water.
Magnolia 'Sweet Valentine' just showing nicely as the small tree matures.
Magnolia sargentiana 'Blood Moon' – the first flower on this young plant is not as dark (yet) as expected.
Magnolia 'Black Tulip' x 'Pickards Ruby' – first interesting flowers on this as yet unnamed hybrid which I strongly suspect is of Belgian origin. Darker than 'Pickards Ruby' but retaining the nice whitish edging to the tepals. I now see that this cross is called 'Venus'.
Magnolia 'Rebeccas Perfume' – first decent full flowering with us. A good hybrid which has bicoloured tepals at first as you can see.
Magnolia denudata 'Double Diamond'. Not really a full double but more tepals than in conventional M. denudata. The plant at Burncoose is labelled M. denudata 'Dubbel' which I assume is the same thing. The Burncoose plant is now 26-30ft tall.
A pretty fair Camellia 'Dr Burnside'
Some Camellia x willimasii 'Debbie' starting to open
A small Camellia 'Grand Slam' perhaps?
Rhododenron moupinense has perfect new flowers appearing after the frosted ones. Very resilient indeed!
Another just discovered storm damage casualty. A beech tree above the greenhouse. Not sure how we all failed to see this until now. More hassle and work. A beech branch brought down an oak tree.