2017 – CHW
A rather sad trip to Less & Co (wholesale) nursery in Lymington who are closing down with planning permission to build on the site. Ten acres of polytunnels but half the covers have blown away and the remaining stock in them is poorish. Plenty of excellent acers though and we acquire 350 at £15-25 each less a big discount. Burncoose have dealt with Lees & Co for the past 35 years. We will miss them!
The nursery all looks rather sad and untended. Just a few staff left.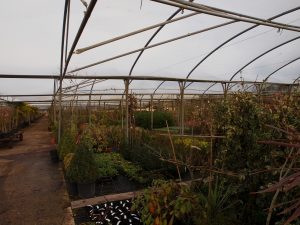 A nice Corylus avellana 'Contorta' with catkins which I do not remember ever photographing before.
Trellis trained Ribes speciosum which was unusual but effective. I did not buy any!
A newly potted batch of Cycas revoluta were looking good and I bought 15 for £15 each.
Also a huge batch of Fascicularia bicolor with no colour showing yet but good plants. I bought 50 at £4 each as our stockplant in the old Burncoose conservatory was demolished in the recent building works.
These are our 14 specimen acers for our stand at Chelsea. We normally sell them off at the end of the show and hence the need to replace them again each year. These cost £65 to £175 each plus VAT and no discount here!
Here are some of the acers which we bought for stock or, rather, to save having to import as many of them from New Zealand again this summer.
2016 – CHW
Very wet night moves on to a howling northerly gale all day. The magnolias for the Rosemoor show are blown to buggery and trees down at Herreswater, Gerrans etc. Tractor and Ross plus Jamie and Michael flat out coping with reopening the roads/lanes. Tiresome.
The old Pieris 'Charles Michael' below Donkey Shoe has gone over and, worse still, a huge beech has smashed into all our young lined out rhododendron seedlings planted last summer in Higher Quarry Nursery. One hell of a mess as you can see! Big losses of rare plants some of which we planned to plant out next week.
Quite rightly Jaimie shut the garden to the public (pm) which pissed off one family who had 'travelled for an hour' to get to us. Around the castle it was not too bad and on the Main Ride you would hardly know that the wind was blowing. However above the Hovel the trees were swaying and snapping alarmingly. Force seven at least facing north.I had a party of Ed Clarke's Prudential investors to take around at 3pm and had to take evasive action taking them down above Burns Bank to avoid the danger areas. They were impressed but had little plant knowledge.
On the way to cheer (me anyway) up I managed a nice picture of:Magnolia 'Black Tulip' (one of two just coming out) – what a colour – one in Auklandii Garden, one below Slip Rail (first flowering here two years after planting).
Magnolia 'Shirraz' on Burns Bank is now full out having started a month ago. A few new leaves have emerged beside the flowers already but are now wind scorched. A colour not dissimilar to 'Black Tulip' really. Both are six weeks earlier than normal / ever before. I always thought 'Shirraz' was a 'muddy' reddish-purple at Burncoose in the garden but this is nice. Some years at Burncoose the petals have had a slight white rim at the tip of the tepal but not here today. I now think this is an underrated magnolia.
The wind abates at dusk and the front door is no longer rattled by 'flying' magnolia leaves. Much greenery stripped from michelias and evergreen oaks by Georges Hut and the michelia flowers smashed up.
1991 – FJW
Picked first Magnolia (Diva x Tin Garden)
1958 – FJW
Very bad snow and frost. Bloom slashed off plants. Damage expected to be very bad. Aggravating as Magnolias were to have bloomed well.
1933 – JCW
I saw the first Kobus bloom showing colour today, the only one.
1931 – JCW
One of the worst frosts for some while, it cut all the bloom and there was a fine lot of it.
1929 – JCW
The following species Rhodo' in flower – barbatum, moupinense, scabrifolium, sulfureum, dahuricum x semperivens, dahuricum, lutescens, keiskii, a form of wardii, floccigerum forms and neriiflorum.
1922 – JCW
A hardish frost. Some Sutchuenense seedlings are nice. Prunus conradinae very good, scarlet hybrids very good. Yellow daffs well on and some good reds.
1920 – JCW
Been away nearly three weeks at 21 Belmont St. The daffodils are far on, some poets opening, yellow trumpets and early reds are far advanced, several camellias open, Rho racemosum on the wane and so is fargesii, primulinum, oreodoxa, sutchuenense. Calophytum is well out and the heaths with the Berberis hedges are very fine, there are say 50 Rhodo species open and showing flower, a very early year.
1917 – JCW
The white Camellia at the Engine House, no other open, moupinense has been lovely but cut out by the frost. No daffs but cyclamineus. Thomsonii x Arboreum have started.
1914 – JCW
The first reticulata open at the back of the Library, 272 and some of the best trumpets opening. P Mary out quite, most of 32 are crossed. P pissardi are very good.
1911 – JCW
The first C reticulata open, on a standard plant.
1905 – JCW
Southern Star and Artemis open.
1900 – JCW
Some Golden Spur and Italian Trumpet. All the standard things commonly open now are very far off.