2023 – CHW
Attached is the application to register Jaimie's new magnolia hybrid with the Magnolia Society International together with a selection of photographs of the tree and flower taken today. There is no certainty that the name 'Queen Elizabeth' or the plant itself will be accepted by the Registrar. We will have to wait and see.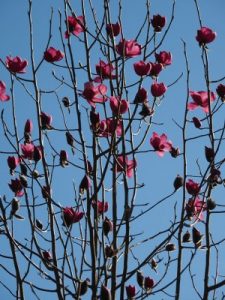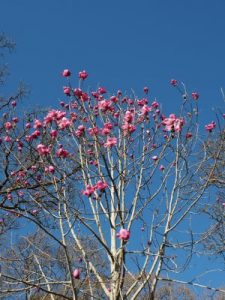 Magnolia 'Cleopatra' still in bud. Rather darker than Dr Millard's flower from yesterday but blown nearly out overnight. Not too far off in colour when open I suspect.
A single poor/battered flower this year on Magnolia 'Black Swan'. We have yet to see this flower properly here although the plant is growing well.
Magnolia 'Cleopatra' x Magnolia 'JC Williams' has promise.
Magnolia 'Pickard's Ruby' x Magnolia 'JC Williams' is now named as 'Anne Leitner'. Excellent and very saleable.
Magnolia sprengeri 'Daisy Diva' performing well although one wonders at it really being a sprengeri? Bred by Mike Robinson (M. sprengeri var. diva x M. x soulangeana 'Lennei Alba').
Magnolia 'Judy Carlson' is definitely improving with age. Excellent in bud with the reddish flash.
Magnolia 'Antje Zandee' battered and not yet out.
Magnolia sargentiana 'Blood Moon' covered in flower as a young tree. Nothing exceptionally different but a good enough form.
A young Magnolia 'Betty Jessel' – quite superb but the wind is ruining it.
Magnolia 'Plum Pudding' (?) is a totally different colour to our other New Zealand plant which was a specific gift from Vance Hooper (so very likely to be correct). My picture (as here) is in the Eisenhut reference book (Page 282). Which is correct I wonder? This one has an Eisenhut 677 number.
Prunus 'Collingwood Ingram' is nearly as good a red as the P. campanulata 'Felix Jury' of a day or two ago.
Magnolia denudata 'Double Diamond' not yet open but with many flowers. A large tree now at Burncoose and called denudata 'Dubbel' originally I believe.
A newly planted Magnolia 'Pink Pyramid' with one small flower.
Magnolia 'Vulcan' x Magnolia 'Black Tulip' has a cabbage-like flower and looks impressive.
Magnolia 'Aphrodite' (M. 'Black Tulip' x M. 'Deep Purple Dream') not quite out yet.
Magnolia 'Sir Harold Hillier' has just a hint of pink but still absolutely excellent and full of flower today. Not quite the pure M. campbellii var. alba but never mind! Probably the best magnolia out today in the wind in Kennel Close.
Magnolia 'Sweet Valentine' with plenty of buds high up. A very columnar habit.
Magnolia 'Hot Lips' now at its best and thankfully planted right by the path.
Magnolia 'Pink Sensation' well worth its place as a pink campbellii type and covered in flower. This is an Ian Baldick hybrid which was originally known as 'Ian's Pink Giant' according to the Magnolia Society International records.
Magnolia dawsoniana 'Chindit' – not especially dawsoniana-like at least at this early stage in bud.
However, the magnolia on from the Rockery is not too bad.
Camellia reticulata 'Lila Naff' is just out.
The second plant of Magnolia campbellii 'Valentine's Torch' below Donkey Shoe has a couple of flowers out and the yellowing is more pronounced.
Already the New Zealand Magnolia 'Lanarth' is shedding tepals onto the ground.
Magnolia 'Betty Jessel' showing colour.
As is the Magnolia sargentiana robusta in the ririei opening.
Another dead snakebark maple with fungal infection at the base.
Magnolia sprengeri var. elongata just coming.
Rhododendron barbatum (from Crûg) only now in flower. Rather late out!
A rhododendron labelled irroratum but without the darker eye. Need to check where this came from.
Then a wonderful surprise. Suddenly the young Magnolia sprengeri 'Dusty Pink' has several flowers out. A gift from Jim Gardiner and I must send him some pictures as this was from wild collected seed in China. Slight frosting overnight. What a colour and what a shape to the flower and on such a young plant.
Magnolia 'Pickard's Ruby' x 'F J Williams' has a flower well reflecting its parentage. Has it been named yet? Need to check the lists.
Tom Hudson's gift of three Rhododendron ririei have never looked better.
Bluebells well up.
Narcissus cyclamineus looking very fine in the sun.
Magnolia 'Vulcan' x Magnolia 'Black Tulip' just emerging.
Magnolia 'Purple Sensation' (this is Magnolia campbellii subsp. mollicomata 'Lanarth' x Magnolia liliiflora).
Magnolia campbellii 'Wakehurst' with three flowers full out. Very nice indeed!
Magnolia 'Felix Jury' – one of three plants we have in the collection. The other two still in tight bud.
Magnolia 'Cleopatra' – rather windblown.
Magnolia 'Shirazz' (Magnolia 'Vulcan' x Magnolia denudata) nearly full out and very dark against a dark sky. Planted in 2006 and already 20ft x 15ft.
Michelia doltsopa just emerging high up on the big plant by Georges Hut.
The white form (alongside the pink form) of Rhododendron irroratum.
This sister seedling to the true Magnolia 'Caerhays Splendour' resides on the drive. It is a small flowered imitation of the real thing but not too bad really.
Leaf on a clump of Enkianthus in the first week of March. Things are rushing on despite a wettish week.
Jaimie planted a few magnolias in the 1992 post hurricane replanting at the top of Forty Acres Wood above Dry Walls. This wood is due to be thinned shortly so he took the opportunity to cut around them in case there was a disaster. This is a Magnolia 'F J Williams' seedling which is not bad and may one day give a glimpse of colour from miles away. We should plant more random seedlings in new woodland as we have along Bond Street where they show up well today.