2018 – CHW
Planted only this year from Glendoick is a nice new clump of Rhododendron cinnabarinum 'Roylei Group' with their first few flowers. These look much closer to the old red roylei that used to grow on the drive here by the fernery and died out years ago and do not look much like the wonderful purple form we saw in The Valley Gardens but wonderful to have this back in the garden nevertheless.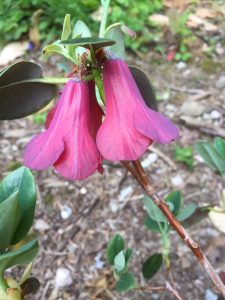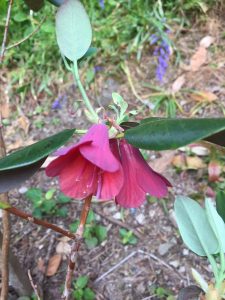 Another batch of my father's hybrids which are fairly variable but quite nice. I will catch up on those when I get back and check exactly what they are but it looks like Rhododendron crassum is the parentage.
Bowden hostas have been at it all night. End result still laughingly bad with pots showing all over where they ran out of plants and ghastly bamboos with yellow leaves. Before we can laugh any further the judges appear soon after 8 o'clock and pause to look disdainfully at Rhododendron 'Ruby Hart' which droops a bit naturally anyway but has clearly gone beyond the natural stage (little do they know we cut half off already). 'Lady Alice' is on the floppy side too. By the afternoon it would certainly, in the judges' parlance, have been deemed to 'have gone'. One of the judges clearly dislikes the bold sway of rhodos behind the cashpoint (from which Karol had to rapidly remove his suitcase following the arrival of the sniffer dogs – the suitcase obviously contained substances of a non explainable nature and a hasty return to the car was necessary). We do not quite see what the judges vote despite our best efforts. Next door the Millais rhododendron stand is absolutely superb and definitely worth a gold medal.Guy Hands arrives about 9am in a very laid back mood insisting that he, unusually, will not be taking a drink because he is due in the High Court the following week for six days in round three of Terra Firma vs Citibank over the EMI deal.
They are bolder colours and nicer than I was expecting.  Quite unlike any of the unnamed deciduous azaleas on the drive which are to be inspected shortly.  Six more groups still to flower.  They are slow growers.
1943 – CW
Rho auklandii at their best and azaleas – Crinodendron well out. Trade forms of Mag conspicua over – took 1000 seed pods of Parviflora – a lot of fuschias good. Also some of the 40 Acre Maddeni hybrids still covered with flower. Bluebells are over – Primula forresti very good.
1934 – JCW
Auklandii's at their best. Camellias have been better than I ever saw them. The Azaleas are very good indeed. Trade forms of Magnolia conspicua are excellent. Mag nicholsiana is about the best of the family.
1909 – JCW
Mrs Butler is very good. Auklandii's on the turn, C montana rubra going, Roylei very good, sweet scented azaleas are nice.
1907 – JCW
Auklandii's going back fast. Mrs Butler opening. R roylei is very good. Edgeworthi is open in the wood, bluebells at their best, Gibsoni opening.
1904 – JCW
Moved some daffs yesterday a bit early.
1898 – JCW
Auklandii partly open also Royali and Fortunei and Gibsoni. Maples just at their best, most of the bamboos have made a move. About half the tree ferns have started. No daffs quite fit to move.
1897 – JCW
Laydikeri R opens in the big pond, no other yet, Viburnum at their best.