2022 – CHW (photos to follow)
Thankfully a gold medal for the Burncoose stand.
The stand looks wonderful and the Cornus 'Venus' the showstopper.
Vanda 'Platinum Jubilee' – an orchid named for the royal event.
The day is marked by three severe thunderstorms and a clap of thunder directly overhead causes some visitors sheltering in the Great Pavilion to scream out loud. Plenty of flooding and our seed sales rack gets wet.
Trade is as furious as I can remember for several years with four of us flat out on the stand. The three Cornus on the stand together with Calycanthus 'Aphrodite' and the Embothrium cause endless enquiries and the seed buying overseas visitors are back.
2021 – CHW
First decent flowering of a young Syringa wilsonii. Attractive but not that unique I suspect.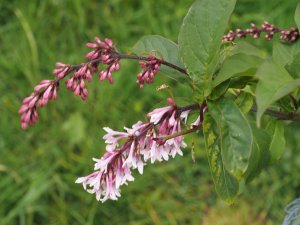 New leaf on Lagerstroemia limii.
Susyn Andrews confirms this as Photinia beauvardiana with its lovely brown new growth and hawthorn flowers coming. Semi evergreen but leafless after this spring.
Viburnum prunifolium in flower.
Laburnocytisus 'Adamii' in full flower.
Rhododendron yakusimanum 'Koichiro Wada' performing well.
Rhododendron 'Crosswater Belle' finally getting established and starting to flower properly. Very slow to get going and does not like cold east winds at all!
The full name of this holly is Ilex cornuta 'Burfordii'. We had got as far as Ilex cornuta and noticed the considerable lack of spines in comparison to our other plant of I. cornuta but needed Susyn to put us right.
Abies delavayi with male flowers and a (hopefully) receptive female seed cone.
Eucalyptus leucoxylon 'Rosea' just coming into flower although we do not, as yet, see any pink! An attractive and unusual species which was cut to the ground by cold in its youth but is now putting on a show.
Grevillea 'Robyn Gordon' disliked being outside even in the mildest winter but is flowering again even if the leaves are not very pretty.
Firmania simplex in the greenhouse has, already, a decent set of leaves unlike the one growing outside which I photographed a couple of days ago.
Quercus trojana was a gift last year from the International Dendrology Society members after their tour here. Nicely in leaf and growth now. The plaque will go out with the tree next spring.
Ilex dimorphophylla with berries and new growth as a six month rooted cutting! Part of a good batch and a new holly species for the 2022 catalogue I suppose.
We called this 'Bacon and Eggs' as children. Growing in a bareish patch on the bank opposite the front door. I need the wild flower book I was using last summer in Yorkshire to track this down but I cannot currently put my hand on it.
This plant is a cross between Hydrangea serratifolia and Hydrangea peruviana which we hope will climb this dead oak tree trunk. It is taking hold. A gift from Tregrehan where it is 30-40ft up a live tree.
First flowers on a newly planted Syringa wilsonii (now S. tomentella apparently).
I cannot identify this elderly rhododendron which is a fine show tucked away behind Georges Hut.
Alniphyllum aff. eberhardii is now about 15ft tall. Huge amounts of new growth but no sign of any flowers yet. I wonder when in the year this genus does flower? Related to Styrax and Halesia so presumably about now?
Castanopsis sieboldii has also made good new growth despite the dry weather.
A young Quercus uvarifolius has suffered in the dry and has dieback which I prune out. It looks (I hope) worse than it is as it has shed its old last year's leaves.
Calycanthus floridus 'Athens' also has some minor dieback but is flowering quite nicely. Green first then yellowish. I saw this first years ago on James Harris' stand at Chelsea but it was a long time before I could obtain a plant.
What I think is one of my father's elliotii hybrids – very dark and late into flower.
Pittosporum adaphniphylloides has made exceptional new growth.
Still plenty of flowers on Magnolia 'Summer Solstice'.
Illicium majus with good new growth of 9-12in.
Clethra fabri has very dark new growth.
Just one flower on a young Halesia macgregorii this year. It over seeded mightily last year and is now 'resting'.
Merrilopanax alpinus now coming nicely into leaf. I need not have worried.
A late flowering Rhododendron loderi 'King George' tucked away out of sight. Excellent today.
Staphylea holocarpa 'Innocence' with numerous clusters of bladder nuts. This small tree or shrub has never produced bladders before.
Cornus kousa 'Doubloon' suddenly out.
Nearly the best thing in the garden today is the clump of Symplocos paniculata in full flower outside the front gates.
1996 – FJW
Bangers died. Very late year. Flowers still on Veitchii – not all Beeches yet in leaf – flowers on Horse Chestnuts. Azaleas excellent.
1927 – JCW
The Azaleas red pink and white would beat their best now but for the sun and want of rain. Mag parviflora and nicholsiana are the best flowering shrubs now and like the sun in season.
1919 – JCW
The Auklandii's go back, Azaleas are coming on. A few roses. Standish rhodo's are very good and so Sappho hybrids. Calendulaceum is about opening.
1910 – JCW
Just as in 1908. Viburnum just starting – C montana rubra gone. Maples over ripe. P pulverulenta very good, R gibsoni open.
1908 – JCW
Primula Cockburniana open. Azaleas at their best.
1906 – JCW
Auklandii, fragrantissima, Mrs Butler etc going back. Viburnum, Laburnum, R roylei, R gibsoni opening.
1898 – JCW
Picked some ripe G Spur and H Irving.
1897 – JCW
Moved Jacko and some seedling daffs. Ponticums in full flower.