2023 – CHW
Wonderful red-purple new growth on Osmanthus yunnanensis.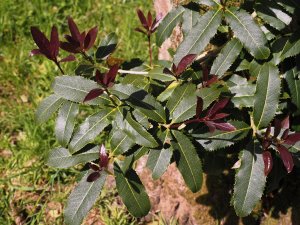 A young Camellia trichocarpa with a good amount of new growth.
Rhododendron 'Polyroy' (Millais Nurseries) more plastered in flower that I have ever seen.
Rhododendron 'Royal Flush' – Pink (ours) is really not that different. Fewer flowers in the trusses. Both for cuttings and a reminder for Asia.
Neolitsea aciculata (TH gift – Taiwanese) with impressive new growth too.
This Magnolia 'Caerhays Belle' has twice tried to flower in the autumn and paid the price with much dieback.
The original Aesculus wilsonii is leafing and flowering better than I dared hope. I had thought it was on the way out last summer.
Magnolia x foggii 'Jack Fogg' is not much different to M. figo. A little pink on the flower tips instead of rather more purple.
Rhododendron 'Royal Flush' – Yellow (centres – yellow in bud).
Rhododendron 'Royal Flush' – Pink but slightly different to the one earlier.
Rhododendron hotei with few flowers this year.
The Magnolia doltsopa by George's Hut is now totally leafless as the new growth starts to emerge.