2019 – CHW
A catch up on some of the best rhododendrons still out in the garden despite this very early season.
Rhododendron arizelum flowering better than I ever remember.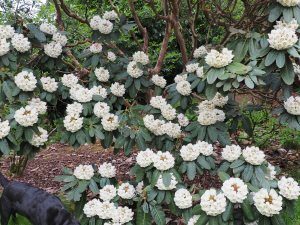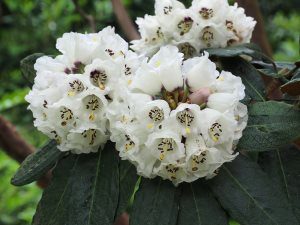 Rhododendron decorum (white form) by Tin Garden is slightly later out than some of our older plants.
Rhododendron 'Fabia' has a low spreading habit and is just as good as 'Winsome'.
Rhododendron 'Yellow Petticoats' is orange-red in bud opening yellow. The plants are absolutely covered in flower.
Rhododendron 'Lady Montagu' was nearly over but some decent flowers remain. I saw this at Chelsea too.
Rhododendron cinnarbarinum Concatenans Group flowering properly for the first time since planting in 2013. We could now try to recreate the cinnarbarinum x concatenans cross which produced 'Caerhays Philip', 'Caerhays John' and 'Caerhays Lawrence'. These died out in the mildew/rust epidemic 25 years ago which affected only certain rhododendron species then. However, when I look it up, the cross actually involved cinnarbarinum xanthocodon and cinnarbarinum blandfordiflorum. Anyway nice to know that cinnarbarinum and concatenans are both again flourishing at Caerhays.
A young bamboo called Chusquea gigantea has decided to flower and die in Kennel Close just when it was getting going. The inflorescences are pretty but short lived before a quick death leaving only some seeds. If planted and grown on these too will seed and die. Such is the cycle of bamboo species flowering. The fifth or sixth in my time here and at Burncoose. I fear that the mature Burncoose clump may now also flower and die.
Aesculus woerlitzensis, a rare and relatively new species, is rather less floriferous and paler in colour. Also a yellow flash in the trumpets.
Double white (and sterile) flowers on Aesculus hippocastanum 'Baumannii' ('Flore Pleno'). I have not seen this out before but the flowers are impressive.
Aesculus x carnea 'Briotii' with attractive pink flowers.
Aesculus flava, a different plant with not as good a yellow flower as the one the day before yesterday. A more immature plant perhaps.
Aesculus sylvatica. Very dense panicles with red insides to the trumpets. Another one we have not seen in flower before here.
Aesculus x bushii has individual flowers that are red, pink or yellow. Male and female flowers by the look of it?
Flowers (white) just opening on the rare Aesculus chinensis which may have the tallest racemes of flowers of any aesculus species.
Aesculus x carnea which is not as dark pink as Aesculus x carnea 'Briottii'. A tree smashed half of this plant so flowers are sparse.
Aesculus x neglecta (Aesculus glaucescens) is going over. The flowers are pale yellow and a much lighter colour than Aesculus flava.
Aesculus x mutabilis 'Induta' is a slow growing dome shaped tree with apricot flowers with yellow markings. Today it is the best show of any of the 12 aesculus species and hybrids now flowering away here today. This one is an excellent plant for a smaller garden. Ours was planted in 2007 and is now about 6ft tall with a similar spread.
There are half a dozen aesculus varieties which have yet to flower here. Some are growing too vigorously to bother yet. Aesculus wilsonii is a week or two away from flowering. A wonderful new display here from conker trees which we tend to view as common or dull.
A good clean up where a small oak tree had fallen into some Rhododendron nobleanum. Past experience suggests they will reshoot vigorously.
Rhododendron 'Treberrick' looking very fine above Orchid House Nursery. Rhododendron 'Moses Maroon' x griersonianum I believe.
Rhododendron sinonuttallii (also known as Rhododendron nuttallii) is just out above the greenhouse. Greenish in bud fading to white. The adjacent plant seeded heavily last year and has no flowers this time. The other two are looking good.
This ancient gaultheria species has never had a name in my time. Any ideas anyone?
During Chelsea week the men have cleared a wonderful extension to the Rookery Nursery bed. All ready to fence and plant up now.
They have even removed the beech stump and trunk which fell earlier in the year.
I seem to have missed the very late flowering ponticum hybrids below Rookery Nursery. Normally out in mid June but this year is very early and the heat (here too) of Chelsea week has done for them.
I have missed the vast majority of the deciduous azaleas too in the week away. Out and over in just 10 days or so. This is a late flowering Ghent azalea variety of which we have several clumps. There is an attractive orange centre to the somewhat sparse flowers.
I thought I had seen enough Primula helodoxa on our Chelsea stand but there is now a good show outside my study window.
2016 – CHW
See below for the YouTube attachment of our Chelsea coverage last night on BBC2. Amazing coverage!
2015 – CHW
A few magnolias left on the drive to enjoy – perhaps.
Magnolia 'Margaret Helen' still in flower – its reputation for a lengthy flowering season even in hot weather is well deserved.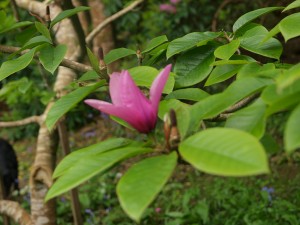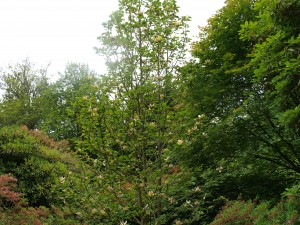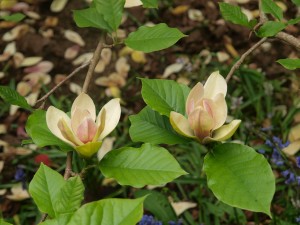 Magnolia 'Tranquillity' – only the most tranquil of individuals could begin to get excited about this. A miniature 'Stellar Acclaim' A few better known and still available from Burncoose deciduous azaleas growing well by Green Gate. What a show at the garden entrance for June.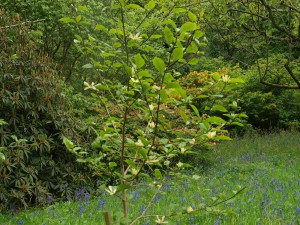 Strawberry Ice – the best of the five separate clumps today
Babeuff – an older variety which has grown outside the back yard for 50 plus years.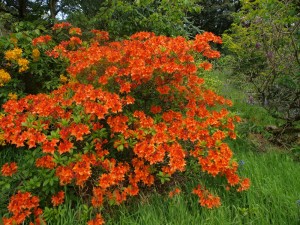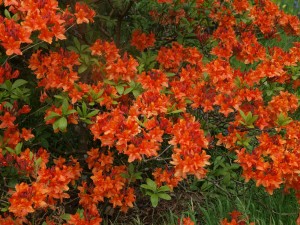 Three huge plants of the short lived but today most impressive Buddleia salvifolia near the tower. Overpowering scent.
Next door is a new rhododendron planting where a 65 year old Pinus radiata nearly fell on the beaters' trailer one evening three years ago.  The plant split in half for no reason on a calm day and the other half was cut down narrowly missing the huge gingko beside it.
'Kabarett' is a bit ponticumish and rather like 'Mrs T Lowinsky' as seen on Hillier's stand at Chelsea.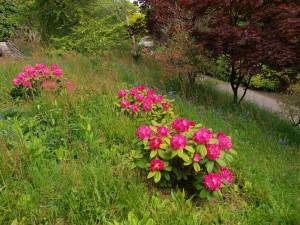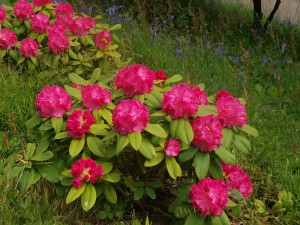 'Germania' has a pleasing gentle colour for a newish hybrid and a welcome addition.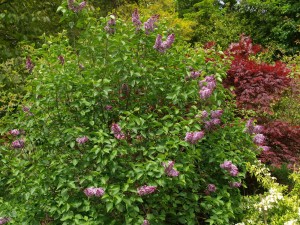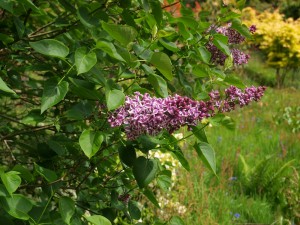 I must have relented on the anti-lilac front for here is Syringa 'Sensation' with its bicolour flowers.  Time it was pruned down hard. Not very floriferous and in the wrong place in a nice new rhododendron planting.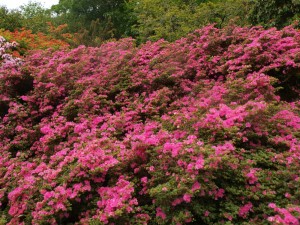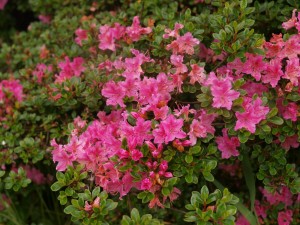 And then to an enormous clump of evergreen Azalea indicum 'Macrathum'.  One of those plants I seem to have known the name of deep in my memory from childhood and well worth propagating properly.  The main batch of Nakahari or indicum azaleas here – and there are loads including a few of my father's hybrids are just as much unknown as the deciduous azaleas.
1997 – FJW
There is still a fairly well formed flower on Magnolia 'Star Wars'. Very condensed year for the garden – too dry so far, too much east wind.
1906 – JCW
Viburnum shows colour, bed roses very good, Crinodendron good. Polystichums very good indeed.
1897 – JCW
Chromatella opens in the big pond.