2019 – CHW
Magnolia 'Porcelain Dove' (Magnolia globosa x Magnolia virginiana) was scenting the path. The white flowers soon fade to creamy but this is a superb magnolia. Neither of its parents are yet in flower and both grow nearby.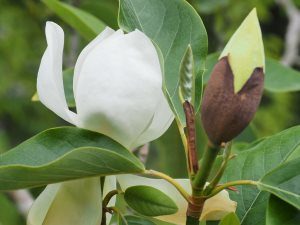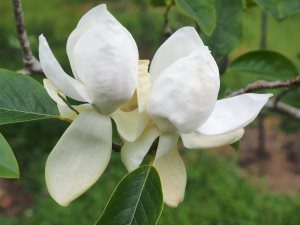 Magnolia virginiana 'Satellite' is nearly out.
One plant of Rhododendron nuttallii is just coming out. Another, beside it, is still in tight bud.
Rhododendron stamineum in the Rockery is just out with its 'honeysuckle' flowers.
There is always pure white campion and the pink by the Playhouse.
Azalea 'Rosebud' flopped on the Chelsea stand and had to be replaced. Here it still looks perfect.
Crataegus laevigata 'Crimson Cloud' as good as ever in the Isla Rose Plantation.
Aesculus x mutabilis 'Induta' had pride of place in the Morgan Stanley show garden at Chelsea which deservedly won a gold. Here is our plant with even larger flowers above the greenhouse.
Syringa wilsonii flowering for the first time in the frames. Excellent!
Another new species of Philadelphus with its first flowers – Philadelphus satsumi. No great scent.
Sorbus dunnii with its first flower head.
Asia has grown a fine amaryllis for the house.
Liquidambar styraciflua 'Golden Sun' now in leaf. The leaves are no longer yellow as they were when they first emerged but the bark and young stems are yellowish.
The huge clump of Cordyline australis is plastered in flower but it is interesting to note the many vigorous new shoots emerging from the base which have no flowers.
Crataegus laevigata 'Pauls Scarlet' is still one of my favourite plants. Although Crataegus 'Crimson Cloud', planted this year, is very fine too. This plant needs re-staking yet again.
Rhododendron 'Lems Monarch' at its very best.
Flower buds appearing on Magnolia 'Blue Opal'. Smaller but even bluer than Magnolia 'Woodsman' x 'Patriot'.
Leptospermum scoparium 'County Park Blush' has survived the 'Beast' in a chilly spot. A new variety to us presumably once bred by County Park nurseries in Essex.
Ehretia thyrsiflora grown from seed originally is just coming into leaf. Quite a nice purple hue to the new growth of this bizarre and really rare plant. We grow two other species of ehretia which appear rather similar (Ehretia dicksonii and Ehretia anacua). Hillier's say Ehretia thyrsiflora is properly called Ehretia acuminata. New Trees do not mention ehretia at all. Bean lists just two species which does not include Ehretia anacua but does include Ehretia dicksonii and thyrsiflora. This will be a nice puzzle for the taxonomists and I must get Susyn Andrews fired up to investigate. The older plants went in here in 1991 but we have occasionally had a few in the nursery.
Cercidiphyllum japonicum 'Pendulum' is well away now. What a superb architectural trailing plant. We once had a big one on the stand at Chelsea years ago but I do not think it was this one?
The Pinus insignis trunk photographed on fire on Friday is still burning out well and doing no harm to anything but laurel.
Camellia 'Kerguelen' with its peculiar variegated leaves has produced its first flower. Very late indeed it is.
Rhododendron 'Royal Flush' – yellow form – is nicely out hidden behind the huge Quercus acuta. Extreme shelter needed to grow this Caerhays hybrid. Most of the other colours succumbed to mildew or rust 30 years ago but with care and spray in the propagating house we now have two or three survivors from the original six forms. Not the best ones of course.
A carpet of fallen flowers under one of the Rhododendron 'Mrs Bulters'.
Rhododendron 'Tally Ho' is tucked away unseen at the top of the garden but very fine and a must to propagate for late season flowering.
This rather horrid ponticum hybrid may be Rhododendron 'Purity'? Not worth its place and should go to make room in this little glade.
I do not know the name of this rather delicate white-blotched yellow deciduous azalea. This clump is only 30 years old but there are other much older clumps by the Trevanion holly on the drive. It is a rather delicate forerunner to 'Daviesii' perhaps but no scent today.
Rosa roxburgii has its first flowers after its recent hard pruning. You would not know looking at the size of it today.
Magnolia sieboldii sinensis x virginiana. Not as good as 'Porcelain Dove' but well worth its place. No flowers yet out on Magnolia virginiana itself.
2016 – CHW
Renovation of the old hunt kennels has proceeded apace as well while we have been absent. The new roof is just about finished.Beginning to feel 80% normal after Chelsea. Dizzy spells have passed and the ten 'thank you' letters to our sponsors, suppliers and staff for the gold medal all thankfully done for another year. Many pages of handwriting involved.
2015 – CHW
Looking at the bank outside the front door today the mass of primroses have all vanished as have the massed ranks of bluebells.  Instead we have grasses, and in the shade, a nice clump of campion.  The key think now is not to cut the grass here until mid July to let the primroses, bluebells and other wild flowers die away and set seed on their own accord.  If only the local councils would stop being 'tidy' and mowing roadside verges unnecessarily we would have many more wild flowers and more butterflies and insects feeding on them.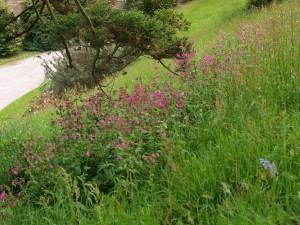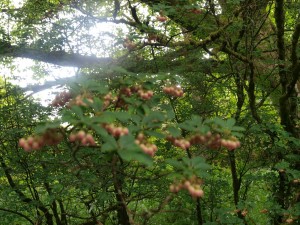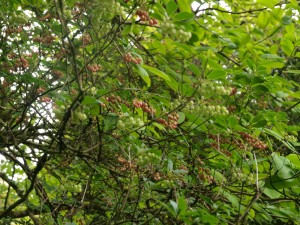 Two old original plants of enkianthus in the full shade of Magnolia x veitchii.  One is Enkianthus campanulatus var albiflorus and the other Enkianthus campanulatus var campanulatus.   I have only two or three more enkianthus in the collection to photograph and then you will have seen nearly all of them.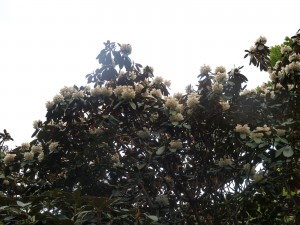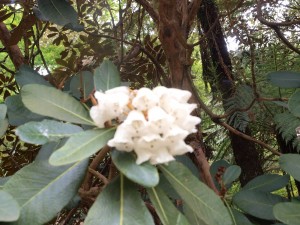 The towering 1950s Rhododendron falconeri, the last of the big leaf species to flower are just passing their best.  Time for some layering here.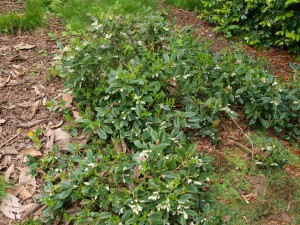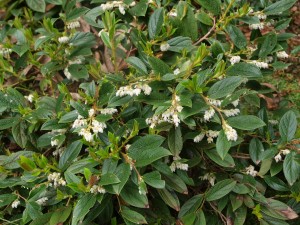 An odd and original gaultheria whose name I do not know.  The plant died back but has rejuvenated itself. On the way along Rookery Path three rhododendrons in flower:
A loderi type in great profusion below Rookery Nursery.  The plants have collapsed on each other and loderis will not reshoot if cut back so all we can do is enjoy the mess.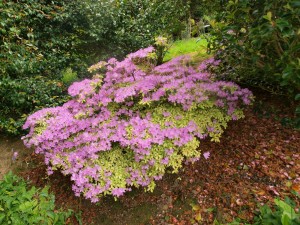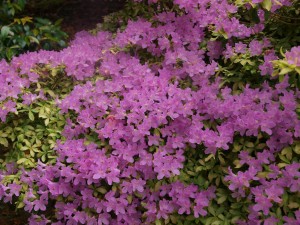 Near Green Gate the original evergreen Azalea 'Caerhays Lavender' with its peculiar white then yellow new growth contrasting nicely with its light mauve flowers.  Caerhays bred but no one knows by whom or with what.  Anyway it is properly registered now.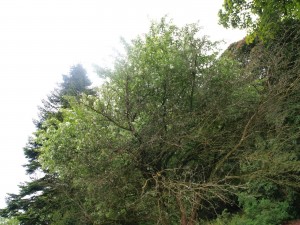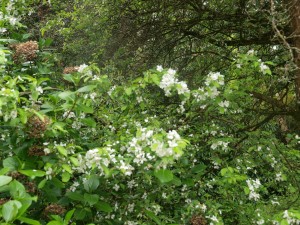 The white malus with the disgusting scent appears to have rot at its base and is half dead beside the cash point.  I think it is Malus hupenensis which I collected from Werrington 30 plus years ago as seedlings in the Chinese Garden there.  My uncle Rob used to put it in a vase on the breakfast table when annoying relatives came to stay and wait in the corridor for a reaction.  There are two similar seedlings at Burncoose.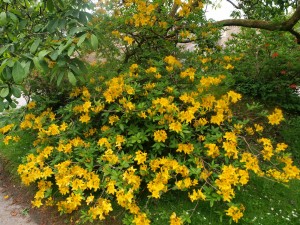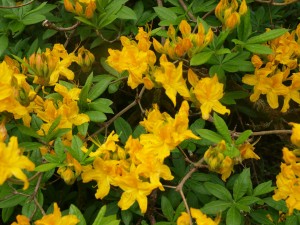 This elderly azalea outside the back yard is not true to form as Azalea luteum nor is it big enough in flower to be Azalea 'Klondyke'.   Another mystery but rather a nice yellow one.  Perhaps 'Yellow Beauty'?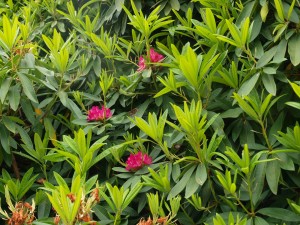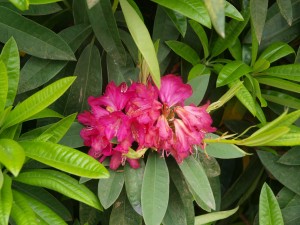 On the opposite side of the drive Rhododendron 'Cornish Red' is in full new growth mode but STILL there are a few flowers.  You could see Cornish Red coming into flower from the front door in January and here we are nearly in June still with a bit of a show.  Few plants other than camellias and the odd rhododendron (Rhododendron keysii or Rhododendron lutescens perhaps) could begin to match this.