2018 – CHW
A trip around the garden with a charming researcher who is interested in compiling a history of Sir Reginald Cory of Dyffryn House (1871-1934). The property is owned now by the National Trust after 60 years of 'control' by Cardiff council. Sir Reginald was a sponsor of three of George Forrest's expeditions and visited Caerhays in April 1919 (as attached). Philip Tregunna won the RHS Reginald Cory cup for Magnolia 'Caerhays Surprise' (the best new plant bred or introduced to cultivation that year) in 1973. All Sir Reginald's papers were ordered to be burnt on his death. It is thought he was a founder member (with JCW) of The Garden Society (founded 1923) but it does not seem he was a member of the Rhododendron Society (founded 1916). Quite what he hoped to create or achieve from his enormous financial contributions to the Forrest expeditions to China remains a key mystery. No garden records remain at Dyffryn and it is not a rhododendron or camellia growing area. I fear the trip did little to resolve the mystery but the garden here looked splendid.
This has been called Azalea 'Tebotan' but it is not quite. As I remember it one of those double flowered azaleas from Christmas 40 plus years ago which survived being planted out. They would not today.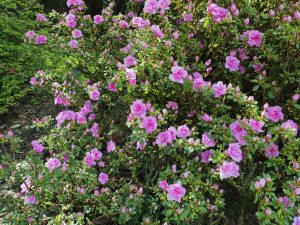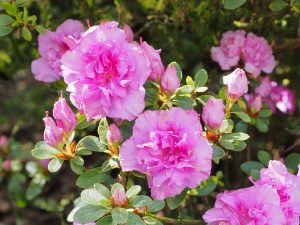 Azalea 'Babeuff' outside the back yard has opened in a flash.
A young clump of Rhododendron 'Berts Own' just coming out. Fabulous scent.
The rare Symplocos dryophylla full out by Georges Hut. Not a great smell.
From the Giddle Orchard Jaimie has located another rather better FJW rhodo hybrid than those seen earlier this week. This is a cross between Rhododendron 'Tally Hoo' (dark red and very late season flowering) with Rhododendron auklandii (now Rhododendron griffithianum which is white and out now). A rather translucent pink with a large truss. If anyone at the RHS was still interested in this sort of thing perhaps well worth a name. I will ask Jaimie to try to register it with the rhododendron register anyway just to keep our hand in.
The first grass cut on our new wedding venue location known as 'Beach Meadow'. The first booking to use this newly levelled and seeded area is imminent. As you can see the tide is out.
The layering of the exceptional pink Rhododendron sinogrande 'Lord Rudolph' was completed yesterday. Lots of new plants in three to five years' time to transplant and move elsewhere.
A hectic day with the producer of 'Salvage Hunters' planning a six to eight minute film shoot here in late May. Then 24 classic cars at the front door and a garden tour for 50 plus. Then a huge busload of Germans and a smaller busload of I know not who! I forgot the bloody camera on the tour.
2016 – CHW
Michelia x foggii 'Allspice' (planted 2005) has been very slow to come into flower having shown colour for some weeks. We now have three plants of Michelia x foggii with their distinctive dense dark green foliage and golden indumentum on the buds. Not far off Michelia doltsopa  and not much like Michelia figo really.
With michelias still in mind I went in search of another new species below Tin Garden and it too was in flower for the first time albeit battered by the wind. This is supposedly Michelia macclureii planted in 2005. Looking at the book Magnolias of China it is hard to see it as the perfect match to the photographs there so another query for Tom Hudson to mull over. The flowers appear in small clusters at the end of the twigs.
Magnolia 'Peachy' is perhaps the best 'thing' (magnolia anyway) in the garden today. A riot of rather unpleasantly mixed colours.
Magnolia 'Lemon Star' (syn 'Swedish Star'), which flowered for the first time last year, is even better today. The buds are green turning yellow, but the best thing about this variety is that the mature flowers open out flat and turn finally a rich creamy yellow. This new variety will certainly catch on with enthusiasts.
Looking at the planting records I still cannot find Michelia maudiae where it was planted so it must have died. It was beside a tender Parkameria lotungensis (which is just hanging on) so must have died although it is supposed to be much tougher than the parkameria. Near the clump of three Magnolia delavayi there is however a 20ft tall Magnolia aff floribunda var tonkinensis from Crug Farm planted in the early 1990s which I had failed to notice until today. Not sure if this is supposed to be a michelia or a manglietia. Looks like the latter. No flowers and battered by the wind but still another M floribunda to compare to the nearby original.
2015 – CHW
Not much joy on the michelia hunt which has not been seen before.  Two more Michelia 'Touch of Pink' flowering away in more exposed positions (and a bit deer nibbled) than the main plant features earlier.  They however appear to be on the way with plenty of space to grow on.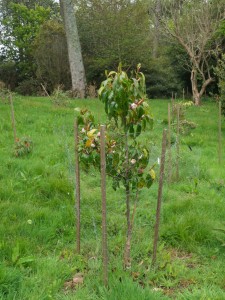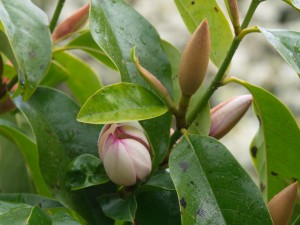 Michelia foggii 'Mixed up Miss' is a completely new (to us) first time flowerer planted only two years ago.  Quite rounded buds with rather more purple edging to the flower petals than 'Touch of Pink' (silly name as said before).  Pretty silly name here too! I wonder who dreamt that up.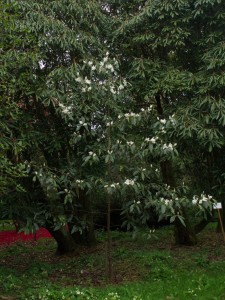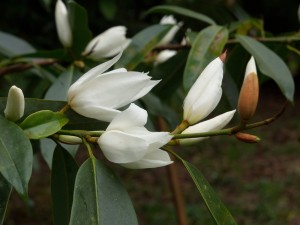 The Michelia foveolata is, I am pretty sure, Michelia maudiae.  I had thought that the touching Lindera megaphylla were elderly and on the way out a few years ago but now it looks a daft place to have planted it.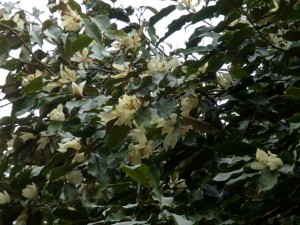 The mature Michelia floribunda has a branch laden down with flower which is close enough to photograph properly.  The flowers are full out and have lost most of their orange tinge.  Too windy for any scent.  We must collect seed this autumn as the flowers are still undamaged.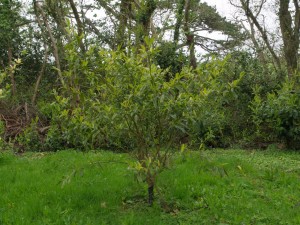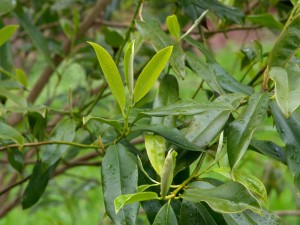 Nothing else to report from Michelia martinii or any of the other newer species and hybrids planted in last 10 to 15 years.  One or two of the new manglietia of the same vintage look more promising for a bud or two later in the summer.
Back in the yard we host three choirs as part of the Cornwall Music Festival.  A big showing of Welshmen who appear to have had a liquid night and arrive an hour late.  The  contingent of Spaniards (Basques?) in full uniform with a separatist flag which they parade on the Nobby perhaps to support Mebyon Kernow.  The famous Yank choir from Maryland fail to turn up much to the annoyance of the Welsh whose hangovers now need more than our tea rooms can offer and have waited on.  The Yanks have gone to Heligan to pay and view the gardens as their (no doubt un-induced) driver would not come to Caerhays due to 'bad roads'.  The choirs were originally to go to Heligan but Heligan had another event and could not host them.  Nice of Heligan to let us know!  Lucinda unamused at this fine example of close cooperation between the Great Gardens of Cornwall.  The other choirs had huge buses and no problem at all.  Coach driver 'inducements' are clearly the way forward.
1999 – FJW
April wet – but not as wet as 1998. House martins late. 2 only appear to start being busy today. Chestnuts late. Beech as Truro. Magnolias have been good. New plantings beginning to show their value.
1967 – FJW
The Queen Mother visited the garden in pouring rain.
1949 – CW
Visit of Rhododendron Conference 2.30 – Hester's baby at 3.15. About 100 there, 10 to 12 Americans. They saw Davidsonianum, Augustinii, Sinogrande, Williamsianum, Auklandii at thier best. Also many hybrids. Camellias over but odd flowers even on Reticulata. Two ot three flowers still on Mag sargentiana.
We have had a very dry time and all flowers are at least ⅓ below normal size.
1929 – JCW
Augustinii and species very good, the first Maddeni x flowers opening hardy one in the 40 Acres. Saw Primula vaseri showing colour. Neriiflorum good for last four months.
1921 – JCW
Auklandii at its best. Zealanicum x Auklandii going over. Forrest's early budleya is good. Yunnanense lot of it coming on. Wilson's going off.