2022 – CHW
Juglans ailanthifolia with a crop of female catkins well behind the new growth which I have not seen before. We did see tiny reddish male flowers one year as I think I remember?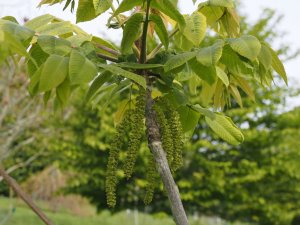 Magnolia 'Daphne' now full out but with the leaves much in evidence despite the lack of rain. This plant is in full sun and the leaf much further on than another two in partial shade.
Sorbus hedlundii (KR 1810A – best clone) just coming into leaf.
Still spectacular leaf colours on Tilia endochrysa.
Magnolia x brooklynensis 'Stellar Acclaim' in bud, partly and fully out to show the extreme colour changes. Quite good in bud but rather plain (and hardly yellow) when fully open. A lengthy flowering season though.
A very pale form of Rhododendron augustinii by Tin Garden and quite different to the one we looked at a couple of days ago on the drive.
Hairy leaves just emerging on what I believe is the Chinese form of Magnolia globosa.
Rhododendron 'Hotei' just out in a big clump by Georges Hut.
Rhododendron 'Pink Pebble' flowering better than for years after overhanging branches were removed. A Rh. williamsianum hybrid but not one of ours.