2017 – CHW
Off to look at more stewartia species seeding and with autumn colour for next year's article on the genus. This will take more than just today.
Rhododendron moupinense with its first early or secondary flowers?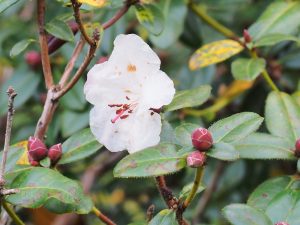 Stewartia pseudocamellia with some autumn colour which is yellowish with a reddish hue on the side shoot growing from the base of the old three trunked tree. Two of the original trunks survive while the third has died. No leaf left on the older trunks.
A few ripe and one unripe seed pod.
The bark flakes in the spring and this year's old flaking now looks like this. New flaking just starting at the base nevertheless.
2016 – CHW
Laurel hedges being cut and camellias pruned back prior to removal at the start of the Main Ride. No less than three bonfires and a great deal achieved in a small period of time. We have left some of the old clump of x williamsii camellias for now as a windbreak facing the Engine House. One forgets that laurel can grow out from a hedge by 10-12ft in half that number of years here threatening the nice clump of Rhododendron fragrantissimum and an aesculus.
Beside the fire there is a single secondary and very pale flower on a Rhododendron 'Bow Bells' planted only 18 months ago.
The seeds are now ripe on Meliosma dillenifolia subsp cuneifolia on the other side of the path. Time for Asia to collect them.
Brilliant red autumn colour on Acer palmatum dissectum 'Crimson Queen'. A very old but beautiful dome shaped plant died of old age at the Red Linney 25 years ago and my mother sprayed the dead plant white and used it as a Christmas tree. Several years to go before this one qualifies!
2015 – CHW
The ancient clump of Rhododendron lutescens is out but only at the very top of the plant and just a little second flowering I believe.
The forecasters say a hurricane is coming from the USA and the sea certainly looks ominous. It transpires that it hits Scotland and not Cornwall.
The seed on hedychium is certainly impressive. The pheasants do not seem interested so perhaps poisonous.
Mahonia japonica has odd rather insipid flowers. Some are out and over quickly while others in full bud. Needs a good cut back from the path before the spring visitors.
White cyclamen on the lawn under the yew trees. Is there a pure white form of the autumn flowering Cyclamen hederifolium? Assume so.
1981 – FJW
Charlie announced engagement to Emma.
1924 – JCW
A very few C sasanqua and lapagerias, the year was too cold and sunless, far behind 1903 on the page before. Rain and slugs are the main crop this season.
1921 – JCW
Lapagerias and C sasanqua remain nice in spite of one nights sharp frost. No rain to make the soil wet and I'm down since about May.