2017 – CHW
Seed collecting and evergreen cuttings week. Bliss! Over 50 unusual plants in the propagation system.
A good crop of greenish seed on Crabiodendron yunnanense but we go for cuttings instead. Asia may yet collect the seeds later but we have succeeded with cuttings before.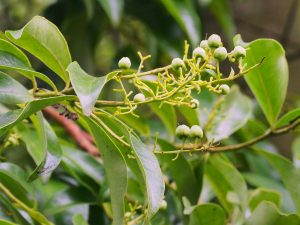 The seed of Nothofagus fusca have shed all over the path. Rather small single seeds in a small' beech mast' pod. We need to lay down a sheet of plastic to collect these as they drop another year or perhaps try it now.
Good seed pods on Enkianthus serrulatus. Not many and all gathered. No other enkianthus nearby so should come true if they germinate.
2016 – CHW
A few things nicely out in the nursery today in the sun. More than you might think actually.
Tibouchina orangensis
– huge flower!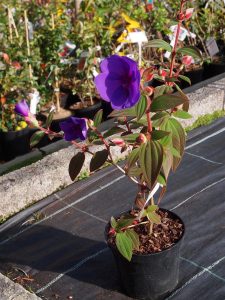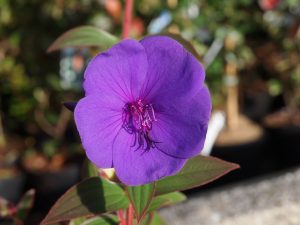 Mahonia eurybracta 'Soft Caress' – a few plants the rabbits missed.
Saxifraga 'Black Ruby' – flowers fade rapidly from red to pink.
Libertia caerulescens – a very late flower with seed pods.
Sarcocca wallichii – no great smell yet and early.
Viburnum tinus 'Lisarose' – full out in November!
Nerines in their pomp.
Camellia x vernalis 'Yuletide' – a striking red with huge yellow stamens and aptly named.
Mahonia x media 'Buckland' also full out.
The autumn colour on Itea virginica was a stunning red.
2015 – CHW
Cornus kousa 'Satomi' got my vote as the very best pink flowered cornus seen this year. Here it is exhibiting a decent show of autumn colour too to add yet more value to this exceptional form.
Osmanthus heterophyllus is a pretty dull 'holly like' tree but it is one of the few plants (here a tree) to grace us with a scented flowering in November. This is a Japanese species which makes its designated flowering season even odder. At the nursery it seldom flowers in a pot and had you cut a spray of this I would have been pushed to identify it from the flower alone. In fact I saw the yellow variegated form earlier today but, as the plant looked very sickly, I assumed the few flowers were simply an attempt to procreate before death.
1938 – JCW
Erica hybrida just shows flower. I have made a big bed of Primula forrestii.
1920 – JCW
Much as the above but it is even now a wonderful autumn. Camellia sasanqua is very nice on the small stable tower. Erica hybrida is in flower.
1919 – JCW
A good few roses. Hydrangeas good. Autumn colours remain, the weather is slowly breaking and is now cold. Cotoneaster salicifolia begins to be good – the seed on Moyesii is fading away.
1915 – JCW
The lapagerias are very nice. Solanum, cassia and hydrangeas are all fair. Primula helodoxa is looking very nice in flower and would seem to be the best yellow primula by far.