2023 – CHW
The clear up from Storm Ciaran continues with the felling of the remainder of the huge beech tree on the drive for safety reasons.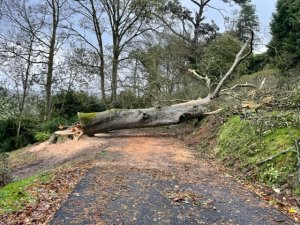 The farm telehandler has proved invaluable in clearing the mess quickly but now the bonfires with the debris.
A battered first flower this year on the Camellia saluenensis by Tin Garden. Nothing yet on the 2 original plants by the ladies loos.
More fallen ash trees in Kennel Close but minimal damage to plants.
A huge secondary flower on Azalea 'Greenway'.
Good autumn colour as usual on Meliosma veitchiorum.
First few flowers showing on Azalea 'Hinomayo'.
The leaf is nearly off Magnolia 'Caerhays Belle' a good month earlier than last year. Storm Ciaran has helped.
Major rot in the fallen beech.
The dismembered trunk is removed.
Several years' worth of jackdaws nests in a hole in the trunk.
More uplifting on an acer to give more light to Magnolia tamaulipana.
Two Rosa roxburghii pruned back hard to reshoot.
A clump of Rhododendron 'Michael's Pride' trimmed back to reshoot. This will reinvigorate it and prolong its life.
Branches used to protect a smallish Magnolia 'Princess Margaret' from the heat of the bonfire.
2021 – CHW
Amid heavy showers some topical tip website videos with Karol. This cock pheasant observed us from a stump.
Another Carpinus japonicus with its first fruit clusters.
Rabbit or roedeer nibbling on the roots of Carpinus japonicus.
Honeybees still hard at work in a hole in a mature sycamore tree in Old Park. They have lived here for decades.
Rhus glabra growing above a wall at Penvergate and showing its autumn colours well in the sun.
Beefsteak fungus, Fistulina hepatica, growing on an old oak tree. This rather eye catching fungus normally grows only on oaks.
Polyspora longicarpus (WWJ 11604) planted in 2011 looked sickly yellow for a year or two but is now motoring ahead and its first flowers are full out.
Another unnamed Camellia x williamsii similar to the one on the drive is out below Tin Garden as usual.
Prunus 'Hally Jolivette' has some autumn colour but nothing special.
The largest Cornus capitata has blown over and broken all but one main root. The stump is rotten but the tree looked well and full of fruits. Another plant survives next door.
Vivid colours on Azalea 'Rose de Flandre'.
Acer truncatum var. barbinerve (BSWJ 8806) does not have any significant autumn colour.
Chimonanthus praecox a lovely yellow.
Cotinus coggygria 'Lilla' showing a nice mixture of colours.
Cotinus coggygria 'Old Fashioned' just starting to turn with the best yet to come.
Camellia 'Tregye' with an early single red flower in the nursery. No other camellias showing apart from sasanquas.
Taxodium distichum 'Falling Waters' is turning colour. An odd shaped tree to put it mildly!
Mespilus germanica overladen with ripe fruits. The stakes can hardly hold it upright with this much weight. The fruits are larger than any I have seen before.
2017 – CHW
Work is coming on apace with the conversion of two barns to holiday lets at Tregaire Barton.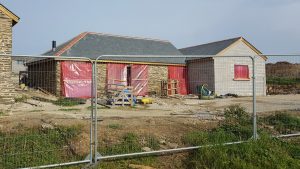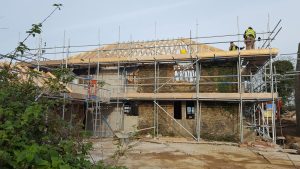 2016 – CHW
Scaffolding now erected in the back yard to effect repairs to the bell casement above the clock. The bell has been turned off for 50 years as it used to chime every quarter of an hour. The roof casing is lead and this heavy structure seems inadequately supported. The four wooden supports seem rotten but, hopefully, there is metal within them? Very inaccessible. The clock is wound once a week and runs fast in dry weather and slow in the wet so the time is never quite correct. The mechanism operates on two hessian ropes on pulleys with huge lead weights which reach down to ground level. The bell itself is dated 1813.
2015 – CHW
No diary entry for 2015.
1995 – FJW
November Pink and Noblissima well out – another 24 flowers on High Hat.
1932 – JCW
Just as in 1931
1931 – JCW
C sasanquas are just starting to flower. Lapagerias good. Some fuchsia as usual in the Tin Garden showing. Some rare evergreen acorns from Bruce Gardner. Too much wind for really good colour.
1906 – JCW
Cycylmen leaves now begun to be good, roses yet nice, lapageria good, Camellia sasanqua very good, solanum very nice, cassia good yet.