2019 – CHW
The Beatrice Fleur sasanqua camellias are in the ground and wired against rabbits and deer.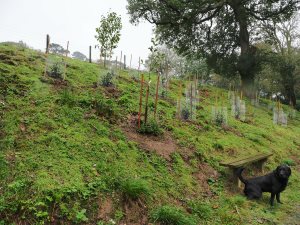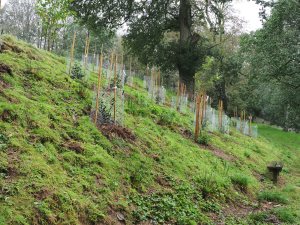 The second elderly Camellia sasanqua on the castle wall is now out.
Secondary flowers on Rhododendron 'Polyroy' are rather a surprise.
Fitzroya cupressoides laden down with ripe seeds.
First flowers out on Peumus boldus. This is a 'summer flowering' Chilean tree!
Rhus chinensis flowering for the first time as far as I am aware. Yellowish-white in terminal panicles.
Lindera lancea with excellent autumn colour.
Callicarpa shirasawana with both flowers and berries.
Acanthopanax aff. sessiliflorus with its globular succulent black fruits hanging on the leafless tree.
Photinia niitakayamensis with pinkish-red fruits.
First flowers on Camellia oleifera.
All leaf has now dropped on Staphylea colchica leaving only the rounded and yellowish seed capsules on the tree.
Many of our aerial grafts have failed in the hot summer. Here the twig has died beyond the graft.
2017 – CHW
Surprising to find another new illicium species flowering so late in the year.
Illicium oligandrum is now available from Burncoose
and this will be an addition to the new 2018 catalogue. This is, I think, the third new illicium species to have flowered here this year. There are a couple more still to perform. The hardiness of these beautiful new shrubs or small trees remains to be tested.
Camellia japonica 'Noblissima' has one flower out by the front door which I only just noticed. Is this a record for any early Camellia japonica? Full out by Christmas usually, but this is still mid October and the clocks have not changed yet!
The second ancient Camellia sasanqua is just out by the ladies loo. Here with a hungry bee grabbing the nectar. This plant is much darker in colour than the one which popped out 10 days ago and is now full out.
2015 – CHW
Here are the core of the styrax collection all planted in 2008 above the Crinodendron Hedge. They have made outstanding growth into small trees in only eight years and all but one produced fruit this season. Interesting to compare leaf form, fruits and growth habit. All are in full sun with no shade at all.
Styrax wuyuanensis – fruit was there but has vanished in a week
Styrax formosanus 'Hayatiana'
Styrax formosanus var formosanus
Styrax hemsleyanus – no fruit – leaves are nearly as big as those of Styrax odoratissimus but less heart shaped
Styrax japonicus 'Fargesii' – Tom Hudson thinks this is just a form of a variable species and not a distinct clone worthy of a name but the reference books say otherwise.
1959 – FJW
Bad gale last night. Branches down above Hovel on Williamsianum hybrids. Garden Form Reticulata knocked down below Diva. Chestnut branches very brittle and very heavy nut year. Dutch Barn at Corwenna moved 50ft and Kitchen Garden wall broken. A very dry year indeed – garden saved by 4 days rain in August.
1953 – CW
Only 1 Magnolia out – Grandiflora. A last flower of Delavayi crossed. Hardly any Auriculatum hybrids. Yellow Hammer good and one pink Maddeni. It has been dry some time and garden wants rain. Cyclamen good.
1947 – CW
Eat the last peaches. Still much too dry.
1941 – CW
Six Magnolias out. Both forms of Grandiflora, Nigra, Conspicua, Salicifolia and many Delavayi. Rho Yellow Hammer good also a few late Auriculatum hybrids. Cyclamen and fuchsias good. Wet summer and growth good. Stable Camellia (white) sasanqua in full bloom.
1940 – CW
Fifteen flowers fully open to be seen from lawn on big Magnolia and over a dozen close. Primulinum hybrid rhododendron in full flower. Fuchsias good and several nice bits of colour. A great year for nuts. Camellia sasanqua white and pink good.
1930 – JCW
The early forms of Lutescens are open.