2019 – CHW
First and only flower ever on Sizygium smithii which was planted out today by Higher Quarry Nursery in the new clearing. I cannot find this in my reference books but it looks like a large myrtle flower for want of a better description.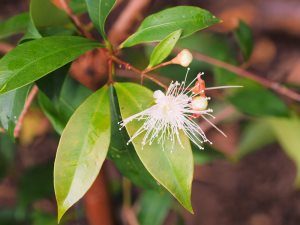 The new clearing with the first batch of plants placed out ready for planting.
Flowers just opening on Callicarpa psilocalyx. Two of these have gone in at Tin Garden near to the other two species which currently have berries colouring nicely. I repeat my comments from yesterday.
We have now planted four cartloads of rare but hardier plants in October rather than next February. Perhaps 120 plants in all. Planting plans to do. It will be interesting to see how well this works with getting new things in the ground in the autumn to avoid losses in another dry summer.
2018 – CHW
More clearing up after the Friday/Saturday storm on the main ride. An Arbutus unedo had split out and I suspect that the stump needs digging out as this shrub is very prone to phytophthora ramorum on its new shoots and growth.
This is an unusual coloured larva but what will it pupate into? No idea.
Nyssa sylvatica '?' also a drooping habit but the label is lost and this is not on the plan.
Nyssa sylvatica 'Miss Scarlet' seems smaller and slower growing. Just a bit of scarlet for now.
Nyssa sylvatica 'Wisley Bonfire' is romping away as a vigorous conical tree. Red with a bit of yellow lower down for now.
Nyssa aquatica is still green all over.
2016 – CHW
The seed heads on Viburnum betulifolium are ripe and some have dropped although this plant usually carries its berries well on into winter. The best plants I know are at Trewithen and trained onto a trellis structure.
Rhododendron 'Norfolk Candy' has one surprise secondary flower outside the front gate. Another plant in this group is currently dying of honey fungus associated with the decaying roots of a nearby Pinus insignis stump. I thought it would kill them eventually but the next door camellias will be fine as they do not get honey fungus. Well known tip when planting near dead tree stumps!
Wonderful autumn colours on a young Rehderodendron macrocarpum outside the front gates by the ancient ginko. You can see the Pinus insignis stump in the background. A rare plant which has tough pink seed pods in maturity but not here.
Huge flower buds already on Magnolia 'Delia Williams' on the lawn. Is this the foretaste of another record early January magnolia season? Certainly they are very well swollen and far more advanced than I would have expected in October
2015 – CHW
Back to duller stuff! Quercus stenophylloides was planted in 2003 and is now 12 to 15 feet in a fairly cold location. This is clearly a tender oak collected by Allan Coombes and one he regards highly according to Tom Hudson. Anyway it is thriving here. Collectors' number CMBS645.
This odd climber growing up a dead yew tree is a bit of a puzzle. It had a Crug Farm label (now lost) saying it was a rhus but can a rhus really be a climber? Perhaps Sue or Bleddyn Wynn-Jones will know? Anyway it has excellent autumn colour and insignificant flowers (perhaps even a second flowering?) which I suppose just might be rhus-like even if the leaf is not. Some of the inflorescences also have small greenish fruits as you can see. I think the plant has merit whatever it is. Needless to say it is not on the planting plans.
The new liquidamber collection on Sinogrande Walk is still green in leaf with hardly a hint of colour yet. None of the other ancient sasanquas are yet showing colour which is odd for mid October. The newspapers are full of swans arriving early at Slimbridge heralding a hard winter to come. However I still saw several swallows on Friday 16th October. A sighting of the first woodcock would ne1989
On day PMW's plaque blessed at Gwennap Church, heavens opened and drought really over.
1969 – FJW
Campbell Marshall died.
1932 – JCW
Lapagerias good, fuchsias very good down here and in Tin Garden. Nothing much else. Delavayi's decorum has been nice.
1912 – JCW
Much as in 1911 excepting the Camellias which are unlikely to flower much. A few daffs moving. Berberis bealei very nice.
1911 – JCW
Roses remain good. Solanum, cassias and lapagerias very good. Top part of Camellia sasanqua is opening.
1899 – JCW
A few seed pans cracking, nothing up in the pans. A few full grown daffs show a bit. I moved in my pollen parents. There has been a great drought.
1898 – JCW
Firebrand and one other of E's above ground, daff seeds all starting. I parascis above ground.