2019 – CHW
Still plenty of raspberries on the Rubus tricolor.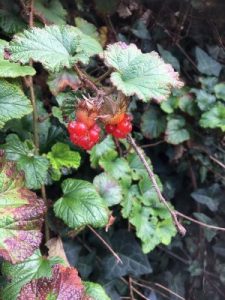 Just across from Georges Hut Hoheria populnea 'Alba Variegata' in full flower. This tender plant has revived from the 2012 coldish winter and the March 2018 Beast from the East which largely defoliated it.
Gevuina avellana just coming out into flower also by Georges Hut.
Tim has cut the banks for the second time leaving the cyclamen to be lightly strimmed over rather than mown.
Hydrangea aspera ssp. robusta is still full out in late October. The only hydrangea species to achieve this.
Good autumn colour on Rhododendron mucronulatum.
2017 – CHW
Sorbus folgneri 'Emiel' now has many ripe red berries.
The strawberries on the cornus beside it, whose name I forget, are huge and numerous.
2016 – CHW
More autumn colour today. However the first subject has hardly turned yet although it appears autumnal.Cercis 'Forest Pansy' is most striking on the drive.
The schima is still full out and receiving the strong winds.
Calycanthus raulstonii 'Hartlage Wine' is turning a vibrant yellow. Again I have not seen this autumn performance before.
A young Magnolia 'Caerhays Belle' is two thirds dead opposite. Flowering last autumn may well be the reason. It will have to be cut down sadly.
Lindera umbellata var lancea is also a vibrant yellow by Tin Garden. New Trees says this is in fact Lindera sericea but I bet Crug Farm and the Wynn-Joneses who collected it would not agree.
2015 – CHW
I have always read about the blue berries on Symplocos paniculatus but never actually seen them in the flesh. This is a record tree, or rather a clump, according to the Tree Register. Actually I am too late and many of the berries have already dropped leaving only stalks behind. The pictures are not that great but you can see the ultramarine blue fruits – or just a couple actually.
Wind and rain forecast for tomorrow after a very lengthy spell of dry which has been great for farmers drilling their autumn crops but less good for shooting while all the leaf remains on the trees and the pheasants cannot easily fly out. I fear we are in for an unsettling wet spell in November as nature always catches up. The lapageria by the front door is still full out.
2001 – FJW
Flowers on November Pink – dryish September, wet October.
1989 – FJW
Flowers on November Pink.
1933 – JCW
As in 1933.
1932 – JCW
Some flowers on the Mag delavayi near Engine House.
1930 – JCW
The first of Prunus mignelleana shows flower. Many buds and flowers on Mag grandiflora. Rhodo lutescens, dahuricum, tethropeplum etc show some flowers.
1924 – JCW
Just as in 1920 including no frost but much rain since the spring. Lately harvest in for about a week. Haematodes and hippophaeoides are the best rhodo's. No C sasanqua yet. Election next week.
1920 – JCW
Hydrangea are good. Lapagerias and roses are nice. Say 30 rhodo's one could get pollen off including Maddeni x Roylei. No frost as yet.
1902 – JCW
Came back last night, away since June 14th (Nauheim), a few Soleil d'Or above ground. An odd seedling in the pans. Woodwardias have done well, it has been a raw cold season. Roses nearly a failure except on the wall. Primula megasoefolia is out.