2017 – CHW
The record sized Acer palmatum 'Senkaki' are starting to turn their superb autumn yellow.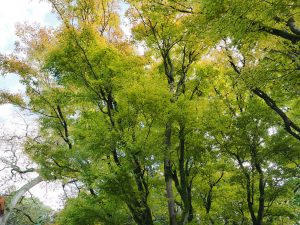 A young Aesculus wangii shows no sign of the onset of autumn.
2016 – CHW
Amazing autumn colours in the nursery today.Quercus rubra – a dull day but a clear red outside.Oxydendron arboreum – a bold red.
Nyssa sylvatica – such a delicate yellow.
Quercus coccinea – in the tunnel but still a good red. Better than Quercus rubra or not? Smaller leaf certainly here but the jury is out.
Fothergilla major – what a collection of colours! Astonishing.
Eucommia ulmoides – a dull yellow and green but nice close up.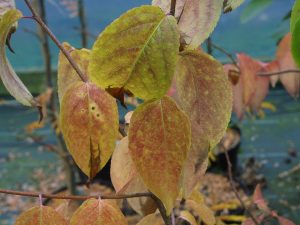 Callicarpa kwangtungensis – mauve/violet fruits as well as dappled colours on the fading leaves.
Callicarpa bodinieri 'Profusion' – nothing beats these bronze/purple fruits but no autumn colour yet.
Firmania simplex – an odd autumnal 'white' on some leaves.
2015 – CHW
A fine day but blustery so more Camellia sasanquas to inspect at the top of the steps in the Auklandii Garden. There are three of the twelve different varieties out in flower here planted in 2005 which have made large plants in a short time. These 'Paradise Collection' sasanquas, as they were known, were originally destined for Tresco but the soil there was deemed unsuitable and they hung around in Trewidden nurseries before I bought the lot. This was before Tregothnan started their (now) National Collection of Camellia sasanquas which are a most impressive young avenue of smallish plants alongside the road running along the top of the arboretum from the main house. There are about 30 Paradise varieties here in three or four clumps and I have never had time in the busy shooting season to look out for them properly. The three are:
Camellia sasanqua 'Snow Flurry' (similar but better than 'Winter Snowman' seen last week) – the plant is full out and the semi double flowers are intricate and delicate before they shatter in the wind after only a few days.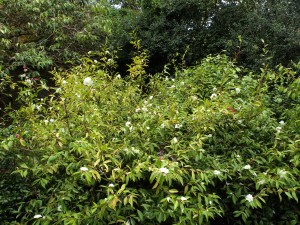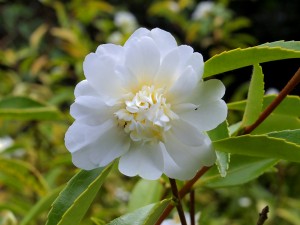 Camellia sasanqua 'Winter's Interlude' has just one light pink flower at the very top of this eight to nine feet tall bush.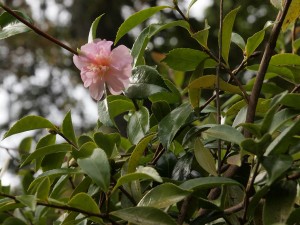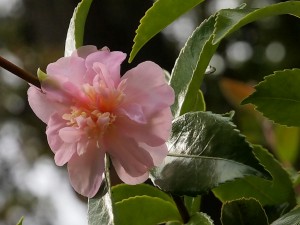 Camellia sasanqua 'Winter's Charm' is another delicate pink but only one flower again as yet. Unlike all the other varieties this plant is heavily laden with large seeds which are just turning red. The effort of this seems to have deprived the plant of any energy to produce more buds. Perhaps an early rogue flower? Time will tell.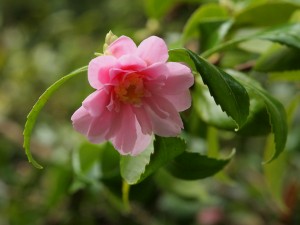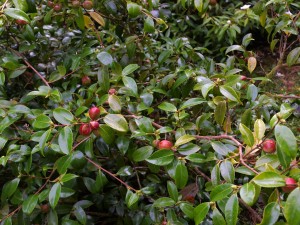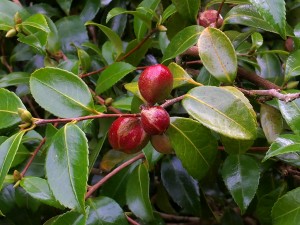 1997 – FJW
Delias great embroidery finished – begun on June 10th 1972.
1990 – FJW
Flower full out on November Pink.
1945 – CW
Camellia oleifera out and picked 2 day opening buds. Also Rho royalii yellow hybrid good by Donkey Shoe. Rho Yellow Hammer nice. Hardly a sign of Decorum or its hybrids. Mag officinalis fell down on 26th behind big Fastuosum Bamboo 51 ½ ft high. Very bad storms. Camellia sasanqua very nice.
1939 JCW
Been very dry for almost 2 months with one wet spell. Fuchsias still untouched. Eucryphias cordifolia and bilidari still have flowers. Cyclamen and lapagerias good. Enkianthus in Auklandii garden fine colour. Camellia sasanqua white outside stables full of flower. Acer Mt Usher (?) on left of Tin Garden path has been very nice also.
1931 – JCW
Election day as regards declaration, see Oct 29th.
1928 – JCW
Some Sasanqua's open, some roses and some lapagerias. Cyclamen nice, Magnolia delavayi still have flowers and good ones. Fuchsias good. One nice flower on Delavayi's Decorum, more to come.