2021 – CHW
Storms overnight brought down a large beech tree from Battery Walk which blocked the road and brought down the phonelines. Bob assisted Jaimie with the telehandler and front bucket.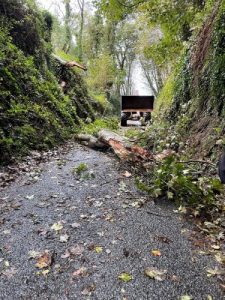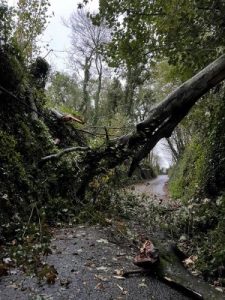 These may be shaggy inkcap or lawyer's wig? Growing on Beach Meadow.
A trip to Burncoose in the sun.
Quercus velutina displays its autumn colour.
Globba schomburkii is a new catalogue addition for 2022.
Cotoneaster 'Hybridus Pendulus' in full berry.
Viburnum plicatum 'Lanarth' with attractive reddish-brown tints.
The first solitary and slug eaten flower on Camellia 'Sode-goshuki' (syn. 'Gauntlettii') by the front door.
Osmanthus yunnanensis just into flower.
Magnolia 'Sundance' glowing yellow in the late afternoon sun with two Cornus kousa types showing red either side of it.
Magnolia 'Porcelain Dove' with brief but different autumn colours.
Prunus laurocerasus in full flower in late October!
Two cock pheasants devouring the fruits on Photinia villosa.
The first flowers on Camellia 'Cornish Snow'. This is a larger leafed and larger flowering form than others which will be in full flower in December.
Berries are not usually obvious on Ilex perado subsp. platyphylla but the more upright and older mature plants do have some when you look quite hard.
Enkianthus can be a startling mix of colours even as small plants.
Rhododendron schlippenbachii is even finer than we saw it starting to turn colour a few weeks ago in this diary.
I am worried at the state of the leaves on the record sized evergreen Quercus lamellosa. It has not been cold and yet the leaves already look as though they have had a cold winter.
Acer takesimense has coloured even more in the last three days.
Acer rubrum 'Red Sunset' is now 20ft+ tall but the leaf is being blown away before it can begin to colour up properly as it should. At Burncoose this tree has performed well in the garden but only in a crisp, dry and coldish autumn. We are currently in a prolonged wet patch.
Acer heldreichii only has half decent autumn colour on one more sheltered branch. The rest already blown away. This species would have good potential in a different autumn.
Prunus incisa looks as though it is about to produce a decent show of autumn colour if the gales abate.
Cotoneaster moupinensis still has a fine crop of black berries intact on the shrub which is now 6-8ft tall.
Prunus 'Hally Jolivette' might also produce some half decent colour if we had the appropriate weather but, I suspect, it too will be blown away in the wet before anything much happens.
A Mahonia lomariifolia which I had forgotten about near the Top Lodge.
Another unidentified Sorbus near the Top Lodge.
The tree fern on the Main Ride now uncovered as the laurel has been cut back around it.
Good autumn colour on Stewartia pseudocamellia. Considerably better than last year's effort.
Also on Cornus 'Eddies White Wonder' nearby.
The stump of the old oak tree felled by tree surgeons recently has been turned into a seat for visitors.
The new shop and sales point is taking shape and now has a waterproof roof!
2016 – CHW
Just look and wonder at this lot as a comparison of wonderful colour:Pseudowintera colorata 'Red Leopard' – stunning form.
Pseudowintera colorata – quite bland by comparison.
Pseudowintera colorata 'Red Glow' – different again.
Pseudowintera colorata 'Moulin Rouge' – some way between all of them.
These pseudowintera are each very aptly named but you can only really see them at their best together in October/November. What a thing to brighten up an overcast autumn day!
Compare these to the show today of the cotinus varieties in the nursery:Cotinus coggygria – who would not grow this for autumn colour!
Cotinus coggygria 'Smoky Joe' – hints of yellow in the darker red.
Cotinus coggygria 'Young Lady' – some yellow with the red.
Put the two together and you would have one hell of an autumn colour border. Just add a few nerines and there you are!
2015 – CHW
Two more sarcococcas out (or nearly out) in the Auklandii Garden. Both are less well known species in UK gardens and undeservedly so.
Sarcococca wallichii has a strong and not unpleasant smell with large flowers by sarcococca standards. Planted in 2008 it looks to be taller growing than other species and seems to like shade as here. Eventually four to five feet in height I would guess.
Sarcococca orientalis was a Roy Lancaster introduction in 1980. It has an attractive domed and compact habit which makes it a good small garden plant for a shady site. Not really a Caerhays type plant atall but none the worse for that. I think Roy gave it to us in 2006.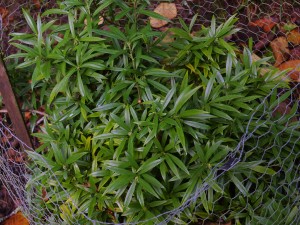 2001 – FJW
Thomas Williams arrived in the world.
1968 – FJW
Nov Pink flower picked.
1961 – FJW
Poppet died [Pekinese].
1950 – CW
Camellia oleifera picking for house otherwise as 10 days ago.
1924 – JCW
(Election Day). A long continued shower began in April not finished yet. No Sasanquas open, not many hybrids. Hydrangeas good.
1923 – JCW
Great rains this month and winds but after the hard summer of 1921 some ground is quite dry. 4 big old Argenteums are killed by it.
1922 – JCW
Three weeks of dry, cold winds and now snow. No planting so far.
1921 – JCW
The ground remains too dry to plant and has been since May. Roses and lapagerias are nice. So far the autumn colours have not come.
1907 – JCW
A Camellia sasanqua is just open, a fair lot of roses, many lapagerias, ¾ of the cyclamen, some are over. Very heavy rains for weeks on most days, some corn cut in Wendron now.
1905 – JCW
Two or three Cam sasanqua's open, one (M x jonq) seedling up in the pans, the rain began two days ago.
1904 – JCW
Camellia sasanqua well out, some nice roses. Lapagerias and solanums good. It remains very fine up to now and dry.