2019 – CHW
Lots more new things which will very shortly appear on the Burncoose website and then in our new 2020 catalogue to be mailed just after Christmas.
Styrax japonicus 'Purple Dress' is a very different colour to S.japonicus 'Evening Light' which is much blacker (and not purple) at this time of the year and with smaller leaves.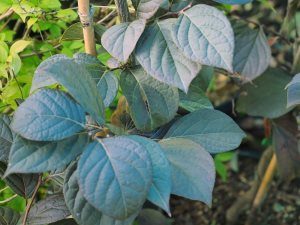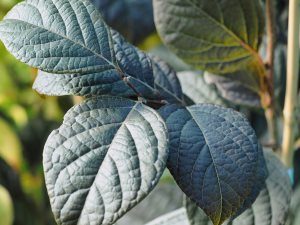 Genuinely weeping Styrax japonicus 'Fragrant Fountain' is new to us too. I must grab one for Caerhays before they all sell.
Cotinus coggyria 'Lilla' appears to be dwarfish in habit with bronze leaves that show a hint of red on the newer growth.
Yucca filamentosa 'Ivory Towers' is a startling colour combination.
As is Yucca flaccida 'Color Guard'.
Not so sure Phormium tenax 'Lemon Spritzer' is really that much to write home about. Perhaps the new growth will be better next spring?
Astelia nervosa 'Red Shadow' is stunning. These all sold out very quickly last spring before I managed to photograph them properly.
Chusquea gigantea is clearly in too shady a place but is already 12ft or so after planting at a small size in 2011. This will be new in the 2017 catalogue.
Stewartia henryae has very striking red autumn colour and stands out in Kennel Close although only planted this year. Wrong place again I fear as too exposed for it to show off its autumn colour well later in life.
Fargesia utilis – supposedly the largest growing species of fargesia which is fully hardy but here the leaves are often blown off in winter with no ill effect next year.
Fargesia rufa (syn Fargesia dracocephala 'Green Panda' according to Hillier's) seems to grow to about 10ft and is spreading vigorously.
Chimonobambusa tumidissinoda – this one will be in the Burncoose 2017 catalogue. An extraordinary layered spreading habit. Easily the most shapely and attractive of these six new ones. The canes are used in China as walking sticks.
Fargesia robusta is as its name implies although only planted (as all these were) in 2011. It will, and already is, breaking some underdraft.