2020 – CHW
The same bit of the huge Rhododendron 'Cornish Red' outside the front arch which always has secondary autumn flowers which are a bit out of shape is just showing colour.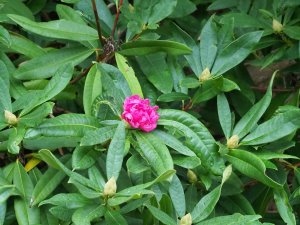 Work at The Hovel is moving on apace. The new roof beams and hips are nearly complete and the foul drainage is going into the floors before the floor concrete is laid which looks to be imminent. We will have some problems on the drive with the three huge cement lorries which will pump this down the hill.
Berries on Photinia davidiana.
A newly planted Ilex aff. gagnepainicina (FMWJ 13168) just below the main ride.
Ilex x altaclarensis 'Camelliifolia' with berries turning colour. Attractive and mainly spineless leaves. Pyramidical habit.
The ancient clump of Cotoneaster conspicuus has more berries than usual above The Hovel.
I then hunt the American Ilex opaca between the ferneries. Despite its holly like trunk I suspect this is not the American species but an Osmanthus. More research needed.
For the first time ever a secondary flowering on the young plant of Magnolia 'Caerhays Belle' beside the 'St Ewe' hedge. Small flowers which will never open properly and are near white. Disgusting.
The Rhododendron cinnarbarinum clump at Donkey Shoe is having a decent second flowering as is often the case and the unknown cotoneaster species above the Hovel is covered in berries. Surely someone can recognise this?