2023 – CHW
A visit to our developing collection of specie Cotoneasters. About a third have still to produce any fruit. A couple are already over and their berries have fallen and one or two are the worse for wear after the June drought.
Cotoneaster wilsonii had largely shed its berries.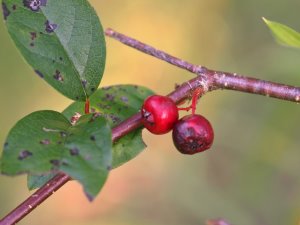 Cotoneaster thimphuensis not quite fully coloured up but far better than ever before.
Cotoneaster rubens is improving and well worth growing.
Cotoneaster rhytidophyllus in varying stages of ripeness.
Cotoneaster tengyuehensis may well be dying.
Cotoneaster 'Saint Andrews Blaze' was a welcome gift from Fromefield. Not fully ripe and coloured yet.
Cotoneaster teijiashanensis with not many berries as yet.
Cotoneaster erratus becoming very decent indeed and well worth growing.
Cotoneaster rokujodaisanensis also has few berries and not yet fully coloured.
Cotoneaster schubertii is well covered in berry and a good orange which will probably get redder yet.
Cotoneaster parneyi was also a gift from Fromefield. Oddly coloured berries in a rather different sort of display.
Cotoneaster 'Exburyensis' just turning yellow. Very similar to C. 'Rothschildianus'
Acer pseudosieboldianum with good red tints.
Cornus florida 'Cherokee Chief' turning nicely.
Acer takesimense with the seed heads turning as well.
Calycanthus 'Aphrodite' with a late show in Tin Garden and the slugs are too late!
The newly planted Callicarpa membranacea putting on a good show.
Callicarpa bodinieri 'Profusion' simply splendid. Everyone should grow this even if the leaves are still present today.
Yesterday at Tregrehan we were looking at Tom's Gevuina avellana which was looking as bad as ours after summer droughts and spring east winds going back to the 2018 'Beast from the East'. Strangely Jaimie chose yesterday to prune out the debilitated and dying main stems of ours to encourage the basal suckers to regenerate as we hope they will. Tom needs to be as ruthless as this too but we have all been dithering and hoping (in vain) for a recovery. I suggested to Tom that he 'bite the bullet' but had (then) no idea that we already had.
A few small Gevuina avellana flowers.
Our mature Schefflera macrophylla (not nearly as good a form/specimen as the one which died here this year or Tom's plant seen yesterday) covered in ripening seeds. They were black and ripe rather earlier last year.
A large dead sycamore felled which was threatening the two new barn conversions at what we now call White Stiles Cottages. A neat and tidy job by Treleaven tree services.
The berries are now ripe on Cotoneaster 'Rothschildianus'. I am not at all sure Cotoneaster 'Exburiensis' is much different (photographed 10 days or so ago).
More fungi to try to identify but I now have experts to consult after the Cornwall Fungus Group visit here in the last few days.
Work at The Hovel is moving on apace. The new roof beams and hips are nearly complete and the foul drainage is going into the floors before the floor concrete is laid which looks to be imminent. We will have some problems on the drive with the three huge cement lorries which will pump this down the hill.
Berries on Photinia davidiana.
A newly planted Ilex aff. gagnepainicina (FMWJ 13168) just below the main ride.
Ilex x altaclarensis 'Camelliifolia' with berries turning colour. Attractive and mainly spineless leaves. Pyramidical habit.
The ancient clump of Cotoneaster conspicuus has more berries than usual above The Hovel.
I then hunt the American Ilex opaca between the ferneries. Despite its holly like trunk I suspect this is not the American species but an Osmanthus. More research needed.
For the first time ever a secondary flowering on the young plant of Magnolia 'Caerhays Belle' beside the 'St Ewe' hedge. Small flowers which will never open properly and are near white. Disgusting.
The Rhododendron cinnarbarinum clump at Donkey Shoe is having a decent second flowering as is often the case and the unknown cotoneaster species above the Hovel is covered in berries. Surely someone can recognise this?