2019 – CHW
A trip to Forty Acres Wood to see what is seeding over there.
The original Schefflera macrophylla has seed heads which will not be ripe for several weeks. Last year they fell to the ground and deer ate them before we got there. Note how the large bow which we cut for Chelsea two years ago has quickly re-sprouted three large shoots.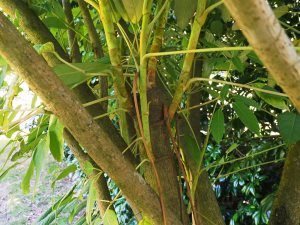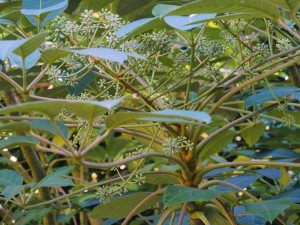 A late flower on Magnolia sieboldii while ripe seed pods cover the rest of the bush.
This was once a Nothofagus antarctica but it has been smothered by alder growth so that the Nothofagus is just one small branch within the trunk. The Nothofagus is just the third bit in from the left. It is almost as though the Nothofagus was grafted onto an alder but more likely self-sown competing seedlings.
Zanthoxylum simulans plastered in small reddish fruits which are not yet ripe. The trunk of this small tree has enormous spines as do its branches.
Zanthoxylum piperitum has many less spines on its trunk but nasty ones on its branches. The reddish fruits were ripening and opening to reveal black seeds as you can see here. My hands smelt strongly of pepper after the seed gathering for Asia.
One of the three 50 to 60 year old Aesculus wilsonii at the entrance to Old Park has a great many smallish conkers which are still far from ripe. This is a late flowering Aesculus species so no surprise. The tree with conkers was hit by a falling branch from an oak a few years ago. This let in more light and most of the conkers are on younger regrowth.
Cornus kousa 'Doubloon' was covered in fruits. Since I spotted them first the pheasant poults have taken at least half of them. I have never seen the fruit on this tree before.
Catalpa bignonoides, the Indian bean tree, living up to its name. Another tree which is used to hotter temperatures and is performing well after the dry summer. While we have had some pleasant drizzle and light rain we really do need a downpour soon to get plants going again. The hydrangeas on the drive are drooping their leaves and look terrible again.
2017 – CHW
Western Power hoist in the new transformer into the back yard. No damage to the Magnolia 'Leonard Messel' so far.
The electrical connections to the mains under the wall look rather insignificant!
2016 – CHW
No entry.
2015 – CHW
Another collecting evergreen cuttings day for Burncoose with six black bags to go including some particularly prickly hollies which they will not like at all.We took cuttings from Stewartia pteropetiolata which we know will root but there are plenty of good seed pods forming all of which look fertile.
Crabiodendron yunnanense (record tree) has had only a few very late flowers some 20 feet up in the crown of the tree. We have seen this tree set seed lower down but it has proved easy from cuttings. The flowers are pieris like and normally much better than they look here.