2023 – CHW
A Burncoose day.
Eucryphia moorei just inside the entrance to the nursery.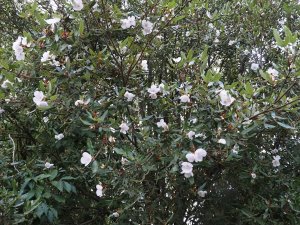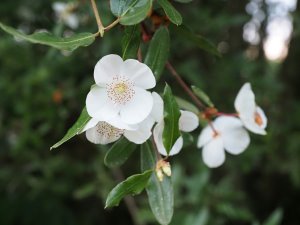 Cercis canadensis 'Forest Pansy' exhibiting its autumn colours.
The new introduction to the website finally in flower – Thunbergia battiscombei.
Euonymus planipes with more ripe seed heads.
Autumn colours on Aesculus flava.
And on Aesculus x mutabilis 'Induta'.
And on Aesculus pavia 'Atrosanguinea'.
Nyssa sylvatica 'Wisley Bonfire' starting to turn properly autumnal.
Mahonia eurybracteata 'Soft Caress' just out in flower.
Magnolia aquifolium with good autumn colour.
You can just see a large shoal of trout in the lake in this picture. We always think that cormorants, shags and herons have decimated our trout of any size in the (freshwater) seaside lake but this proves otherwise. Not for the first time this year it would that we have a good stock of trout and some much larger than you see here. Our wonderful retired now stand in/ relief vicar, who first came to here in 1973 has been known to exaggerate the size of the fish he tries to catch in the spring but I now stand corrected!
The Barn Owl box in the circular Noah's Ark has been in place for 3 or 4 years. No resting birds have used it but it is, demonstrably, now an occasional barn owl roost. Noah's Ark was built in the 1890's by Mr. Noah, who lived then in the Bottom Lodge, to overwinter the 2 or 3 large cows that provided milk and butter to the castle. English Heritage originally listed it as an 'ice house' in the early 1970's but this has long since been corrected and updated. Major repairs are needed (i.e. a new roof) although we have undertaken measures to stabilise the problem short term. Hopefully, perhaps a grant award to help us with full restoration from Historic England one day?
As I write this I hear a heavy duty Air Sea Rescue Helicopter nearby for some considerable time. The evening is still and sound direction can be misleading. However I rang some our staff to see what was happening out to sea as we have seen it all before and sea rescues do not always end well. In a tragedy it is always the estates fault regardless of reality. Apparently a Mother sets 2 children out on paddle boards after 5pm, and apparently, then leaves to walk the dog elsewhere. Apparently 'a local' hears cries for help while walking the cliff path. Anyway then a RNLI coastguard rescue boat, big helicopter, 2 ambulances and lots of other blue lights.
Can one guess the cost to the UK taxpayer? £30-£50k? I have no knowledge of the facts or details (as yet) but expect that the taxpayer will cop the lot with not a hint of an apology from those rescued. We have seen it all before!
Cladastris kentukea is starting to turn yellow very early as it often does.
Staphylea pinnata
Next door to it Magnolia mollicomata has a few smallish pods high up but not many. Same reasoning for the michelias?
This is the first plant which has grown on well from the multitude of fertile seed from Lindera aggregata which we propagated 10 years or so ago. Slow growing and shrub-like with tiny flowers this is never going to be anything but a collector's item. We must have a dozen or fifteen different lindera species in the garden now. Anyway it is Chinese and bloody rare but in the Burncoose catalogue!
Meliosma dilleniifolia var cuneifolia has huge pendulous seed clusters to match its flowering habit above the two M x veitchii specimens. The seed is not ripe yet but will soon be ready for Asia to collect. I have not seen seed form on this plant before but probably have not thought to look.