2019 – CHW
The large Acer griseum below Kennel Close has peeling bark right up into its extremities which looks wonderful in the evening sun.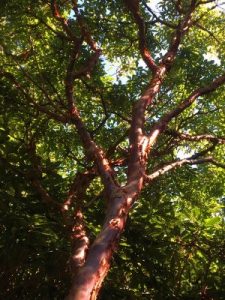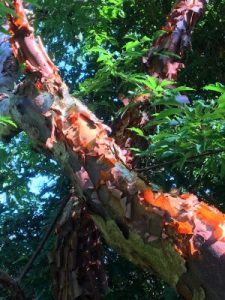 A giant mushroom, larger than Michael's hand, has appeared on the lawn. Jaimie is rather partial to these so I doubt it will make it to our kitchen.
Some rather ominous looking mushrooms which I fear are growing on the roots of the Magnolia 'Delia Williams' on the lawn. The fungi appear to be emerging from the very edge of the gravel beside the lawn; presumably where the magnolia roots have got damaged.
The pheasants do not seem to like the fruits on Crataegus x grignonensis and they all remain ripe but intact on this small tree.
Nearby a top grafted Sorbus reducta has had its fruits largely gobbled up already.
Heptacodium micinoides just past its best. I have seen tree like forms of this in warmer counties with less rainfall than here but, with us, they are short lived shrubs and seem to succumb after 20 to 25 years or so.
Cornus kousa var chinensis 'Wisley Queen' has very fine rounded red fruits. No sign of a squirrel attack which shows that the trapping is working.
Secondary flowers on young Rhododendron 'Bow Bells' are a pleasant surprise in the sunlight.
Ternstroemia gymnanthera has attractive red secondary new growth and is now well away 18 months after planting. Our first Ternstroemia so I must look up what to expect.
Could we really dig up this Schefflera macrophylla and take it to Chelsea next year? It is about 10ft tall and the leaves are 6-8ft across.
The Schefflera myriocarpa flowers are still emerging. Schefflera taiwaniana has buds at the top which are only just starting to develop.
2016 – CHW
A trip in the new four seater mule. Luxury which I fear will make me idle! Styrax serrulatus is producing a good crop of seeds but they are far from ripe yet. 1991 planting but very rare in cultivation. Asia needs to grab these in three to four weeks.
Cladastris kentukea is starting to turn yellow very early as it often does.
Compare and contrast the seed pods on two 'Chinese lantern trees' as we used to call them as children when collecting seeds with Dad. Properly 'bladder nuts' of course!Staphylea colchica
Staphylea pinnata
Clearly the name is in the leaf not the seeds! Pinnata has trilobed seeds pods even if also pinnate leaves! Asia need to get picking them now.The Michelia doltsopas have virtually no seeds this year unlike last when they were plastered. Plenty of seedlings growing on but this is all I could find low down on the old plant by Georges Hut. Strange as we had no frost to damage the pollen. Perhaps they just flowered too early in the year for pollination? The few seeds there are are far from ripe.
Must remind Asia or Jaimie to collect the huge seed pod on Magnolia officinalis var biloba in Penvergate in 10 days or so.
We all agree it is a bad magnolia seedling year but in the rireii opening the Magnolia sargentiana var robusta is laden with seed pods which are nearly ripe.
Next door to it Magnolia mollicomata has a few smallish pods high up but not many. Same reasoning for the michelias?
This is the first plant which has grown on well from the multitude of fertile seed from Lindera aggregata which we propagated 10 years or so ago. Slow growing and shrub-like with tiny flowers this is never going to be anything but a collector's item. We must have a dozen or fifteen different lindera species in the garden now. Anyway it is Chinese and bloody rare but in the Burncoose catalogue!
Meliosma dilleniifolia var cuneifolia has huge pendulous seed clusters to match its flowering habit above the two M x veitchii specimens. The seed is not ripe yet but will soon be ready for Asia to collect. I have not seen seed form on this plant before but probably have not thought to look.
High time Asia collected the Magnolia sieboldii sinensis seed too from the original surviving wild collected plant. Magnolia sieboldii is ready now too in its various named forms. Big wedding today below the castle. Marquee from London which they started to put up on Tuesday. £25k cost we reckon as it was huge and upraised – not that the area is really that uneven. Sadly they are not staying in any of our accommodation and we have 'bridge players' at The Vean instead. Mary described the marquee decoration as 'Chelsea chique by the sea'. She was on security/bouncer duty for two and a half days. They did not trust us last night not to pinch the silver! I sneaked one picture of the bride and snuck into the yard after the guests were all in the tent at 5pm.
2015 – CHW
A last clethra in full flower. It is labelled Clethra tomentosa which is a new species to me. A suckering plant of about six to eight feet with no great scent today in the rain. The other clethras nearby are long over as is Clethra delavayi which we normally think of as being late or even the last to flower. Hillier's says Clethra tomentosa is a late flowering US species.